Sharpshooters to kill 33 more deer in park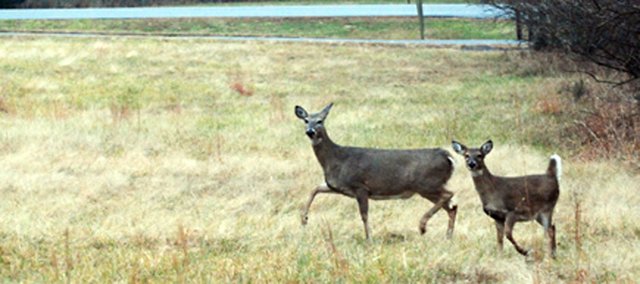 Police sharpshooters will kill roughly 33 more deer in Shawnee Mission Park to further reduce overpopulation there.
The Johnson County Park and Recreation District Board of Commissioners approved the new culling effort at its regular meeting Wednesday night.
Bow hunters and law-enforcement sharpshooters killed approximately 340 deer in the park in 2009, reducing the population to about 68 per square mile.
The targeted number is 50 deer per square mile, but an October follow-up survey by Kansas Department of Wildlife and Parks staff revealed there are still about 61 deer per square mile, parks and golf courses superintendent Bill Maasen told commissioners Wednesday.
Maasen said the typical carrying capacity in this part of the country is fewer than 30 deer per square mile.
Park leaders agreed they wanted to maintain a larger herd so the public can observe the animals, Maasen said. However, severe overpopulation hurts the herd and the park.
Overpopulation decays the health of the herd, Maasen said. For one, they run out of food during the winter.
It also harms the park's ecological balance of flora and smaller fauna.
Maasen noted that since last year's culling, wildflowers in Shawnee Mission Park's native prairie area bloomed better than ever – one of the best signs that the effort was working.
Shooters will kill the additional 33 deer this fall and winter.
As it was following the previous culling, deer meat will be professionally processed and donated to area food banks. The county will donate hides to the Order of Elks' leather program for veterans who use wheelchairs.
Several interested residents attended Wednesday's meeting, although only one spoke.
Shawnee resident Elizabeth Cook opposed killing deer in the park, particularly by shooting them.
"If we do kill them, I don't think it should be somebody who gets their jollies over hurting an animal and then watching them die," Cook said.
One park board member, Bill Flohrs, voted against the recommendation.
Staff recommended sharpshooters over bow hunters this time for cost-effectiveness and efficiency, Maasen said.
The goal is to use the same shooters that were screened, selected and trained for the last culling process, Maasen said. The park district has the appropriate weapons for them to use.
Also, he said, last year officials had to close parts of the park during daytime hours for bow hunters to kill deer, so service was interrupted for residents.
Maasen said park staff discussed during a recent committee meeting a chemical contraceptive that would reduce fertility in the deer. However, he said, the chemical is not approved for use in Kansas and could lead to an unhealthy herd.