Shooting behind Shawnee grocery store was falsely reported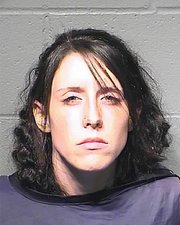 Police investigation revealed that a shooting reported Tuesday behind the Shawnee Hy-Vee was a hoax, and one of the people involved has been charged with providing false information.
The 19-year-old victim walked into an emergency room with a gunshot wound to his arm about 12:40 p.m. Tuesday, according to Shawnee police.
His girlfriend, who drove him to the hospital, told police that he was shot behind Hy-Vee, 13550 W. 63rd St., police Capt. Rob Moser said.
However, police said Wednesday that the girlfriend, 19-year-old Megan K. Whitaker of Lenexa, was arrested for providing false information about the location of the shooting. She has been charged in Johnson County District Court with obstructing the legal process, a felony.
Police don't know where the shooting occurred or who the shooter was, Moser said. The victim was released from the hospital but has not cooperated with the investigation.