Cyclist thankful for Samaritan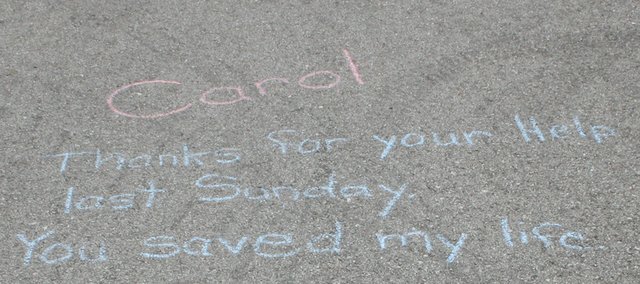 Judi Schwartz and her husband were walking last month in Shawnee Mission Park, as they often do, when they saw an older man lying near the walking path in cycling gear.
Park police were helping him and ambulance sirens could be heard in the distance, so the Shawnee couple continued their walk. But Schwartz said they wondered about the man in the following days. A week later, on Aug. 22, while walking the same trail, they came upon a chalk message in the same area the man had been lying:
"Carol- Thanks for your help last Sunday. You saved my life. My spleen was ruptured! -Larry aka not Lance A."
The message came from Larry Lust of Olathe, the man the Schwartzes had seen injured, who hoped to get a message to a woman named Carol, who was the first to stop and talk to him after he had fallen from his bicycle.
Lust, 63, said he was riding from his house in Cedar Creek neighborhood to the park and back. He said since taking up cycling to stay healthy, he has become appreciative of Johnson County's bicycle trails. He'd made this particular trek in two hours, eight minutes the first time, then bested it at two hours, four minutes his second time.
"I was going to do it in two hours, which meant I was going faster," Lust admitted. "I was moving at a pretty good pace, and a rabbit jumped out in the middle of the path."
Lust swerved into the grass to avoid the bunny at his own peril, losing control of the bike in the damp grass. He didn't think he was that injured but knew he didn't feel well enough to get up, so he hoped if he lay still for a little while, he could eventually get up and ride home.
"I don't know how long I laid there, but this lady says, 'Are you OK?' and I said, 'I don't think so,'" Lust said.
The woman, who identified herself to Lust as Carol, got Lust's cell phone out of the bag on his bike and called his wife, Cathy, for him. Shortly thereafter, a parks maintenance worker showed up and called park police.
Carol left soon after Cathy arrived, and Cathy didn't get Carol's full name. Cathy said Larry was alert and bruised, but he didn't seem that bad. It was only after he got up and tried to walk a few steps that he really began feeling ill.
"None of us had any idea that he was as bad as he was," Cathy said.
When they arrived at the hospital, they learned Larry had ruptured his spleen, had two quarts of blood in his abdomen due to internal bleeding and would have to have a spleenectomy.
Cathy said such episodes are typical of Larry. She jokes her husband has nine lives. Larry is a retired major general has survived a 35-year military career, and another four and a half years as a contracted troop instructor in Iraq. In February, he was treated for a subdural hematoma — a brain hemorrhage.
The spleenectomy didn't keep Larry down long; he was back at work Aug. 23, a week after his accident, as an associate professor in the department of logistics and operation at the Command and General Staff College at Fort Leavenworth.
"I've been very fortunate," Larry said. "My recovery I attribute to keeping in shape and a good medical team."
Cathy said she went out to the park to leave the chalked message in the hope of getting a thank you to Carol. Larry admits he didn't realize the extent of his injuries and was "dumb enough to think I was going to ride home," so had someone not come along to call his wife for him, he may have injured himself even more seriously.
"She did – she saved his life," Cathy said.