Camaraderie may be virtual, but betting is real
Shawnee resident finds online platform for voice, love of greyhound racing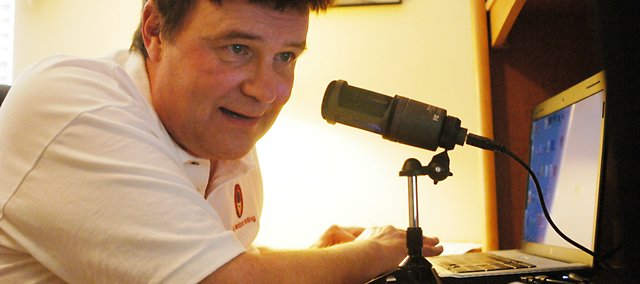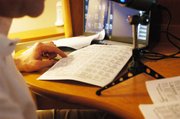 It's Friday afternoon, and Randy Birch's rollicking, radio voice is fast-talking dogs, dollars and the deliciousness of the cold Budweiser in his hand.
Sluuuurrrpp. Aaahhhh.
When the trumpet sounds and eight greyhounds explode from the chutes, Birch's banter veers toward his favorite pup — who, in this particular race, is named Elvis Presley and happens to be winning.
Oh, yes! He's going after it like a good ol' peanut butter and banana sandwich!
Close your eyes, add a warm breeze and you could be in the stands at Florida's Hollywood Greyhound Track. Open them, and you realize you're anywhere but.
Birch, a Shawnee resident and former announcer at the Woodlands Race Park in Kansas City, Kan., is the host of the online radio show at BigJackpotBetting.com, designed to hype Hollywood's nightly races and bring in online bets for the track. Its founders say BigJackpotBetting.com is the first business of its kind — while other sites offer online betting, this one creates a social experience to go with it.
"We present a vehicle for people to meet and chat like a racetrack situation, but the reality is, all these people are at home on their computers," Birch said. "It's social media and business at the same time."
In reality, Birch isn't addressing the crowd from an announcer's box, he can't see Elvis Presley in person, and he's also not drinking any beer.
He's in his beige-carpeted office on the second floor of a yellow house at the end of a west Shawnee cul-de-sac. He's leaning into a tabletop microphone and peering at the race replay on one of two computer screens at a big wooden desk. The squeeze bottle at his side is full of Diet Coke.
Not that any of his online friends, whom he's affectionately dubbed the Odd Squad, will ever see him in person.
On this day, they include "milehiroller" from Denver, "UncleB," from California and "Nowso," a regular who lives in Ireland. Other players have signed on from Argentina, Australia, England, Canada and Mexico.
Many participants, like Birch, miss the personal interaction from their days at a live track.
"Racetracks around the country have closed, like the Woodlands, so these people have an outlet for what they love," Birch said. "It fills a void."
•••
The Odd Squad can hear Birch, who uses Skype, through their computers. Players and guest speakers occasionally join Birch's conversation via Skype, but most sign in with screen names and communicate through the website's chatroom.
Conversations involve the weather at the track, the weather in Shawnee, which dogs the players are picking and what "stlouiscindy" looks like in person (apparently, pretty good).
While the camaraderie may be virtual, the gambling is real.
Gaming rules vary from state to state, but Kansas law prohibits residents from participating in off-track betting on dog and horse races, said Patrick Martin, chief counsel for the Kansas Racing and Gaming Commission and assistant attorney general. However, Martin said, going online to watch and chat about racing was fine.
For gamblers, BigJackpotBetting.com offers pari-mutuel wagering on win bets. A licensed pari-mutuel service provider in North Dakota operates the site and manages accounts and wagering, according to the site's terms and conditions.
It's simple — all you have to do is pick the winning dog — and it's a pool bet so returns are high, said Birch's executive producer, Jimmy Smith of Boynton Beach, Fla. Winners get all the money except a commission charged by the dog track, which is lower at Hollywood than other tracks nationwide, Smith said.
Birch and Ramon Cadavieco, Hollywood's live track announcer, pick dogs and discuss as they go. Smith, who places bets during the show based on their suggestions, said he's turned $20 into about $1,500 so far.
•••
Smith, one of the Woodlands' original players, was a professional gambler when the track opened and moved to Kansas City to be near it. He got into the racing statistics business and later joined TrackData Systems, which manages and distributes racing data.
Smith envisioned BigJackpotBetting.com as a way to promote the racing industry, and he knew Birch had the voice he needed.
"Every other announcer talks at the people, and Randy talks to the people," Smith said. "You feel as though he's having a conversation with you."
Smith recalled Birch chatting up patrons he passed on his way to the announcer's station at the Woodlands. He'd later work their names into his announcing, highlighting someone's first visit to the track or someone celebrating a birthday.
"I'd never seen that before," Smith said. "He always calls it the 'Cheers' approach."
Even online, Birch notices new players and greets them by name, prompting them to tell the group about themselves and join the conversation.
Thanks to an audition tape from Birch, Hollywood agreed to fund BigJackpotBetting.com, which launched in December. Smith said the site's growth was not phenomenal but steady, adding a few new players each week.
•••
For Birch, the Internet has proved a new springboard for his voice.
His broadcast career includes more than 20 years at local radio stations, plus game-day productions for the Kansas City Chiefs.
He was the original announcer at the Woodlands, where he worked off and on for 20 years and gained local fame for his signature "Heeeere comes Woody!" holler.
Birch was working full time for the Woodlands when the track closed in 2008, leaving him without a steady job.
Now, in addition to his BigJackpotBetting.com show, Birch sells pre-recorded race day broadcasts that play at nine other dog tracks across the country. The podcasts are online at BigJackpotBetting.com and at trackinfo.com.
He also gathers headlines and broadcasts morning news on 15 radio stations a week through AudienceBakery.com.
"I love living in Shawnee, and I love working out of my home," Birch said. "Because of the Internet, the possibilities are just endless."