If there's one thing Matt Acree knows how to do, it's living large.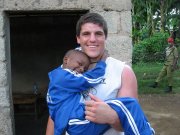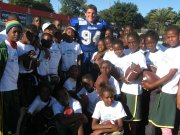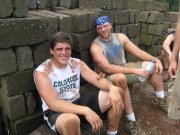 At 6-foot-3 and 255 pounds, he towers over most people. As a student-athlete at Mill Valley High School, he was an All-Kaw Valley League first-team offensive and defensive lineman on the football team. He also excelled at throwing heavy objects long distances as one of the state's elite shot put and discus competitors. Off the field, he was the homecoming king and a Kansas Honor Scholar.
For Acree, however, his grandest experience yet made him feel oh so small.
"Matt Acree is a very insignificant being in the whole scape of things. Does that make sense?" he says, reflecting on the events of May 17-31. "In high school I had a good run of things. People knew my name in Shawnee.
"Nobody outside of my family or you or this area knows who Matt Acree is. Outside in the world, you're just another human being trying to get along in life, and it was extremely humbling for me to see how people live in that part of the world and how that's pretty accurate to how most of the world lives."
That part of the world Acree is talking about is Tanzania, a country in southeast Africa. He went there with his Drake University football teammates as they played the first organized American football game on the African continent, participated in community service projects and then climbed Mount Kilimanjaro — the tallest mountain in Africa.
Every step of the journey humbled Acree in a two-week trip that changed his life.
"I knew it was going to be an awesome trip, the cliché 'experience of a lifetime,'" he says. "When I got back and everyone was asking me how was it … I don't have words that do it justice. It blew my expectations out of the water. I thought it'd be cool. It … was … amazing. Every minute there was something new to be learned."
UNEXPECTED TRIP
When Acree, 19, signed his letter of intent to play football at Drake, he had no idea he was also signing up for international travel. When he reported for practice in the fall of 2010 for his redshirt freshman season, however, Drake coach Chris Creighton informed his team of the trip.
Each player raised $4,000 for the trip, which was organized by Global Football, a Texas-based events organization. The Bulldogs were to play a football game against an all-star squad from Mexico, volunteer in orphanages and perform service projects before making a six-day trek to the summit of Kilimanjaro and back.
THE ADVENTURE BEGINS
On May 17, 65 Drake football players, coaches and administrators boarded buses in Des Moines, Iowa, and drove four hours to Indianapolis. From there, it was a nine-hour flight to Amsterdam, followed by another nine-hour flight to Kilimanjaro International Airport in Tanzania.
Despite the football players being the center of attention because of their physically imposing size, white skin and police escorts, Acree found himself feeling smaller by the day.
Every new experience — the generosity of the Tanzanians, the hands-on interaction with orphans and the grueling march up Kilimanjaro — touched Acree's soul in a different way.
The first two days in Tanzania were a mixture of football practices, youth clinics and visits to orphanages.
Four-hour practices in the morning gave way to afternoon clinics, where Acree and his teammates taught the basics of American football to 500-600 Tanzanian youths per day. The Bulldogs rotated kids through stations that taught positions and tackling drills.
When clinics were done, the players headed to orphanages to play with the orphans and perform service projects.
Acree was exposed to the extremes of orphan life. He spent one afternoon at the most well-funded orphanage in Arusha where "the kids were well taken care of." The next day he visited the poorest orphanage in Arusha, "one thatch hut and one woman taking care of 30 kids," and spent three hours splitting firewood.
"Big, tough football players are not supposed to get emotional," Acree says, "but me and my buddies looked at each other and we were just like, 'Wow.' We were shocked that people live like that. These kids, little tiny kids just 5 or 6 years old, with huge smiles when they saw us walking toward them. We'd help them out, paint their rooms for them, give them piggy back rides, just throw them around between each other, and it made their day.
"And contrary to that, it made our day worth all the effort and the sweat. By the time we'd get to those kids we'd been to practice and youth clinics. Just finishing our days like that was fantastic getting to serve those kids like that — and that's only the first two days."
On day three, the Bulldogs defeated the CONADEIP All-Stars 17-7 in the historic game at Sheik Amri Abedi Memorial Stadium in front of 12,000 Tanzanians.
TO THE SUMMIT
Three days after playing the first organized American football game on the African continent, Acree and his teammates departed Moshi for Kilimanjaro National Park.
They experienced all four seasons throughout the course of their climb, and they spent each night in tents.
For two days they marched through the rainforest, and the trees obstructed their view of the upper slopes.
"Once we broke the timber line is when you can really start to see how steep it gets," Acree says. "Once you're above the clouds you can see Mawenzi (the second peak of Kilimanjaro) and you can see Uhuru Peak (the summit). That's when you're assessing it, and you're exhausted. It's high altitude and you can feel your body growing tired from the thin air, and you're looking at it going, 'There's just no way; not a chance.'"
Competitive spirit and team camaraderie won out, however.
On summit night, the team assembled shortly before midnight, ate breakfast and departed via Gillman's Point. After six hours of marching through darkness, just before 6 a.m. they reached Gillman's Point on the crater rim.
"When I got to Gillman's, it got really, really bad," he says. "I had a clear mind and conscience, but my body had had enough."
His sprits were lifted after watching the sunrise over Mawenzi, however.
"That's the coolest thing I've ever seen, hands down," Acree says. "I've seen the sun rise from the heavens."
With the sun now lighting his way, Acree still had another 600 feet of elevation gain to reach the summit.
It was akin to a death march for Acree.
"It's supposed to be an hour and 20 minutes to Uhuru; it took me two and a half hours," he recalls. "I would walk 15 feet at a time and have to go down on a knee and suck wind, then go another 15 feet. I did that all the way to Uhuru."
TOUCHING THE SOUL
When Acree ranks the most memorable moments from the trip, the football game ranks third and the climb is second.
His top highlight took place between playing football and scaling Kilimanjaro. Specifically, he relishes days four and five of the trip when players were offered the opportunity to do a home stay with a Tanzanian family.
Acree and two teammates raised their hands, and they soon were whisked away to the village of Tema on the foothills of Kilimanjaro. There, they spent two days living with a Chagga tribe.
"I don't know if you've ever read National Geographic," Acree says, "but it was like I was in National Geographic. That's the best way to describe it."
The players put their strength to use, carrying rocks and helping build a school.
Acree stayed with one of the tribe's elders who was fluent in English, and the two discussed the similarities and differences in their cultures. As a guest of one of the tribal elders, Acree stayed in one of the nicest homes in the village. That meant he slept on the ground in the guest hut where the family goat is kept.
"Those two days I spent in the village was probably the best thing that's ever happened to me in my life," he says, referencing the villagers' simple joy in life. "Living unlike how we live here in Shawnee … I was living in the dirt with nothing. I was wearing ratty clothes and a shirt and boots, and if they had two shirts and a pair of pants, they're happy.
"After experiencing that, I feel so insignificant compared to what goes on in the rest of the world."
HALF A WORLD AWAY
Back home in Shawnee, Acree can't believe it's been two months since he was on the other side of the globe in a culture so different from his own.
It's been two months since he taught football fundamentals to Tanzanian youths and played in the first American football game on the African continent; two months since he slept on the dirt floor of a Chagga village; two months since he stood on the summit of Kilimanjaro.
It all seems so long ago, yet it remains so vivid in his mind.
Before he left, he was a dreamer with grand visions and great expectations.
He returned home a changed man, thanks to every element of the trip. He was challenged mentally and physically with each activity.
Still, it's the welcoming nature of the Tanzanian people, their simple way of life and their friendly smiles that Acree says will stay with him the longest.
He's far from Tanzania, but the experience has a permanent place in his heart.
"The mountain was enough to humble me," he says. "But actually living with the people and interacting with them and trying my best to assimilate into their culture, that brought tears to my eyes. I'll be totally honest, I'd just sit down and sigh and tear up because it was so emotionally overwhelming.
"Crazy, cool, awesome … it doesn't do it justice. If someone said, 'Hey, can you pack your bags and go tomorrow?' Sign me up. I'd go back in a heartbeat."