Shawnee chiropractor gives back to Johnson County Christmas Bureau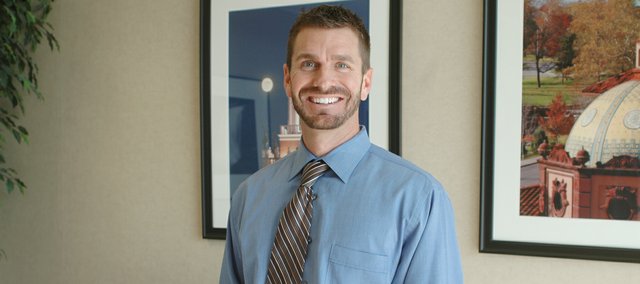 Shawnee drop-off locations include:
• Broadmore Kennels, 20614 West 47th St.
• Commerce Bank, 13501 Shawnee Mission Parkway
• The former Commerce Bank building at Shawnee Mission Parkway and Nieman Road
• Journey Community Church, 6601 Monticello Road
• Metcalf Bank, 15100 W 67th St.
• Shawnee Chamber of Commerce, 15100 West 67th St., 202
• Shawnee Gardens Nursing Home, 6416 Long St.
• Shawnee Mission Ford, 11501 W Shawnee MIssion Parkway
• Shawnee Mission Northwest High School, 12701 W 67th St.
• UMB Bank, 22320 West 66th St.
A complete list of drop-off sites can be found at jccb.org/donation-drop-off-sites.
Remaining dates for the Holiday Shop are: Dec. 4 from noon to 7 p.m., Dec. 5-9 from 8:30 a.m. to 8 p.m. and Dec. 10 from 8:30 a.m. to 5 p.m.
Financial contributions are also being accepted by the Johnson County Christmas Bureau, online at jccb.org or via checks payable to JCCB, P.O. Box 14786, Lenexa, KS 66285.
Those with questions or wishing to volunteer can call 913-341-4342 or email jccboffice@gmail.com.
J.J. Schmidt thought the hard part was over.
He had just graduated from Kansas City, Mo.'s Cleveland Chiropractic College on top of previously finishing his undergraduate studies at Missouri State.
At the time, his son was 5 and his daughter was an infant and Schmidt was ready to start focusing on practicing in the Kansas City area.
Then the holidays rolled around.
"We had no money at all, and my wife couldn't work," Schmidt said.
The letter from the Johnson County Christmas Bureau, a nonprofit organization whose ties to the area date 50 years, couldn't have then arrived at a better time.
Inside the envelope was an advertisement for the organization's Holiday Shop, an annual charity effort in which disadvantaged families — which must have references from a social service agency — can make appointments to visit a nine-day shop where donated items are available, ensuring each of them can put something under the tree.
"We didn't expect to have Christmas at the time," Schmidt said.
Aside from toys for kids, cleaning supplies and winter clothing also line the shelves of a donated business space. This year, the Johnson County Christmas Bureau expects its 35th annual shop — which opened Friday and runs through Saturday inside Olathe's Great Mall of the Great Plains — to serve more than 12,500 low-income Johnson County residents with the aim of making a difference in the lives of about 3,500 families.
Schmidt now practices at Hammond Chiropractic Center in Shawnee, which he represents at chamber of commerce meetings and through volunteering efforts during the Oceans of Mercy Run and Old Shawnee Days.
It was during a chamber meeting where he met Karen Boyd, toy department chairman of the Johnson County Christmas Bureau and a chamber ambassador, roughly eight years after the nonprofit helped Schmidt's family.
Soon he put the pieces together and realized it was the same organization that conducted the shop where his wife, Jeanne Schmidt, grabbed gifts that holiday season.
J.J. Schmidt later got to talking with more people connected to the Johnson County Christmas Bureau and realized just how prevalent hard times are in an area with a longstanding reputation for affluence. Schmidt realized how many other moms and dads became humbled by economic hardship, that so many others face the challenges his family once faced and that many do so on a yearly basis.
So this year J.J., Jeanne and their son, Jenisson, 13, and daughter Harmony, 8, are giving back.
Schmidt said he and Jeanne have since explained to their children how the organization once helped the family. Jenisson's Mickey Mouse Yahtzee came from the Holiday Shop. So did the tan fleece sweater with the snowflake on it that J.J. wore in so many holiday family photos.
For the Schmidts, wrapped packages took a new meaning since that Holiday Shop eight years ago.
"We wanted to make it exciting," J.J. Schmidt said, "but wanted to show that it was not just a toy, but a gift — a piece of our heart that we wanted to give them."
Through Friday, items can be placed at one of 50 donation barrels throughout Johnson County. The organization's wish list includes new or gently used winter coats, other winter clothing items such as gloves and sweatshirts, basketballs, footballs, soccer balls, bedding, small kitchen appliances and personal care items.
The organization's wish list includes winter clothing items like gloves and sweatshirts, but also basketballs, footballs, soccer balls, bedding, small kitchen appliances and personal care items.
It has since asked for more winter coat donations, as it initially only had 5,000 available to a possible 12,500 Holiday Shoppers.