Late bucket lifts Hayden over St. James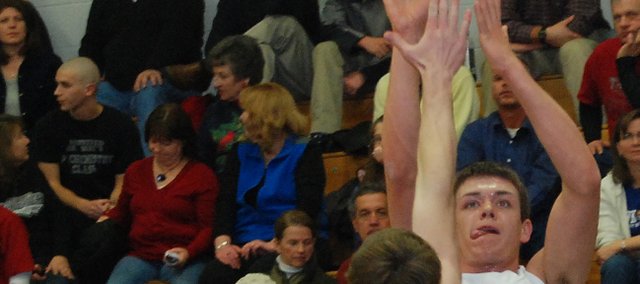 A year ago, Topeka Hayden needed a last-second shot to edge St. James Academy's boys basketball team in overtime at Hayden.
Photo Gallery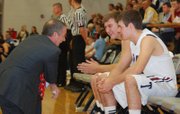 Topeka Hayden 51, St. James Academy 50
Friday night at St. James, Hayden didn't need overtime to beat the Thunder, but the Wildcats still needed a late bucket.
Matt Hutchinson's runner down the right side of the lane banked home with 1.7 seconds left to give Hayden a 51-50 lead. After a timeout, St. James' Ben Maskus made a nearly full-court inbound pass, but the Thunder were unable to attempt a shot for the win.
It was another frustrating loss to Hayden, and it came on a night where St. James appeared to have the game in control entering the fourth quarter.
"They do a really good job," St. James coach Mark Huppe said of the Wildcats. "We gave their kids some credit. The kid made a great play at the end. We could've closed out better and had a better cutoff angle, but he did make a good play and you've got to give him credit for that."
St. James trailed 28-24 at the start of the second half, but surged into the lead with a dominant third quarter. A Clint McCullough layup followed by a steal and layup by Bryan Eisman evened the score. Hayden countered with a bucket, but a three-point play by McCullough put St. James on top 31-30. From there, the Thunder continued to pull away. Jake Wittman also converted a three-point play, and then McCullough dished to Stephen Leimbach for a layup as the lead grew to six points. McCullough added a baseline jumper late in the quarter, and then he buried a 26-foot 3-pointer at the buzzer and gave the Thunder a commanding 41-32 lead.
McCullough scored 10 points during the quarter as St. James outscored Hayden 17-4.
The Wildcats were down, but they weren't out. Hayden scored the first five points of the fourth quarter, and then St. James' lack of veteran experience showed through in the form of turnovers. Hayden capitalized on two St. James turnovers by scoring on layups, and they pulled within a point on three different occasions.
McCullough knocked down two free throws with 16.7 seconds left to stretch the lead to 50-47. Hayden answered with two freebies from Hutchinson. Hayden put St. James' Bob Engen on the line with 9.1 seconds, but both of his attempts rimmed out. That set up Hutchinson's game-winning bucket.
The wild second half followed a first half that was mostly uneventful.
The game started slow, and neither team established much rhythm during the first quarter. St. James deployed a 1-3-1 zone that frustrated the Hayden offense early, and Hayden packed it in on standout McCullough inside to disrupt the Thunder. Neither team made a field goal during the first three minutes, and neither team led by more than two in the quarter. A 3-pointer by McCullough with 33 seconds to go in the quarter gave St. James a 10-8 lead, but Hayden answered with a trey from Sam Glennon and led 11-10 heading into the second period.
Hayden opened the quarter on a 7-0 run, but a 3-pointer by Bryan Eisman sparked a 9-2 Thunder run as they closed to within a point. Hayden then used two 3-pointers and a 15-footer by Glennon to re-establish control entering halftime.
Hutchinson led Hayden with 18 points and Glennon added 16 as the Wildcats improved to 1-0.
St. James received a game-high 29 points from McCullough on 9 of 18 shooting from the field and a 9-for-13 effort from the free throw line. Wittman added eight for St. James as the Thunder dropped to 0-3.
After tough games with Ottawa, Bishop Miege and Hayden to open the season, St. James will play Missouri power Hogan Prep at 9 p.m. Saturday, Dec. 17, at Avila University in the Hy-Vee Shootout and then play Class 4A No. 1-ranked Sumner Academy at 7 p.m. Monday, Dec. 19, at Sumner. It'll be a tough challenge, and Huppe hopes to see more growth from his team against stout competition.
"We always talk about how we want to play a rough schedule, and we know what's next," Huppe said. "We know Hogan's next. And then we know Sumner's two days after that, and then after that we've got some time over the break. We talk about keeping the faith and saying all the right things. I think our kids will get there. I think we will."