After years of struggling, life is good for
SMNW

 girls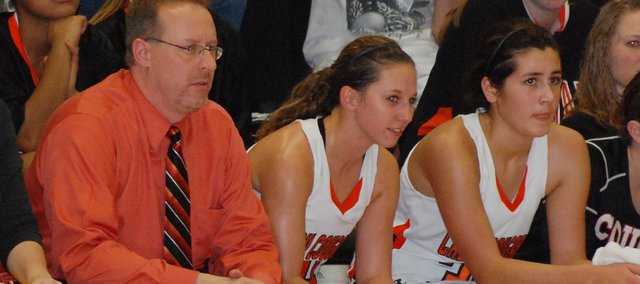 Moments after the final seconds ticked off the clock Thursday night at Cougar Gymnasium, the Shawnee Mission Northwest girls basketball team went through a handshake line.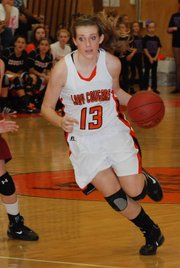 Smiles were on their faces as they turned toward center court where the jubilant SMNW student section had lined up to form a spirit tunnel for the players to run through.
Yes, this is life for the Northwest girls these days. Fans are excited and the Cougars feel good. Their 57-35 victory against rival Shawnee Mission North moved their record to 3-0.
Now, Northwest is receiving attention in the state rankings and metro area polls. It's something that has been building for the past three seasons.
"It feels really good to see our work paying off, all of the hours in the summertime we've put in," says senior guard Jessica Johnson. "It's great to see it all coming together and to be able to come out and play that way."
HUMBLE ROOTS
After a series of losing seasons, Northwest introduced Brian McIntosh as its new girls basketball coach for the 2008-2009 season. His first order of business was evaluating talent in the program, and McIntosh recognized that some of his best players were freshmen.
They also were exceptionally hard workers.
They weren't necessarily varsity-ready, but McIntosh didn't have many options. His decision: throw them to the wolves and let the freshmen learn the varsity pace at an early age.
Among those freshmen were Johnson, Katie Biggers and Sarah Schmidt. Most of the junior varsity consisted of freshmen and sophomores as well, including a 5-foot-1 tennis standout named Mary Slattery.
The Cougars took plenty of lumps. Most losses were lopsided. A lineup that had minimal experience and hardly any size simply didn't hold up in the ultra-competitive Sunflower League.
Northwest went 2-19 that season.
A year later, the plan remained the same. Keep the young, undersized kids in the lineup, outhustle opponents and hope for the best.
"My early years it was tough to be able to look up and see that you're working so hard and just not getting the result you want," Johnson recalls.
More losses piled up, but the Cougars appeared to turn a corner late in the season. They put a good scare into top-seed Shawnee Mission East in substate but ended the season with a 5-16 record.
NEW COACH, SAME GOALS
Even though the Cougars' record might not show it, the program had made significant progress in two seasons. That was validated when McIntosh was hired away from SMNW to become an assistant coach with the Emporia State University women's program that had just won the NCAA Division II national title.
To replace McIntosh, Northwest turned to another coach with the same philosophies as McIntosh and a proven record for turning around programs: Jeff Dickson.
The transition was smooth, but results were still slow to come by. Northwest won just one of its first nine games, but a mid-season three-game winning streak gave the Cougars momentum. They finished the regular season strong and then lost a heartbreaker in the first round of substate. Johnson drained a buzzer-beating 3-pointer to force overtime against Blue Valley North, and then North used a buzzer-beating trey to win the game.
The Cougars finished with a 7-14 record, but Dickson sensed a breakthrough was right around the corner.
Hungrier than ever, SMNW embarked on a rigorous summer schedule that included tournament victories against teams like Class 4A powerhouse Holton who was fresh off of a state title and 26-0 season.
After three years of laying the foundation, Northwest entered 2011-2012 expecting to win.
READY FOR THE PAYOFF
It's Thursday, and Northwest is clinging to a four-point halftime lead against rival Shawnee Mission North. The Cougars' unbeaten record is in jeopardy, but there's no panic in their locker room. Dickson addresses his team, and then the seniors speak up. They know what needs to be done, Dickson notes later.
A few minutes later, they're back on the court. In the same spirit that the now-injured Slattery bombed in a key 3-pointer during the season-opener against Shawnee Mission West, Johnson seizes the role of offensive spark plug against North with back-to-back treys off of assists from Biggers. Then Schmidt slashes down the lane for a layup. The Cougars quickly build a double-digit lead and never look back.
North coach Kelly Dennis has seen the Northwest program building in recent years, and she came away from Thursday's game impressed.
"Their team speed has always been there, but they look even faster because they're more fundamentally sound, they're deep and they're confident," Dennis says. "Confidence goes a long way. It makes you play quicker and it makes you trust your decisions a little bit better."
The Cougars' confidence is undeniable, and Dickson knows right where it comes from: his four seniors. Slattery, Johnson, Biggers and Schmidt have paid their dues through three long seasons. Now is their moment, and they are seizing it.
"They're the hardest workers, they're the most competitive and they dedicate their time," Dickson says. "They care about people outside of themselves and the team. They're not worried about their stats; that's not even an issue with them. They want to see everyone else succeeding, and they're the first ones to try to pick somebody else up. Because of that, they've gotten better and better."
The seniors are leading the way, but SMNW now has depth. Sophomore McKayla Ross is a rising star, and Dickson can go 10 deep on his roster.
"Right now we're playing with a ton of confidence," Dickson says. "Every night it's a different kid stepping up, and I look for that to continue."
Northwest is 3-0, and a fourth victory looks promising entering Tuesday's game at winless Washington (results were unavailable at press time).
Dickson stresses that the Cougars aren't looking past anybody, and they're not letting the early success go to their heads. They're not far removed from being a struggling program, and every game is an opportunity to make the 2011-2012 campaign even more memorable.
The wins are rewarding, and those are what folks outside of the program notice right away. For the seniors, however, there's more to it than that. They've spent years rebuilding a program — both on the court and off — and they are proud of what they see.
"The seniors have really come together and really build a family out of the team," she says. "We're all there for each other and we all know we're going to be there for each other, and so for us seniors to see that really feels great because it's what we envisioned when we were freshmen and sophomores."