Bonner Springs girls hang on against Mill Valley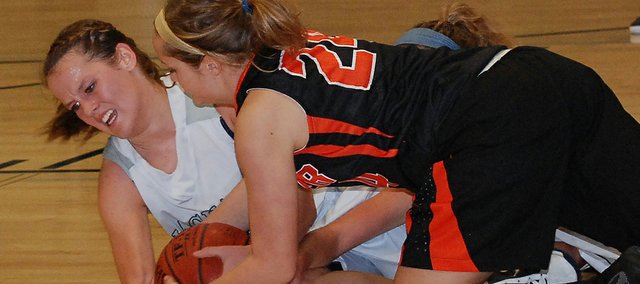 A year ago, the first meeting between the Bonner Springs and Mill Valley girls basketball teams came down to a buzzer-beating 3-pointer by the Jaguars.
Photo Gallery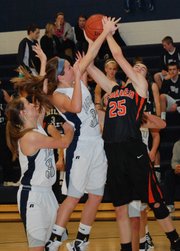 BSHS girls 38, MVHS 37
The first meeting of the 2011-2012 campaign also went down to the wire, and this time a Mill Valley shot at the buzzer rimmed out as Bonner Springs survived, 38-37, Tuesday night at MVHS.
The late-game drama was made possible because of 21 turnovers and poor free throw shooting by Bonner Springs that canceled out its 51.6 percent shooting from the field.
Mill Valley was a frigid 21.5 percent from the field (11-for-51), a number that shot up when the Jaguars made four of nine shots during a wild fourth quarter.
"I felt like we kept playing tighter and tighter as the game went on and as the score got closer and closer," BSHS coach Clay Oakes said. "I think a lot of that has to do with us being inexperienced in those types of game situations, and for us to see that we've been in this position now and we've been able to win in that position, I think that's going to be huge for our confidence down the line."
A thriller appeared to be on tap early as the teams traded baskets and leads throughout the first quarter. BSHS took an early 2-0 lead on a put-back by Emily Wilson, but Mill Valley answered with a 3-pointer from Mackenzie Conklin. Bonner Springs' Yessenia Hernandez countered with a trey for a 5-3 Braves advantage. The score was tied twice after that, and a late layup by Anna Deegan gave Bonner Springs an 11-10 lead after one quarter.
BSHS went 5-for-7 in the opening quarter, but four turnovers allowed the Jaguars to stay close despite their 3-for-12 shooting performance.
Matters grew worse for the Jaguars in the second quarter as they made just one of 14 shots despite dominating the offensive glass. Bonner Springs' pace slowed significantly, and five more turnovers and 2-for-6 shooting from the free throw line kept them from building a sizeable lead. Still, at halftime the Braves led 19-13.
A 16-foot jumper and two free throws from Tanner Tripp brought MVHS within four early in the third quarter, but Bonner Springs quickly reasserted control as Deegan buried an 18-footer and Hernandez scored on a coast-to-coast layup after grabbing a rebound.
A put-back by Deegan with 3:43 to go in the third quarter gave Bonner Springs its largest lead of the game at 27-18, but two turnovers late in the quarter led to points for Mill Valley as Stephanie Lichtenauer scored on a put-back on one possession and swished two free throws on another.
Despite going 6-for-39 from the field in the first three quarters, the Jaguars' aggressive man-to-man defense kept them in the game and they trailed just 27-22 entering the fourth quarter.
"They're a good team, and they just kept plugging away and they were patient," Oakes said of Mill Valley. "I think what got them back in the game is they were really scrappy on defense and seemed to be outhustling us for loose balls, and they did a nice job of taking care of the ball."
Tension continued to mount as time wound down in the fourth quarter. MVHS used a 5-2 run — capped by a 3-pointer from Conklin — to pull within 28-27 with five minutes to go. Erica Wilson's layup gave BSHS a three-point cushion, but Stephanie Lichtenauer answered with a bucket at the other end to make it a one-point game once again.
Fresh off of a BSHS turnover, Lichtenauer drew a foul and knocked down both of her free throws. That gave MVHS a 31-30 lead with 2:37 to go.
From there, five more lead changes followed.
Deegan slashed to the basket for a layup, giving Bonner Springs a 32-31 lead, but Tripp responded with a 14-foot jumper and put the Jaguars back on top with 1:53 remaining.
A 3-pointer by Haley Hoffine on the right wing gave the Braves a 35-33 lead with 1:35 left, but Tripp gave Mill Valley the lead again when she swished a 24-foot trey with 34 seconds to go.
Trailing by a point, Bonner Springs turned the ball over when Deegan was called for traveling. From there, the teams traded missed free throws. Then Conklin made the second of two free throw attempts with 13 seconds left to give the Jaguars a 37-35 lead.
On the ensuing possession, Hernandez drove the length of the court, scored on a layup and drew a foul with 9.2 seconds to go.
"We were out of timeouts and didn't have time to set anything up," Oakes said. "I pointed to her and said, 'You take over the game. You do it. You make it happen.' And that's what she did."
Hernandez sank a free throw to complete the three-point play and give the Braves a one-point lead. Mill valley had one last chance, but Brooklyn Sloop's jumper from the right baseline rimmed out as time expired.
"I told the girls we got to the end and we persevered," Oakes said. "That's something we haven't done in the past in tight games like this when we know we're playing good teams, so hopefully this is a stepping stone we can build off of when we're in situations like this again."
Tripp led MVHS with 12 points, Lichtenauer had 11 and Conklin added 10. The Jaguars (0-3 overall, 0-1 Kaw Valley League) next play at 6 p.m. Friday at Turner.
Deegan led Bonner Springs with a game-high 13 points, Hernandez scored eight, Emily Wilson had seven, Hoffine had six and Erica Wilson added four. The Braves (3-0, 2-0) next play at 6 p.m. Friday at Lansing.