Second-half collapse proves costly for Mill Valley boys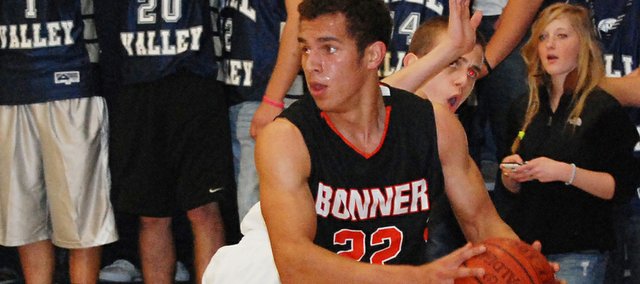 Justin Bogart was at a loss for words in the minutes following the Mill Valley boys basketball team's 55-52 loss to Bonner Springs Tuesday night at MVHS.
Photo Gallery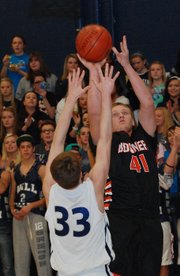 Bonner Springs boys 55, Mill Valley 52
Bogart, the Jaguars' coach, was as stunned as his players by what happened.
Mill Valley led by 13 points at halftime. The Jaguars shot lights out and appeared to have the game well under control.
During the final two quarters, however, they completely unwound as Bonner Springs ramped up the defensive pressure.
"I'm at a loss to explain what we looked like in that second half," Bogart said. "That was not the way that we drew it up on the board; that's not what we talked about at halftime. You can't use the excuse that we're a young team, because we made mistakes that no basketball team should make."
Mill Valley turned the ball over 16 times in the second half, many of them near mid-court as Bonner Springs players jumped into passing lanes and took the ball the other way for layups.
The Braves outscored Mill Valley 29-13 in the second half after the Jaguars held a 39-26 lead at intermission.
"We knew they weren't going to quit, and they proved that," Bogart said. "Credit to (Bonner Springs) coach (Andy) Price and his players).
The Jaguars' unraveling began after a first half where they seemingly couldn't miss.
Mill Valley was 7-for-8 from the field in the first quarter, including three 3-pointers by Nick Friesner.
Mill Valley led 17-11 after one quarter.
Bonner Springs closed to within 23-22 with 3:25 to go in the second quarter, but Mill Valley scored on four straight possessions — including back-to-back 3-pointers by Drew Boatwright — and pushed the lead to 13 points.
Friesner led Mill Valley with 13 points, Nathan Stacy scored 12 and Boatwright added eight as the Jaguars fell to 1-2.
Bonner Springs (2-1) received a game-high 17 points from Stevie Williams, 14 from B.J. Watson and 12 from Brett Steuart.