Podcast dispatches from the colonial age, courtesy of Riverview Elementary fifth-graders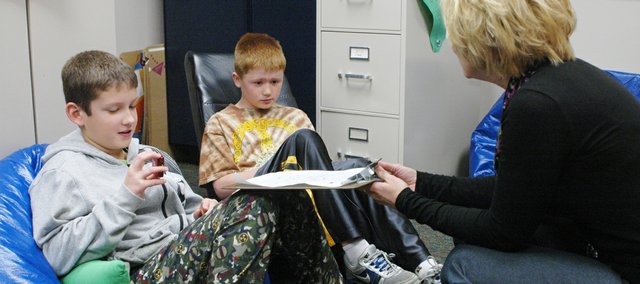 Audio Clip
Audio Clip
Sam Friesen wants to get it right, to sell you on Colonial Age New England — a place predating by just a few centuries the technology he's using to tell his story.
So the Riverview Elementary School fifth-grader has his script, heavily annotated and titled "THE NEWENGLAND COLONY" snug on a clipboard, and he's sitting in a black floor chair as a classmate clutches a little red recorder that's playing back his story.
Sam and his classmate, Jacob Rutkowski, sunk in a blue beanbag next to Sam, were putting the finishing touches on what would become a podcast recorded and edited in class. Last month, The Pearson Learning Foundation — a nonprofit education foundation from Washington, D.C. — visited the school as part of a mobile learning program seeking to fold digital media into day-to-day lesson plans.
The visit lasted three days, and two members from the Pearson Learning Foundation walked the classes through script-writing, recording, editing and saving their podcasts. Everything saved had to go into "the cloud," a software that allowed students and teacher to share and edit files online.
Brian Burnett was one of the instructors sent by Pearson to lead the fifth-graders through their project as they sat in Traci Seyb's computer class.
Burnett, who leads the New Learning Institute's Model Classroom Program, said the results of Powers' lesson plan would be shared with other Pearson educators and could be used as an example for other schools.
He said lesson plans like Riverview's are intended to bump education up into the 21st Century, to blend together the expanded set of literacy skills possessed by today's students.
Reading specialist Jeri Powers talked about a student who was particularly shy in the classroom, but went home and recorded his own radio show and music using the same web audio editing program used in class — Aviary — and uploaded it to YouTube.
Burnett is used to hearing stories like that, where students are growing increasingly tech savvy when it comes to entertaining themselves. The task then for educators today, Burnett indicated, is to build a bridge between digital entertainment and education.
"They're digital natives, so they get that stuff," Burnett said. "We take it from a play mode and learn with it."
Sam and Jacob sat with Powers in her office. It was Powers who attracted the Pearson foundation to Riverview after she was named the state teacher of the year in 2008. A lot of eyes (and ears) will be on Riverview's project as the Model Classroom Program, a subsidiary of the Pearson foundation institute, selected the school to be one of 14 across the country in which new media lesson plans would be adopted.
Powers' lesson plan was selected from among 40 teachers during a professional development workshop at the Smithsonian Institution in Washington, D.C., making Pearson's visit possible.
"You need to pull the listener in," Powers told Sam and Jacob as she knelt down to eye level.
"New England has good farming and we have a great community," Sam began with haste. "Also another hardship is the water moves really fast across the sea."
He was rehearsing his speed and tone before recording was to begin.
"And we have to work hard, so that's why we have good farming...good farming. Also we have hot humid..."
"Pause," Powers interrupted. "HOT...HUMID."
"We have hot...humid...and short...summers," Sam said.
"Think you're ready to record?" Powers asked. "I'm going to sit back, and you guys take over."
A couple fits and starts followed. On two occasions, Jacob interrupted after he thought the recorder turned off, when it instead went into sleep mode.
But when Sam finally got his whole story out, he nailed it. Not too fast, not too slow and the "hot...humid...and short...summers" was paced appropriately.
"Did you like it?" Powers asked.
"We should listen to it just in case," Sam said.