Shawnee insurance agent to 'give the gift of a birthday' with kidney donation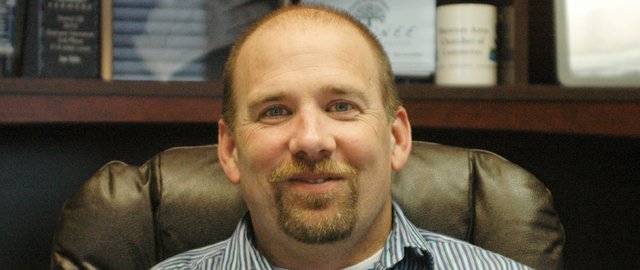 On Wednesday, a Shawnee insurance agent should be on a flight to Chicago with his wife. It will be just after Christmas and just before New Year's Eve.
When he gets there, he'll be giving up a kidney to someone he doesn't know and may never meet.
Joseph Vohs lives in Linwood and has worked at Farmers Insurance in Shawnee, 21640 Midland Drive, for more than five years. His wife, Katy Vohs, spent 10 years as a dialysis nurse and during that time, Joseph got to know many of her patients either personally or through the stories she shared at home.
"Her passion for her patients inspired me," Vohs said.
And with that, he vowed to one day donate a kidney anonymously. He wanted to help because he and his wife knew too well the two ways patients get off dialysis: transplant or death.
Those on dialysis would visit his wife three days a week for four hours each stop. It was survival, not living, Vohs said.
After a few years of searching, Vohs came upon the National Kidney Registry on television. He learned that his name would be thrown into a pool and that he'd be notified when a match was found. When the call came, Vohs found out he'd become a link in a chain that ensured three people would receive a kidney.
Vohs has to fly to Chicago because that's where one of the nearest medical centers affiliated with the registry is located. It's one of the primary reasons he finally decided to share his story. He didn't want a vanity piece written about him, but rather to shed light on how far he has to travel to give this gift he wants to give.
"Most people assumed initially that I'd be doing this here," he said.
Instead, Vohs had to rely on all the pieces falling into place. His wife was able to take off work, his co-workers pitched in to fill in while he was out and he has no children — which otherwise would have been a huge cost consideration.
It's been a long time coming, and in the weeks preceding his procedure, Vohs started feeling anxious to get it all going. Still, he said, he's not quite nervous and has never been worried. It's been an easy decision.
"I get to give the gift of a birthday to someone," he said.
Vohs said he expects Christmas not to be emotional. No that's not the right word, he said, but close. He still thinks the holiday will take on a different feel despite the usual trimmings of turkey, ham and presents.
Vohs said he found further inspiration through his efforts with the Shawnee Rotary Club in recent years. He's helped with its bike rodeo, its efforts cleaning up tornado damage in Reading and the Johnson County Christmas Bureau to name a few.
"Their mission is service," he said. "I can't think of a better way to serve than to give up a part of yourself."
Thursday will mark the culmination of a years-long process — after gallons of blood, days of tests and CT scans and psych evaluations.
"I'm not crazy," Vohs said, "despite what some may say."
He said that every day we come across opportunities to do good, be them minute or epic. It comes down to recognizing them and having the courage to act and make the difference.
Vohs wants to be an advocate for the procedure. And now, he said, having been there, the job will become that much easier.
"For me it would be great if this wasn't a story because it happened so much," he said.
More like this story