Stories of the Year: Groundwork for growth
Some of 2011's top stories involve sacrifices hoped to pay off in quest for long-term success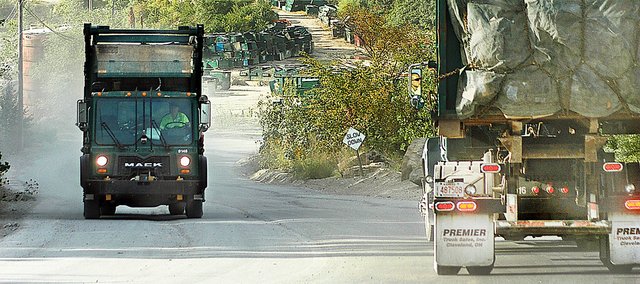 When census figures came out in March, they revealed that Shawnee's population burgeoned from 47,996 in 2000 to 62,209 in 2010, an increase of 29.6 percent.
Among the state's 20 largest cities, the only city with more rapid growth was Olathe.
At the time, city manager Carol Gonzales called those numbers a reminder that Shawnee must continue to plan for growth.
It's an annual tradition at The Dispatch to highlight the year's biggest stories in the final December edition, and paving the way for growth seemed to be a theme throughout 2011.
As the phrase "Two steps forward, one step back" reminds, some of the biggest onward movements don't come without some degree of sacrifice.
This year in Shawnee, residents endured difficult detours, unpleasant odors, shifting school boundaries, dreary shopping centers and changeovers of top school officials. But some of the year's top stories sprouted from those inconveniences — developments supporters hope will keep the city on the right path.
Landfill extended, revenue increasing by millions
Not everybody likes being neighbors of the Midwest's largest landfill — complete with truck traffic and occasional wafting smells.
But for agreeing to keep the Johnson County Landfill open longer than anticipated, Shawnee will collect millions in new revenue, money the City Council has pledged to use to boost economic development and, in later years, street improvements.
The landfill's time was supposed to be up in 2027. After learning the landfill was filling far slower than initially projected, the Shawnee City Council voted in February to allow it to operate an additional 16 years.
City leaders negotiated with Deffenbaugh Industries Inc. to ensure that, in exchange for the extension, Deffenbaugh would increase impact fees it pays to the city, effective immediately.
Shawnee had expected to receive about $300,000 from Deffenbaugh in 2011 but got an additional $200,000. In five years, annual revenues from the impact fee will be $3 million and counting.
Extending the landfill's lifespan also means pushing back the date the land could potentially be developed, bringing more tax revenue to the city, some Council members argued. But landfill officials explained that even if Deffenbaugh stopped operations, no one could build on top of the landfill until it was full and level, anyway.
Ideas for the still-forming economic development fund policy include using money for utilities that would make open ground development-ready, incentives that would encourage existing businesses to expand or wooing a so-called "destination" retail or entertainment tenant.
In May, Gonzales told the Council she hoped the fund would help entice potential investors.
"It says 'Shawnee is open for business,'" she said.
Finally! K-7 interchange is completed
The $21.4 million new interchange was completed this year at Kansas Highway 7 and Johnson Drive, a project hoped to have positive long-term effects beyond convenience for drivers.
Since construction began in March 2010, drivers navigated a series of inconvenient detours, and businesses — which, to unknowing patrons, appeared completely cut-off from street access — lost customers.
In September, Mayor Jeff Meyers thanked the crowd gathered for the project's ribbon-cutting ceremony for making the best of the difficult situation. Looking forward, he said, the new interchange means the area is ready for economic growth — and ready to safely accommodate traffic associated with that growth.
The project is one of several improvements envisioned along a multi-county stretch of the K-7 corridor.
A combination of local, state and federal dollars funded Shawnee's project, which transformed the signaled intersection into a so-called "diamond" interchange — Johnson Drive now runs beneath K-7, and ramps with merging lanes carry traffic on and off the highway. Roundabouts enable vehicles to turn from Johnson Drive into any of the adjacent shopping centers.
Middle schools expand for incoming students
Growth's a funny word when it comes to schools in Shawnee in recent years.
This year marked the third straight year of state aid cuts and — for the Shawnee Mission school district — the closure of a handful of schools, a measure among several taken to trim the district's budget.
But the closure of a few doors signals the addition of a few others, as two schools serving Shawnee students are expanding to accommodate the extra students from the now-closed Antioch and Mission Valley middle schools.
A $7.1 million project is underway at Hocker Grove, and enrollment exceeded 760 this year, up from 516 in 2010.
All students previously zoned to attend Antioch and the up to 60 students that would have otherwise attended Indian Hills were sent to Hocker Grove. Students who lived west of Quivira Road who attended or would have attended Hocker Grove instead were zoned for Trailridge.
Hocker Grove's construction, which began over the summer and will continue until 2013, is highlighted by the addition of a 13,000-square-foot-auxiliary gym and a two-story classroom unit.
An expansion of a similar size and cost was approved in October and will begin in early 2012 at Trailridge, which is located in Lenexa but serves many Shawnee students. Trailridge saw its enrollment swell to 845 this year, up from 543 in 2010.
At Trailridge, six new classrooms and an auxiliary gym will be added to the rear of the building, and 81 new parking spaces will better separate bus traffic from parents picking up or dropping off students.
New tenants bite into big-box vacancies
Shawnee's seemingly chronic problem of empty big-box stores and aging strip malls got more than one shot in the arm in 2011.
In August, residents turned out in force when the City Council voted to create Shawnee's first-ever Community Improvement District at 10 Quivira Plaza, Shawnee Mission Parkway and Quivira Road.
Many residents opposed the plan and vowed to take their business elsewhere if the city approved it. But others, and most 10 Quivira tenants, supported it.
Beginning in July 2012, shoppers at 10 Quivira will pay an additional half-cent sales tax on items purchased there. The bump in sales tax is expected to raise $1.4 million that — coupled with $2.8 million from owner Tri-Land Properties Inc. — will bankroll redevelopment owners say is needed to stop the property's downhill slide, attract new tenants, add value to the property and ultimately increase the city's tax base.
In February, Nellie and Nicos antique mall opened in the empty Hy-Vee store at the southeast corner of Shawnee Mission Parkway and Quivira Road. This month, the Planning Commission approved plans for a tenant to fill the other half of the vacant store — Sky Zone, an indoor recreational trampoline facility. Dollar Tree opened around the corner, at 6445 Quivira Road.
Planners also OK'd plans for what some might argue will be the corner's pièce de résistance: Chipotle.
Renovations began this fall at Shawnee Parkway Plaza, where Savers thrift store plans to move into one side of the 57,000-square-foot Price Chopper, 13201 Shawnee Mission Parkway — which has been empty more than 10 years. Currently, the shopping center has only three tenants (and one of those is seasonal), but owners say they hope Savers will help attract other tenants.
Two big-box stores remain vacant, the former Dillons store at Westbrooke Village shopping center, 75th Street and Quivira Road, and the former Cosentino's Price Chopper at Oak Valley shopping center, K-7 and Johnson Drive.
School leaders leave flocks headed in right direction
This year signified the end of a lengthy chapter for Maranatha Academy's longtime superintendent, Larry Daugherty.
Daugherty had discussed plans to retire as early as three years ago, beginning a succession process culminating in the selection of Mark Schultze, girls basketball coach and head of the Maranatha school board, this fall. Schultze spent the remainder of 2011 working alongside Daugherty while the 18-year superintendent served his final term, which ends in July 2012.
Under Daugherty's watch, Maranatha opened a north campus at 15000 W 63rd St. and celebrated its 35th birthday. The private school was also granted independence from Cross Points Church, paving the way for a school board and accreditation. Daugherty also saw the school gain admission to the Kansas State High School Activities Association. That, and the addition of a gymnasium, helped cut down on lengthy road trips for athletic teams.
Maranatha has come a long way, but Schultze will have his hands full when he assumes the superintendent's office in 2012. Atop the list of challenges will be determining how to improve enrollment. Maranatha's K-12 enrollment dipped below 500 in 2011 for the first time in 20 years, falling 7.5 percent.
Also this year, Doug Sumner began his first full year as superintendent of the De Soto school district. Sumner was selected to succeed Ron Wimmer in 2010, and spent that year as superintendent-elect.
Sumner inherited a school district that saw another year of growth, seeing an improvement upon the previous year's enrollment figures. De Soto's enrollment increased to 6,881 this year, up from 6,700 in 2010.
2011 Stories of the Year: Honorable mentions
• The Shawnee Town 1929 Truck Farm opened this spring, a project for which plans had been on the books since 2004.
• Bio-Microbics was named Kansas State Exporter of the Year, bringing attention to one of many Shawnee companies that ship products across the globe.
• Commerce Bank moved out of its Johnson Drive and Nieman Road location — for the first time in more than 100 years, the building is not home to a bank. City Council member Dan Pflumm purchased and moved his DanCo Systems Inc. offices there this fall.
• The Johnson County Museum announced plans to buy a Metcalf Avenue landmark for its future home, meaning the museum will move out of Shawnee.
• Shawnee named new police and fire chiefs this year. Police Chief Larry Larimore replaced retiring Chief Jim Morgan. Fire Chief John Mattox replaced retiring Chief Jeff Hudson.
• Central Baptist Theological Seminary opened the $4 million Baugh-Marshal Chapel, after a year and a half of construction.
• The De Soto school district added bowling to its high school sports lineup, with teams set to begin play in 2012.
• Fire destroyed Pegah's Family Restaurant at 75th Street and Nieman Road. The owner has said he hopes to rebuild.