They are the champions: 2011's top sports stories include title runs, retirement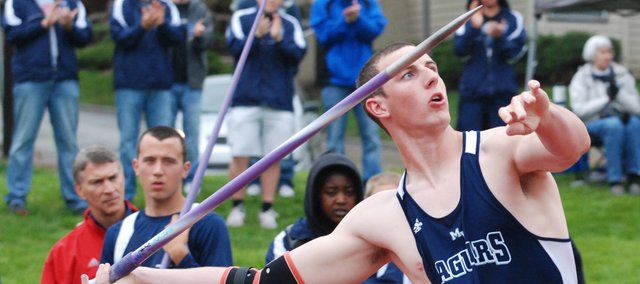 Trophy cases were filled with new hardware at Shawnee-area schools in 2011, and the magnitude of those accomplishments took center stage on The Dispatch sports pages this year.
State championships always garner much deserved attention, so it's no surprise that those championships occupy plenty of space on this year's list of stories of the year.
The following — tales of individual and team state titles, as well as some nonchampionship events — is a look at the top 10 sports stories in Shawnee, in no particular order.
YEAR OF THE THUNDER
One state championship in a year is nice for most schools. Two oftentimes is too much to ask for.
But three?
That's the goldmine that St. James Academy earned in 2011.
The Thunder brought home the school's first baseball state championship and third girls soccer state title in the spring. Then, in late October, the volleyball team captured its fourth straight Class 4A state championship.
Three more trophies also found their way to St. James as the softball, boys soccer and girls tennis teams all earned second-place finishes.
It was a remarkably dominant year for a school that is in just its sixth year of existence, but it also was a great year by any school's standards.
THE KIDS ARE ALL RIGHT
Maranatha Academy cross country coach Bianca Williams had high expectations for the 2011 season with the infusion of a dynamite freshman class into the program — but what the kids turned in was beyond Williams' hopes.
Three precocious freshmen — Lauren Harrell, Hope Manning and Taylor Morrow — and sophomore Christa Johnson ran like seasoned veterans all year and led the Eagles to the Class 2A state championship.
The underclassmen led the way — Harrell finished second, Manning was 13th and Morrow finished 15th — and helped send seniors Courtney Brownlee, Anna Hoduski and Emily Kidd out with a state title at Wamego Country Club.
With a state title under their belts and a solid core returning, was 2011 the birth of a dynasty for Maranatha?
"That's kind of yet to be seen," Williams said. "For the most part, they're strong runners, which would bode well for them in the future. We do have some strong girls who will be coming in as freshmen next year. I just really see the younger girls continuing to do well. With their work ethic and the tightness — the close-knit feeling of the team — they should stay strong."
NICE GUYS FINISH FIRST
A photo finish — with David Fancher winning by a lean — gave Shawnee Mission Northwest's boys track team a victory in the 1,600-meter relay and capped a championship performance where the Cougar boys earned the Class 6A state title.
Northwest was dominant, winning by an 18-point margin, but what's more, this group was balanced.
The Cougars didn't just have one or two stars; they truly were a balanced bunch.
What's more, SMNW coach Mike Cooper found them to be so darn likeable.
"I hate to tell other groups, but this is my 30th year (coaching) and they're my favorite," Cooper said. "They're nice. There isn't a bad dude in the group. That's the part that's so fun. I have 17 nice boys here, and then they have a lot of talent. You put the two together and — wow, we score 72 points."
The collection of talent included two relay state championships (1,600 relay, 3,200 relay), one individual state champion (Seth Kotzman in the 110 hurdles) to go with nine more medalists. In all, the Cougars scored points in 10 events.
THIS ONE'S FOR THE GIRLS
For years, the Shawnee Mission Northwest girls cross country team has been in the shadow of the dominant Cougar boys squad.
The 2011 season was all about the girls, however.
A team that has spent four years laying its foundation broke through this fall. The Cougars started the season strong, and they got better by the week.
The veteran bunch — led by senior Jessica Johnson's 12th-place finish, junior Katie Nelson's 15th-place finish and senior Sarah Barnes' 18th-place finish — rolled to the Class 6A team title by a 24-point margin.
Seniors Sarah Crawford, Kelsey Poston and Victoria Banks and junior McKenzie Iverson rounded out the championship squad.
Northwest coach Van Rose said the girls' hard work and preparation made the difference during a season where cross country talent in Class 6A was particularly stout.
"You kind of look at who you're running against," Rose said. "We knew Shawnee Mission West was going to be good and that Shawnee Mission East had won the last couple of titles. When we beat West in the first meet of the year, we knew we had potential.
"The girls had done so much over the summer and had kept healthy. You like to see a crew like this get rewarded. It's impressive that they had five seniors leading the team. Most of the time, in girls cross country, teams are dominated by younger runners. It's a tribute to our girls that the seniors stayed to see this through."
GARTON RISES AGAIN
Moments after the javelin left his right hand, Macauley Garton stared at the airborne spear and barked, "Go!"
A disappointed Garton shrugged off the announcement that the javelin had sailed just 199 feet, 9 inches.
Sure, it was his first throw of the day — and 18 feet farther than anybody else in the competition would go all day — but Garton expected more.
"A lot of times my first one's the longest one," Garton said. "I don't even know why, but today I just felt really nervous. I was all worried because it's my last time out here, but I got the nerves out and I was able to get something out there."
His second throw sailed 211-9, more to Garton's liking. Each time he stepped on the runway at the Class 5A track and field state championships, the crowd rose to its feet in anticipation of another big mark from the No. 2 high school thrower in the United States.
The crowd clapped in unison as Garton charged down the runway for his first throw of the finals. After the javelin stuck into the ground and his winning mark of 217-6 was announced, Garton pumped a fist in the air. The crowd erupted.
It was the second-best throw of Garton's career and his best ever at state.
"I just wanted to soak in the moment," he said. "This is my last time (throwing at state), so I just wanted to embrace it."
Garton won by nearly 36 feet, earning his second straight state title in the javelin and closing out one of the most impressive javelin careers in Kansas history.
After dominating the Kansas circuit, Garton now is on the track team at the University of Missouri.
BRAND MAKES IMPACT AT DUKE
Erica Brand was a force on the high school throwing circuit for four years at Shawnee Mission Northwest.
Not much changed during Brand's freshman season at Duke University. The only difference was that the stage was much bigger.
Brand closed out a stellar freshman campaign with a second-place finish in the discus at the Atlantic Coast Conference Championships, an effort that earned her All-ACC honors and placed her second all-time in Blue Devils history.
In addition to the discus, Brand also thrived in the shot put. She heaved the No. 3 shot put throw all-time at Duke at the Duke Invitational. Brand closed out her freshman campaign with an 11th-place finish at the NCAA Championships.
COKELEY MAKES HISTORY
Ryne Cokeley became the first state champion — individual or team — in St. James Academy history when he won a wrestling state title as a freshman.
He won another as a sophomore, and then made it a three-peat his junior year. In February, Cokeley became just the 26th wrestler in Kansas history to win four state championships.
He edged Andale's Colton Duhr, 6-4, in the 152-pound finals.
"When I was a seventh-grader, eighth-grader, I always thought about how cool it would be to be a four-time champion," Cokeley said. "And it worked out. It's a dream come true. It's amazing … the best feeling in the world."
Cokeley's now wrestling at the University of Wisconsin.
SAMPLE SHOCKS THE STATE
Mark Sample barely qualified for the Class 6A wrestling state tournament.
Once there, nobody expected the Shawnee Mission Northwest senior to do much — especially not make it to the final match.
That's exactly what Sample did in late February when the first-year wrestler whose record was barely above .500 took the state tournament field by storm. A fourth-place finisher the week before at regionals, Sample marched through the 215-pound bracket. He won all three of his matches during the first day of competition and earned a berth in the finals, where he was pinned by Leavenworth's Nathan Butler in the second period.
"To be honest, I surprised myself," Sample said. "I knew I had it in me, but I just started shooting, going for takedowns instead of defensively (wrestling). I knew I was pretty good at taking down people, but I never knew it would take me that far, so I was pretty surprised."
ACREE GOES TO AFRICA
On the football field, the last thing opposing players in the Kaw Valley League wanted to see was Mill Valley's Matt Acree barreling down on them, ready to wrap them up and drag them to the ground.
In May, however, Acree found people running toward him, waiting to be scooped up in his strong arms.
Now a football player at Drake University, Acree and his teammates traveled in May to Tanzania for a journey that was part historic, part service and part physical challenge. For Acree, those three components proved to be life-changing.
The Drake football team participated in the first organized American football game on the African continent. Players also put on sports clinics for Tanzanian youths and performed community service projects that ranged from working on farms to constructing a school.
They capped it off by climbing to the summit of Mount Kilimanjaro, Africa's tallest mountain.
"I knew it was going to be an awesome trip, the cliché 'experience of a lifetime,'" he says. "When I got back and everyone was asking me how was it … I don't have words that do it justice. It blew my expectations out of the water. I thought it'd be cool. It … was … amazing. Every minute there was something new to be learned."
For Acree, neither the football game nor the journey to the summit of Kilimanjaro were the highlight of the trip. His favorite moment was a home stay with a family in a Chagga tribe. During that time, he helped build a school and slept on the ground.
"Those two days I spent in the village was probably the best thing that's ever happened to me in my life," he says, referencing the villagers' simple joy in life. "Living unlike how we live here in Shawnee … I was living in the dirt with nothing. I was wearing ratty clothes and a shirt and boots, and if they had two shirts and a pair of pants, they're happy.
"After experiencing that, I feel so insignificant compared to what goes on in the rest of the world."
MESEKE RETIRES
A heart transplant forced Shawnee Mission Northwest boys basketball coach Ben Meseke away from the sideline for the 2009-2010 season, but after a year away he returned to the bench to guide the Cougars in 2010-2011.
Meseke thought his body was sufficiently recovered to handle the daily rigors of basketball again, but it turned out to be too much.
"About two thirds of the way through the season it hit me in those two weeks," said Meseke — one of the state of Kansas' winningest high school coaches. "I said to myself, 'What am I doing? I've been given one of the greatest gifts in the world, and I'm not doing what I'm supposed to be doing.' I wasn't eating right. I was eating a lot of fast food, not taking care of myself the right way. Coaching takes up so much of your life. I thought, 'This is not right.'"
In the end, Meseke decided his health and his family deserved his full-time focus, and after the season he made the decision official.
The coach who led Topeka Hayden to a state championship and went on to lead Northwest for 14 seasons — including state tournament appearances in 2009 and 2010 — hung up his whistle for the final time.
"The other thing is, I've coached for 42 years and I think the good Lord is leading me to something else," Meseke said. "I have no idea what it may be, but I'll have to find out.