Shawnee a 'good place to start' again for family, restaurant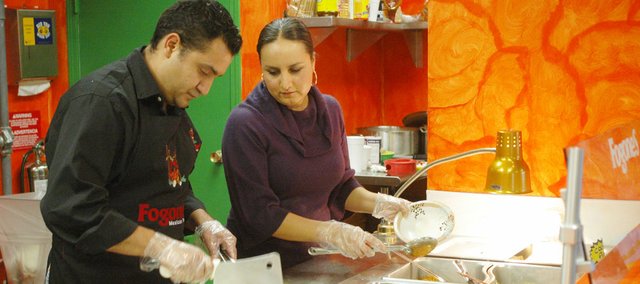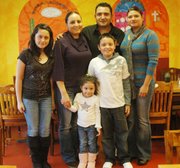 This is where it began, he says: Sizzling atop an oven fed by burning logs in a hacienda. Or, more primally, out in the desert cracking and popping atop a bed of foraged rocks. A fogón.
Rogelio Zavala painted one of these traditional Mexican stoves in bright colors that soak up the light on the wall of his new restaurant, Fogones Mexican Delights, 11200 Johnson Drive, now a week old.
Zavala took turns with his wife, Maria, chopping meat, wrapping tortillas and dishing up plates as their 14-year-old daughter, Hannia, smiled and took orders behind the cash register. The restaurant opened — and thus Hannia's extracurricular duties began — one day after her winter break started.
Rogelio Jr., 10, was on hand, too, telling you to try the homemade pineapple salsa and not to forget a bottle of Jarritos, Mexican soda in glass bottles. Little Camila, 4, played with Barbies at a table while her aunt, Liliana, looked on.
In 1997, after years of Zavala family barbecues and countless batches of homemade salsas, the family opened a restaurant in their hometown in Michoacan, a state in Mexico that extends from the Pacific coast to the deep center of the country.
But one day the gangs started showing up.If you no pay us, they said, you got a problem in your restaurant. They kept coming.
Finally, the Zavalas moved to California, but when they discovered employment to be scarce, they eventually made their way to Kansas City, Mo.
One day, Rogelio was driving home from a job in Lawrence when he took a wrong turn and, by chance, found himself on Johnson Drive. He soon approached a vacant space where Fogones now stands, found a place to park and got out of his car to walk around.
"And I felt good," he said.
Officially, the city of Shawnee's slogan is "Good Starts Here." But when Zavala recites it, he says "It Is Good To Start Here."
Zavala called 2011 the most difficult year of his life. He thought it'd take two months tops to open Fogones. Instead, between meeting health code expectations and installing additional equipment, it took a year. Hence the extra time available to paint the place — at times with a few brushstrokes contributed by Camila.
The menu is a la carte style, with tacos available in eight varieties for $2.25 apiece and their burrito counterparts $6.99. Quesadillas are also available for $6.99.
Among the options are asada (marinated steak) and carnitas (roasted pork, just like you'd find at a traditional Mexican wedding). There's pork in green chili sauce and chicken in a rich and spicy red mole. And barbacoa — Mexican barbecued beef — in the spirit of all those family gatherings back home.
The Zavalas have already identified a Shawnee favorite, though, with "cochinita pibil," pork marinated in orange juice, achiote seed — which lends a nutty, sweet and peppery flavor — and spices, and which is tender and juicy by the time it reaches the tortilla.
For a few extra bucks, a trio of "pescadillas" can be had. It's a recipe Zavala discovered in the little coastal town of Playa Azul. Tilapia is marinated and fried in little corn tortillas, held in place by toothpicks.
Another feat Zavala will likely accomplish as he did back home is to be the first restaurant in town to serve ostrich.
The first shipment is expected to arrive later this month, after which Zavala will continue a longtime family specialty: burritos de avestruz. The ostrich meat is ground and seasoned like chorizo sausage. As it likely will here, it turned heads in Mexico. When customers first tried it, Zavala said, they asked if it was pork. Either way, make more, they said.
Fogones also has a liquor license and Zavala hopes to begin serving Mexican beer and margaritas later this month.
So when Zavala says he offers authentic Mexican food, he's not talking about the "Authentic Mexican Food" found more frequently: Fried shells. Ground beef. Lettuce. And yellow cheese. Lots of yellow cheese.
Zavala — who's yet to see yellow cheese presented without irony in Mexico — said that truly authentic Mexican food is in the midst of a worldwide "tequila boom" and that he wants to put his little grain toward that progress, to make whatever imprint he can toward helping the world know real Mexican food.
"When you come to my restaurant," he said, "you feel you are in Mexico."
Mexican guitars filter through the speakers, the skillet hisses and paper silhouettes of haciendas flutter, strewn across the ceiling.
"He likes the Mexican culture because he knows everybody does it with their heart," Hannia said.
At around this time last year, Zavala returned to Mexico to see if it was safe to move back and reopen the family restaurant. It wasn't, and here he is starting what he calls a new adventure. A cousin who lives in Shawnee told him that the schools were good. He now hopes to move the family closer to work soon.
For the Zavalas, Shawnee is where it begins again.