Four Mill Valley football players sign letters of intent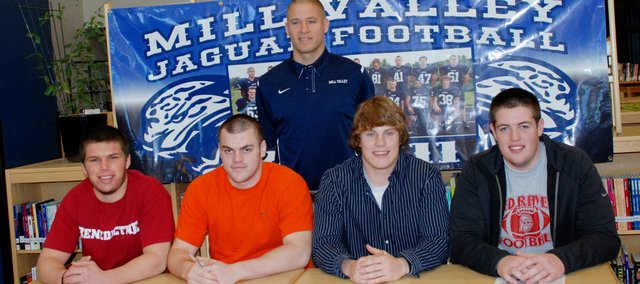 A standing-room-only crowd gathered in the Mill Valley High School media center Monday morning to celebrate a major milestone for the new era of Jaguar football: College football signing day.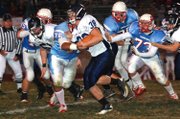 Technically, signing day was last Wednesday, but a snowstorm forced the ceremony to be postponed by a few days. It proved to be worth the wait, however, for first-year MVHS coach Joel Applebee as he saw the first four seniors from his inaugural team sign their letters of intent and secure their futures in college football.
"Their hard work's getting paid off today," he said with a proud grin on his face. "The whole reason why they put in the work is so they have the opportunity to go on to the next level if they want to, and it's very exciting to see these kids get to do that."
Running back Kyle Brunson and defensive lineman Leo Beck signed to play at Fort Scott Community College, offensive tackle Jordan Bath signed with Coffeyville Community College and linebacker Jeremy Spalding inked with Benedictine College.
Brunson posted two of the three best single-season rushing efforts in MVHS history during his junior and senior campaigns, including a record-setting 1,949 yards and 26 touchdowns on 251 carries as a senior. Those numbers caught the attention of numerous college coaches and garnered him statewide attention. Among the honors he received were first-team All-State and second-team All-Metro recognition. He also was selected to play in the 2011 Shrine Bowl, which will take place July 30 at Fort Hays State University.
Fort Scott went 3-6 in 2010, but it played for the National Junior College Athletic Association national championship in 2009.
Applebee said Brunson should have a chance to make an impact with the Greyhounds.
"I think he's got a great opportunity," Applebee said. "As a running back with the vision that he has and as fast as he plays, I think he's got a great opportunity to do something big at the next level."
Beck has been a standout lineman at Mill Valley, playing significant minutes for the past three seasons. In addition, he placed third at the Class 5A wrestling state championships last year and is considered one of the favorites to win the 215-pound state title as a senior.
The combination of his football and wrestling abilities made Beck a sought-after recruit, and Applebee said Beck is projected to be a defensive lineman at the college level.
One of the keys to Brunson's success rushing the ball during the past two seasons has been Bath's presence on the offensive line. He earned All-Kaw Valley League second-team honors as a senior. Now he will take his 6-foot-4, 250-pound frame to Coffeyville to play on the offensive line.
The Red Ravens posted a 6-5 record in 2010 and lost in the Graphic Edge Bowl.
Meanwhile, Spalding — an All-KVL second-team linebacker in 2010 — is expected to bolster the linebacking corps at Benedictine.
The Ravens posted a 7-4 record in 2010.
Spalding was one of the ringleaders of the Mill Valley defense this season and he finished second on the team in total tackles with 61. He also had a fumble recovery.
All four signees played a major role in helping lay the foundation for Mill Valley's football future, Applebee said, and he noted that they should serve as inspiration for younger Jaguar athletes.
"I think the kids that are younger than them see all of the opportunities that they have been given because of their work, and I think that's motivating to them as well," he said.
More like this story