Boy has group to thank for 'souped-up' wheelchair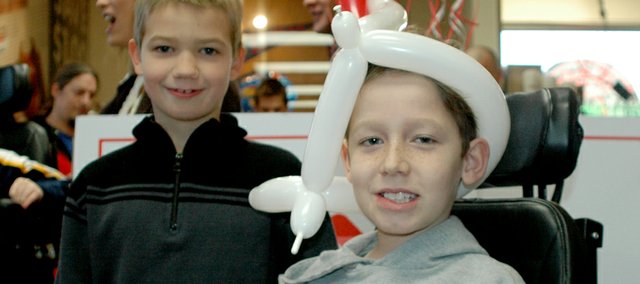 It's just after 6:30 Thursday morning and Sam Rice rides his wheelchair into a Merriam Krispy Kreme shop. With an entourage at least seven deep, the Benninghoven third grader is met with much celebrity.
He's handed a heart-shaped doughnut on the house. He'd call it his favorite part of the morning, but his expression when chatting with a Kansas City Chiefs cheerleader suggested otherwise.
Joined by his parents, three brothers, a friend and his friend's sister, Sam is up earlier than most of his classmates to celebrate Young Variety Kansas City's one-year anniversary as part of its "Reverse Happy Hour." Months earlier, the charity organization raised enough money to cover $30,000 in additions to his wheelchair that insurance wouldn't cover.
Deborah Wiebrecht, executive director for Variety of Greater Kansas City, even put Sam on the baseball diamond at Shawnee Mission Northwest High School, where his newly souped-up wheelchair let him navigate the bases better than ever while mascots from the Kansas City Royals and T-Bones cheered.
"I can lay back, I can raise up, I can stand up," Sam said while guiding his finger over his wheelchair's buttons.
On this day Sam would meet Noah Marker, the latest recipient of an oversized check, increased mobility and a hero's welcome. The two fielded interviews from local media and were surrounded by dozens of friends, family and Young Variety volunteers packed tightly around the counter. At one point, in perhaps an attempt to cut a live television interview short, Sam pushed the recline button on his wheelchair mid-question.
When he was two, Sam was diagnosed with spinal muscular atrophy, a collection of different muscle diseases and the second leading cause of neuromuscular disease. His mother, Amy Rice, said Sam could walk a little at first but needed a wheelchair by the time he started school.
Today, she said, he's just as difficult to round up as his brothers when the family needs to be somewhere before dawn.
"Dad goes for some and I go for the others," she said. "It's a tag team."
Rice and Sam's father, Steve Rice, sent an application to Young Variety last year. The organization, which hosts annual fundraising events, selects its beneficiaries on a need-based basis and covers costs the individual's insurance won't cover.
Young Variety is actually part of Variety of Greater Kansas City, one of many worldwide chapters.
Wiebrecht, especially energetic despite having been at the Krispy Kreme to open its doors at 5:30 a.m., said funds go toward paying for the equipment rather than directly to families as tracking the funds' usage can be difficult.
Mark Moberly is the president of Young Variety Kansas City. He said the events organized by Young Variety Kansas City are very social media driven, allowing for an increased outreach and promotion.
"We can get a buzz going the night before an event," he said.
Moberly said Young Variety called those who volunteer supporters, not members.
He said it better fits the niche the organization fills: Cultivating community service from twenty- or thirty-somethings in the area who want to give back but are limited by jobs or just starting a family.
Wiebrecht said Sam was the "poster child" for Young Variety's possibilities. Just about everyone involved in the organization knows Sam and his family. Wiebrecht holds one of his younger brothers, feeding him doughnuts. Sam shakes his head and ribs her when she talks about how much she loved the new Justin Bieber movie.
Later, Variety would be off preparing for an Oscar watch party in the Kansas City Power & Light District in a few weeks. Sam would have to sit through another two days of classes while looking forward to his birthday party at Power Play.
"I've been there like 800 times," Sam said, clearly ready for his next appearance.