School board candidates tackle questions before primary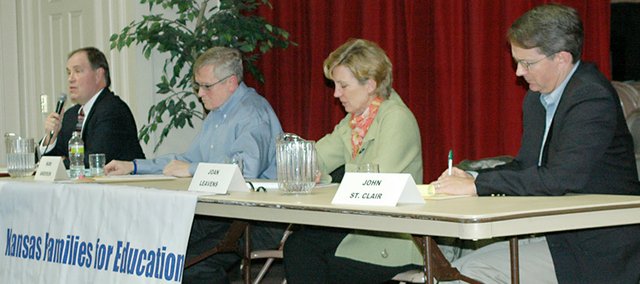 The candidates
Bart Altenbernd, Prairie Village, special education paraprofessional at Nieman Elementary School
Mark Anderson, Mission Hills, principal partner of Winning Outlook Associates
Joan Leavens, Overland Park, integration/outreach leader for K-12 and public education at Kansas State University
John St. Clair Jr., Fairway, business consultant and former mayor of Fairway
The Shawnee Mission school board's decision to close schools, and the process leading to the decision, was still fresh on the minds of the four candidates for the board's at-large Position 7 seat last week.
Two weeks before the March 1 primary election, candidates addressed that and other lingering issues during an open forum Feb. 8 at Asbury United Methodist Church in Prairie Village.
"We have been told by the administration what we are going to do rather than be asked why," said Bart Altenbernd of Prairie Village. "This lack of transparency and collaboration rests directly on (Superintendent Gene) Johnson and his cabinet."
Altenbernd shared a microphone with Mark Anderson of Mission Hills, Joan Leavens of Overland Park and John St. Clair Jr. of Fairway.
The four candidates are something of a study of contrasts with two, Altenbernd and Leavens, possessing experience within Shawnee Mission classrooms and two, Anderson and St. Clair, offering an outside perspective.
"I want to sit and be the customer," said Anderson, a contact center consultant.
Increased community involvement was a repeated theme Tuesday with numerous references to last December's debate over school closings and boundary changes.
"There's a strong feeling in our community that stakeholders were left out," said Leavens, who is an integration/outreach coordinator at Kansas State University.
Anderson called the process "an embarrassment," while Altenbernd, who works with special needs students at Nieman Elementary, said it seemed poorly planned. Each candidate called for more transparency and collaboration in the future.
The tone was often agreeable as candidates shared frustration with the lack of state funding and debated the proposed constitutional amendment to bar courts from ruling on school financing.
St. Clair formerly served six years as mayor of Fairway and four years as a Fairway City Council member. Both he and Anderson opted to see how the amendment plays out in court before reacting. Altenbernd and Leavens both spoke out against the amendment, citing the importance of the court serving as the check and balance of the legislature.
Also discussed was a lawsuit filed by several Shawnee Mission parents in federal court to allow the district to raise funds through property tax increases. Kansas limits how much money its school districts can raise from property taxes and, while some in Shawnee Mission favor such a raise, those in smaller districts have said overturning the cap promotes inequality. The result, candidates said, is the feeling that school districts across the state are pitted against one another.
Altenbernd, formerly an associate principal at Westridge Middle School, said smaller districts — where he has previous experience as a principal and teacher — see high salaries and high-end facilities in Shawnee Mission and don't understand the problems the district faces.
And while St. Clair said a statewide rise in funding would make all schools better off, his focus would be the interests of Shawnee Mission.
"I think it's wrong that we may go to class sizes of 30 kids," St. Clair said. "I think it's wrong that we have to lay off teachers, and I think it's wrong that we can't raise the amount of money we want to raise through local options and fund the education that we want to fund for our kids."
Kansas Families for Education, a non-partisan volunteer organization, sponsored the forum. More than 100 people filled the room, submitting questions written on notecards before and during the forum.
The Position 7 seat is for a four-year term. The three candidates with the most votes advance to April 5's general election.
More like this story