Shawnee Mission school board Position 7: Bart Altenbernd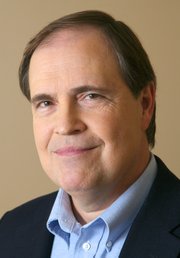 Biography
Name: Bart Altenbernd
Date of birth: July 24, 1951
Family (Spouse, children, grandchildren, etc.): Wife, Micki and son, Gabe a 7th grader
Current employment: Paraprofessional
Past employment history:
Classroom teacher and coach for 15 years.
Principal of Uniontown High School 1988 - 1991
Pleasant Ridge High School 1991 – 1993
Principal of Lansing Middle School 1993-1998
Associate Principal of Westridge Middle School in the Shawnee Mission District 1998-2008
Education:
BA in Education Washburn University - 1973
Master in Administration from the University of Kansas - 1982
Education Specialist form UMKC - 1995
Number of years lived in community: 12 years
Previous public offices held: None
Community involvement: Boy Scouts
Three candidates now vie for the Shawnee Mission school board's at-large Position 7 seat. Bart Altenbernd, Joan Leavens and John W. St. Clair Jr. advanced from March 1's primary election and will face off April 5 in the general election.
Previously, candidates fielded questions on a host of topics during an open forum. You can find our recap elsewhere on this site and on the blog, Extra Credit. In addition, each candidate completed a questionnaire prepared by The Shawnee Dispatch. Bart Altenbernd's response is below.
For Joan Leavens' response, click here.
For John St. Clair Jr.'s response, click here.
What made you decide to run for office?
Throughout my professional life, I have often thought of running for a board position. I have seen the positive impact they can have on the direction of a school district. As a parent and educator, I watched with great interest the recent debate over boundary changes and school closings. I believe because of my experience, I can bring greater transparency, thoughtful leadership and a commitment to long term excellence we need.
What special qualifications would you bring to this office?
My 35 years of experience as a teacher, coach, assistant principal, principal and now a paraprofessional makes me uniquely qualified to serve on the board. Because of my ten years as an administrator in Shawnee Mission, I have truly seen and experienced the district, its schools, teachers, and patrons.
How do you plan to familiarize yourself with the issues that come before the board?
I'm told we will be given a lot to read and I plan to do my homework. I plan to be visible and accessible. I want to ensure a fair process by asking questions, listening to answers and helping the district plan for the long term. I have a wealth of experience. Schools are what I know.
What leadership qualities do you possess?
I am a good listener. I trust my judgment, but recognize the community around me has much to offer. We must take advantage of the knowledge, expertise, and commitment of our patrons. They can help the board make better informed decisions. I am committed to asking and listening.
How do you plan to stay in touch with constituents if you are elected?
Public forums, email, and facebook are good ways to stay in touch. I really prefer phone calls or face to face meetings, but the size of the district makes that tough. Attendance at school functions such as sporting events, plays and concerts will also help keep me in touch. I feel the administration has not been successful in really listening to its constituency. I pledge to change that.
Describe what you see as the main role of a school board member.
The primary role of the board is to set standards and policy. Then the board must assure that the resources and accountability are in place. The board should not look over anyone's shoulder but also, not put their head in the sand either.

What is the best attribute of our school district and why?
First, we have parents, teachers, and patrons who are committed to excellence. Their expectations are high. Second, a shared belief that researched based instruction provides the best outcomes for our students. That is how students learn the best. Third, the Signature programs at the high schools and the Broadmore Technical Center are excellent attributes because they go above and beyond. That is what our patrons expect.
What are the three most important issues facing the school district and how would you confront them?
First, the almost total absence of long term planning bothers me even though there is a 5 year plan online. We appear to be very reactionary. We put a million dollar library on Mission Valley Middle School less than three years ago and now we are closing the school. Second, the administration seems unwilling to seek community input early in the process before proposing major changes. Third, we face serious funding issues. This problem has been brewing for a long time as far back as when the legislature took most of the taxing authority away from local school boards. Unless there is a major change, which I do not foresee, we will be forced to look at more budget reductions in the near future. Where we cut and how best to keep these cuts from impacting the classroom is the real challenge.
Do you think public schools are adequately funded? Why or why not?
No. The Shawnee Mission District is in the bottom third of total expenditures per student state wide. If you look only at the general fund, we are in the bottom 10 per cent. I know money doesn't solve every problem, but lack of adequate funding makes it very difficult to maintain the program our community needs and expects.
What areas of the budget would you target for spending cuts if necessary?
I have been asked repeatedly, to commit to where I would make spending cuts. I have been asked to rank the reductions form least likely to cut to most likely. I want to keep these cuts as far away from the classroom as possible because that is where the learning takes place. No one wants large class size and reduction in staff. However, with salaries 80 % of the general fund budget, personnel reductions will be made. I believe we can find some saving in greater efficiency of energy use. Our administrative costs need careful review to see if reductions can be found there. I know these things are being done. We probably have too many administrative functions scattered across the district. We should consolidate them as much as possible to save costs. Indian Creek Technology Center, for example, is nowhere near capacity. Perhaps we should look there for consolidation. We have several facilities that have been recently closed. Although it would be a onetime infusion of money, selling those properties could add to the tax base and no longer need the maintenance they currently require.
Are the district's teachers being compensated fairly? Why or why not?
No. Nobody likes to work this year for what they made last year. Teachers in the district have received little in the way of pay increases for many years. It's the less experienced teachers who are "low" on the salary scale who feel the most discomfort.
You could say they should consider themselves lucky to have a job and I have heard many say just that. On the other hand, teachers are being asked to do more and more each school year. Class size increases and more and more students need additional help than ever before. Good teachers are hard to find and even harder to keep. We must to do whatever we can to attract and hold on to good teachers.
Under what circumstances would you favor increasing property taxes?
The circumstances favor increasing local property taxes now. The local option property tax is capped by the legislature. They continue to cut funding and do not give us the opportunity to raise the LOB to fund our district to the state average. I see this local taxing authority as our only real chance to deal with the short falls in state funding. By the end of next school year we will be back to spending levels of almost ten years ago. Even if the economy improves, we can't wait for Topeka to help. The mood of the voters is against any state wide tax increases. We must be able to help ourselves.