Shawnee Mission school board Position 7: Joan Leavens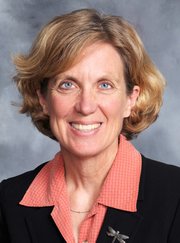 Biography
Name: Joan Leavens
Date of birth: November 9, 1954
Family: Husband, John Leavens; daughters Lane, Claire and Elly Leavens
Current employment: K-12 and public education, One Health Kansas at Kansas State University
Past employment history: I have taught in private and parochial schools; worked as education director and president of the board of directors for a non-profit organization teaching water quality education in middle schools and high schools across the metro; developed a program for Kansas Department of Wildlife and Parks networking parent and teacher coordinators of school gardens; served as Client Services Manager for YouthFriends/Uplink building business partnerships to bring workplace experiences in science, math, technology and engineering to students and teachers; and currently work for One Health Kansas at Kansas State University, funded by the Kansas Health Foundation, educating Kansans about the connections between animal, human and environmental health.
Education: BS in Elementary and Early Childhood Education, Southern Illinois University at Edwardsville; Enrolled in Masters, Curriculum and Instruction, Kansas State University
Number years lived in community: We have lived in Kansas City for almost 29 years. We have lived in Overland Park for almost 20 years.
Previous public offices held: None
Community involvement: I have served as a parent volunteer and PTA officer during my children's years in the Shawnee Mission schools, organizing and overseeing installation of gardens for every grade level correlated to the curriculum and serving as legislative liaison organizing community forums, meet the candidate nights and advocating in the legislature for increased funding for local schools. I serve on the Kansas City Kansas Chamber of Commerce Bioscience Committee and the Greater Kansas City Chamber of Commerce Environment Committee.
I serve on the council at First Lutheran Church and on the advisory board of Green Works in KC, a youth development program providing environmental education and workforce training to inner city youth. I am a former board member of Amigos de las Americas, a program that trains high school youth in cultural awareness and community development in preparation for a summer of service in communities in Central and South America, and a former Girl Scout Leader. I volunteer as a water quality monitor volunteer with the Blue River Watershed Association and as a safety boat crew member for the Missouri River 340 Race from Kansas City to St. Charles.
Three candidates now vie for the Shawnee Mission school board's at-large Position 7 seat. Bart Altenbernd, Joan Leavens and John W. St. Clair Jr. advanced from March 1's primary election and will face off April 5 in the general election.
Previously, candidates fielded questions on a host of topics during an open forum. You can find our recap elsewhere on this site and on the blog, Extra Credit. In addition, each candidate completed a questionnaire prepared by The Shawnee Dispatch. Joan Leavens' response is below.
For Bart Altenbernd's response, click here.
For John St. Clair, Jr.'s response, click here.
What made you decide to run for office?
Our schools are the backbone of our community's economic vitality. We have a strong district with a long tradition of excellence and innovative leadership. I have spent my career forging business and community partnerships to bring workplace experiences and financial resources to schools. I have advocated for our schools by hosting community forums and connecting citizens with their legislators in an effort to educate all parties about the financial and legislative issues facing our schools. And I bring a broad range of patron perspectives to the board: I am an involved parent of Shawnee Mission educated students; a homeowner who understands how excellent schools affect property values; a taxpayer now among the 70% of patrons who have no children in district schools who is happy to pay for top quality schools but expects wise use of the community's resources; an educator who understands what it takes to educate students and produce employable graduates; and a business/not-for-profit/university partner working to develop a work force to meet the needs of the future while addressing health, energy and environmental concerns and bringing additional private resources into classrooms.
How do you plan to familiarize yourself with the issues that come before the board?
I have made myself available to community members in all attendance areas and am listening to their concerns. In addition, I have been actively involved as a parent, educator and advocate for the district for the past 20 years. I have had the pleasure of working with teachers and administrators in all attendance areas and can attest to the excellence in every building. I plan to continue my active involvement and advocacy on behalf of our teachers, families and children.
What leadership qualities do you possess?
I am a proven leader and consensus builder, with a track record of building partnerships across jurisdictions between government, business and community stakeholders to bring resources to schools and workplace experiences to students and teachers.

How do you plan to stay in touch with constituents if you are elected?
(See answer to question regarding familiarizing myself with the issues that come before the board.)
Describe what you see as the main role of a school board member.
The school board hires the superintendent, sets policy and adopts the budget. The board is ultimately responsible—"the buck stops here." The school board is not involved in the day to day operations of the district. However, it is the responsibility of the board to advocate for the district within the community and before the legislature.
What is the best attribute of our school district and why?
Our school district has a tradition of academic excellence, which attracts businesses to our community and is an integral part of the economic vitality in our community.
What are the three most important issues facing the school district and how would you confront them?
Maintain community support and engagement in the district. Confidence must be restored.
Involve the community in budget decisions. Budget cuts are coming.
Advocate for the district in the business community and in the state legislature. We need a stronger connection between the business community and our schools. Area businesses rely on the excellence of our school district and should be invited to participate in planning efficient buildings and operations, communicating their workforce needs to district officials and offering field experiences for students and teachers in the workplace. Doing so will enable our schools to remain relevant and successful. Continued relationships with legislators will ensure they understand the funding issues facing the Shawnee Mission School District.
Do you think public schools are adequately funded? Why or why not?
No, I do not think public schools are adequately funded. Johnson County is the economic engine of the state of Kansas. We house 20% of the state's population and generate 25-28% of the state's tax revenue—in one county. We are competing globally for businesses and workers. Those businesses expect a world-class education for their workers' families. School quality can be a determining factor in whether a business locates in our area. It is imperative that Johnson County and Shawnee Mission be allowed the resources to provide a world-class education for their students.

What areas of the budget would you target for spending cuts if necessary?
I have not reviewed the budget and have yet to assess where cuts should be made. Arts and athletics programs are important to a well-rounded educational experience and I do not favor eliminating them.
Are the district's teachers being compensated fairly? Why or why not?
As a former classroom teacher, I know that teachers are not attracted to the field because of the compensation. That said, teachers' salaries must be competitive in order to maintain highly qualified teachers in our classrooms.
Under what circumstances would you favor increasing property taxes?
Now is not the time to raise property taxes unless other assessments on our tax bill decrease, holding our citizens "harmless." When the economy improves, the topic can be revisited.