Shawnee Mission school board Position 7: John W. St. Clair Jr.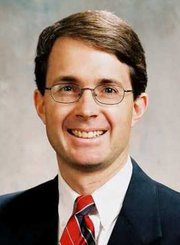 Biography
Name: John W. St. Clair Jr.
Date of birth: 6/9/62
Family (Spouse, children, grandchildren, etc.): Spouse: Lana (24 years); two children (freshman and 6th grader) attending school in the District
Current employment: Business consultant, Jefferson Wells International
Past employment history: Consultant for various companies including Deloitte & Touche, American Century Investments, and RSM McGladrey. With my career, I have consistently focused on helping my clients improve their operations through cost cutting, process improvement, and enhanced information technology solutions.
Education: Bachelor of Journalism, University of Missouri; Masters of Business Administration, University of Missouri – Kansas City; Masters Certificate in Project Management, George Washington University
Number of years lived in community: Life-long resident
Previous public offices held: City Councilman (1999 – 2003); Mayor (2003 – 2009) in the City of Fairway, KS
Community involvement: Various PTA and District committees, Habitat for Humanity volunteer, former Elder – Village Presbyterian Church; former chair of the Johnson/Wyandotte County Council of Mayors, former President of the Kansas Mayor's Association; former co-chair of the Johnson County Biosciences Taskforce.
Three candidates now vie for the Shawnee Mission school board's at-large Position 7 seat. Bart Altenbernd, Joan Leavens and John W. St. Clair Jr. advanced from March 1's primary election and will face off April 5 in the general election.
Previously, candidates fielded questions on a host of topics during an open forum. You can find our recap elsewhere on this site and on the blog, Extra Credit. In addition, each candidate completed a questionnaire prepared by The Shawnee Dispatch. John W. St. Clair Jr.'s response is below.
For Bart Altenbernd's response, click here.
For Joan Leavens' response, click here.
What made you decide to run for office?
I have been a life-long resident of the District and have been involved with my children's PTAs as well as serving district committees, and supporting the bond issue campaigns. I believe our District is facing a critical time with the current funding situation, and I want to help ensure that our District can maintain and enhance its excellence in spite of the funding crisis. I believe I have the professional background in business and politics to assist the District with these decisions. In addition, I'm the parent of a high school freshman and 6th grader in the District so I believe I directly understand how Board decisions could impact all of the children of the District.
What special qualifications would you bring to this office?
I believe I have the background and experience to fulfill the responsibilities of this position.  Some of those highlights include:
Business experience:  Professionally, I work as a business consultant where I consistently find solutions to my clients' business problems whether it's in finance and accounting, information technology, or human resources.
Political experience: I served the City of Fairway for 10 years, first as a council member for 4 years and then as mayor for 6 years.  My accomplishments included a significant upgrade to our city park, better streets and a new bridge, and a new city hall.
Education experience: Several years ago, I worked as a public sector consultant serving state agencies, universities, and school districts.  I've worked to help these school districts to find more efficient ways to use their resources so that as much funding could stay in the classroom as possible.
Parent: We are constantly in and out of the schools.  I believe this first-hand experience will be extremely beneficial when making decisions on behalf of the District. 
How do you plan to familiarize yourself with the issues that come before the board?
I have been aware of the issues before the Board for many years as I highlighted my district experience in the previous questions. I continue to follow District events through news sources and obviously as a parent of two district children. Like any new position, I would invest the time needed to study and update myself on various District policies and financial standing. I also plan to seek significant citizen input before major policy decisions are made so that I understand the needs and desires of the parents, patrons, and students.
What leadership qualities do you possess?
From my business experiences, I have always led my clients through a series of projects that identified the root causes of their operational problems, evaluated solution options, and then assisted them with implementation of the chosen solutions so that their operations improve and their costs are reduced.
From my political experience, I helped lead the City of Fairway for ten years (four years as a Councilman and six years as Mayor). We had numerous infrastructure issues that we had to address in terms of streets, a bridge, and inadequate space for the city's workers. We addressed those issues in addition to constantly striving to improve ongoing city services. I think my experience as part of the Council (or Board) plus my leadership experience as Mayor would be beneficial to the School Board.

As a result of my time served in local politics, I have built relationships with numerous local and state politicians. I believe I can use those connections as we address the school funding formula issues.
How do you plan to stay in touch with constituents if you are elected?
I plan to stay in touch with constituents using various types of social media as well as email and face to face and phone contact. As an at-large representative, I would also plan to attend at least one PTA meeting at every school at least once per year. I would build relationships with parents and administrators at every school so that I would have contacts at the different school sites to better understand issues that come before the Board.
Describe what you see as the main role of a school board member.
I believe the role of the Board is to develop policy and provide guidance and advice to the District's professional staff. The District's administrators are charged with the day to day responsibilities and should be entrusted with those duties. The Board should review the performance of the superintendent and his staff but not be involved in day-to-day operations. The Board is also charged with developing short and long-term goals for the District as well as developing and approving the District's annual budget.
What is the best attribute of our school district and why?
I believe there are at least three attributes (and there are many more) that I would like to highlight:
Excellent teachers. I continue to be impressed with the quality of the teachers and their dedication to our students.
A curriculum that consistently produces outstanding test scores and award-winning students.
Parental/patron involvement is high. People are very proud of our District and want to be involved because they understand the value that the District brings to our community.
What are the three most important issues facing the school district and how would you confront them?
The first three priorities would be:
Funding: Meet, educate, and work with area and out-state legislators to encourage more funding for our schools and/or a better school finance formula that allows for more local flexibility.
Revenue Enhancements: Evaluate potential revenue enhancement options within our own district.
Efficiency Improvements: Evaluate additional efficiency improvements in non-teaching areas (business services) of the District to see if there are additional savings that can be realized to avoid additional cuts in the classroom.
Do you think public schools are adequately funded? Why or why not?
No. When the District is moving the potential class size up to 28 to 30 students for 5th and 6th grade students (as well as moving up class sizes in other grades), I believe that is too high and could hurt their ability to learn. It is not by choice but due to the funding constraints imposed by the State. I believe we should have the option in our community to increase local funding if we, the voters, decide we want to increase revenues for our schools.
What areas of the budget would you target for spending cuts if necessary?
I would first evaluate operational costs away from the classroom in the business services and administrative functions of the District. I want to keep cuts away from the classroom as much as possible.
By state law, the Board cannot vote to increase taxes. In addition, because Shawnee Mission is already at the top of its local option funding cap, it cannot vote to put an increase on the ballot for voters to decide either. The current state law and funding formula do not give the District much, if any, room to adjust its revenue. As a result, and to balance its budget, the District will need to continue to make budget cuts.