Clear Creek artists make splash on Artsonia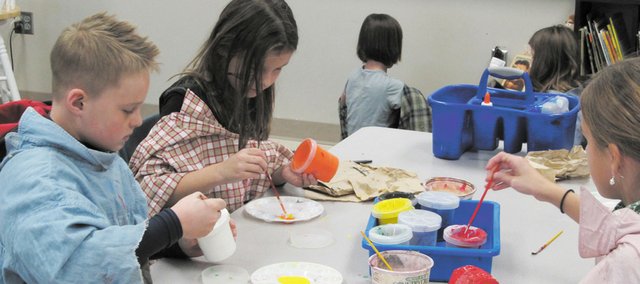 Students at Clear Creek Elementary School are well on their way to being accomplished artists.
Their masterpieces decorate many of their homes, but not just on the refrigerator.
Artists of the week
Two Clear Creek Elementary School students recently were nominated for Artist of the Week on Artsonia.
Zac Janssen, fifth-grader, and Austin Smith, first-grader, were nominated for the awards.
Last year, Caleb Schmitz, now a first-grader, won Artist of the Week. He received a $50 gift card to Blick Artists Materials. The school also received a $100 gift card to buy art supplies.
Thanks to Artsonia, an online children's museum, their artwork graces mugs, magnets, posterboards, T-shirts and much more.
Clear Creek currently holds the title of the biggest art gallery in Kansas on the online children's museum website.
Artsonia is a place where everyone can share the joy of children's artwork. The website allows parents, grandparents, aunts, uncles and other family and friends to enjoy student's artwork, even purchase keepsakes.
The Clear Creek PTA began its Artsonia gallery in the fall of 2009 by photographing a few art projects of children who wanted to participate, Megan Clark, CCE art teacher said.
"The idea to use the website came from a PTA mom, Vonda Norman, who is now our Artsonia chairperson," Clark said. "Now, in our second year, we are working to photograph every project for every child that has an Artsonia account at Clear Creek."
Volunteers upload photos of the artwork to the website, which then sends an e-mail to parents and fan club members that new artwork has been added.
Patrick Dalton, fourth-grader, shares his artwork with his family.
"Last year, we got my grandpa a mug with one of my pictures on it," he said. "He gets up at like 3 a.m. and drinks coffee."
Chloe Penrod, fourth-grader, said the website had just about every piece of work she'd ever made.
"We put all our projects on there," she said. "We did a modern-day Mona Lisa and then a chalk project and a bird. I have mug with my bird on it."
Patrick said using the website was pretty cool.
"When you walk into the room we don't have a lot of space to show off all our artwork, so you can see it online instead," he said.
Clark said the website was one way for students to become published artists.
"I believe it can boost students' self-esteem about their artwork, increase parental involvement in art education and enable students to share artwork with loved ones and friends around the world," she said.
Parents and fan members can comment on students' artwork, as well.
Avery Norman, second-grader, said her grandparents comment on her work all the time.
"You can comment on your friends' artwork, too," she said.
Pieces of artwork are added daily, and Clear Creek has placed more than 2,000 pieces online since the beginning of the 2010-11 school year, Clark said.
Students keep the same Artsonia account year to year, adding to their portfolios.
Chloe said looking back on her artwork lets her know how she's progressed.
"I draw a lot better now than I did last year," she said.
Avery said her techniques have improved through the years.
"I used to leave a lot of white spots, but now I fill them all in," she said.
Clark and Vonda Norman were recognized for their work with Artsonia this fall. Each received the Artsonia Leadership Award for outstanding leadership in family and community involvement in the arts and technology integration in the arts.
"We were stunned that we were recognized, since it was only our first year of participation and we saw so much potential to grow our Artsonia involvement," Clark said. "We were very proud to be honored by Artsonia and to share this honor with Clear Creek and the parent volunteers that had worked so hard to make our Artsonia gallery a reality."
Clark said she hoped the Clear Creek students could look back on their Artsonia accounts and reflect on their growth and achievement in elementary school art.
"Most of all, I hope they see the value in creating art and in continuing to be artists in the future. As Picasso so wisely said – and I believe wholeheartedly – 'Every child is an artist. The problem is how to remain an artist once he grows up.'"
More like this story