St. James Academy science teacher exhibits education excellence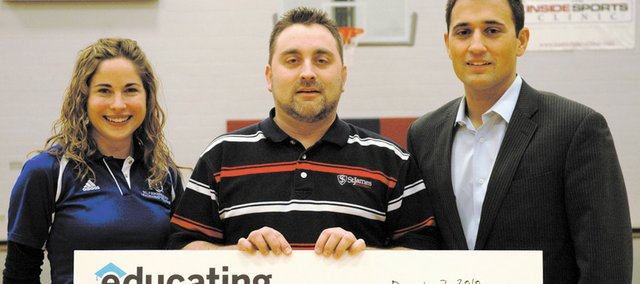 St. James Academy science teacher Jeremy Way had plenty to be thankful for over the holiday season.
In December, Way received an Educating Excellence Award and $1,5000 from Shawnee's Perceptive Software.
Way was recognized for his efforts both in and out of the classroom. Way teaches chemistry and physics, as well as, coaching the school's Science Olympiad team. Last year, the team won the Kansas state tournament and advanced to the national tournament in Chicago.
The entire process was a secret to Way, as he learned he received the award during an all-school surprise assembly.
"It was kind of weird but great," he said. "The principal sent an e-mail about an assembly. I thought the NCAA was here to recognize a volleyball player. I sent an e-mail making sure my AP chemistry class was near the door because we had a test that afternoon."
Little did Way know, parents from the school's Science Olympiad team he coaches nominated him for the award.
"I was just kind of standing there," he said. "I usually take pictures at the assembly, but some students took my camera to take pictures instead. I still didn't know. Then they started to read about the award and said it was a science teacher. I was kind of dumbfounded."
During the assembly, Paul Arnhold, corporate communications manager with Perceptive, read letters of support from Way's students and parents.
"It was a total surprise, and I'm not a surprise guy," Way said. "It was like 'Oh, why are they doing this to me?' But I got over it."
Way jokingly said it was great to be recognized for the torture he puts students through.
"With the background that I have and leaving MVHS, the award was kind of vindication," he said. "It was nice to be recognized for what I do."
Way has taught at St. James for three years, before which he taught three years at Mill Valley High School in De Soto USD 232. He resigned in 2008 after the school board did not renew his contract. Before that, he taught at schools in Michigan.
"I was honored and humbled by these parents that always say little stuff to you in the hallway," he said. "This is putting money where their mouth was. It took extra effort for them to do this."
The $1,500 Perceptive gives with the award is a personal check going straight to Way's bank account.
"I have no idea what I'm going to do with it," he said.
Way said the award and support were something most teachers can only dream of.
"It's an appreciation most teachers don't get in their careers," he said. "It tells me that I've been doing it right. To keep things going the way they have been."
Perceptive and Kansas University's School of Engineering launched the Educating Excellence program in 2010 to recognize outstanding Kansas and Kansas City area high school science, technology, engineering and math teachers.
Each month throughout the 2010-11 school year a teacher will receive the Educating Excellence Award and check.
More like this story