Northwest has 3 medalists at Husky Invitational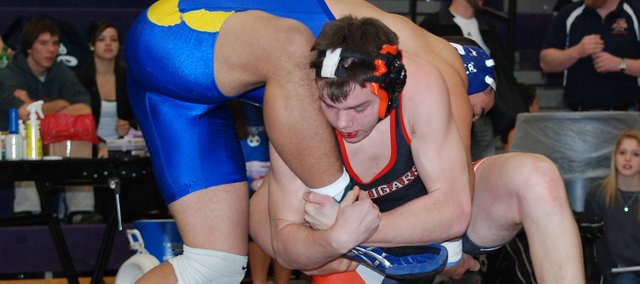 The Shawnee Mission Northwest wrestling team had three individual medalists and placed 16th out of 20 teams on Saturday at the Blue Valley Northwest Husky Invitational.
Hutchinson won the tournament with 189 points, Newton was second with 161.5 and Lawrence High finished third with 150.
Ross Whitmore was the top Northwest performer as he finished fourth at 125 pounds. In addition, Dallas Ernsdorff placed fifth at 140 pounds and Blake Covington was sixth at 189 pounds.
Whitmore started the day strong with a 16-1 technical fall against Blue Valley Northwest's Drew Miller, but Whitmore soon found himself in trouble in the second round as Hutchinson's Jonathan Peterson pinned him late in the first period.
Whitmore regrouped with a pin against Lawrence's Jacob Von Feldt in his first match of the consolation bracket and then avenged a loss from earlier in the season by knocking off Bonner Springs' Caleb Seaton to reach the consolation finals. Whitmore then lost a rematch with Peterson and placed fourth.
Ernsdorff also started his tournament strong. He pinned Lawrence's Ryan Bellinger in the third period of the first round and then edged Shawnee Mission West's Joey Stinson, 2-1, to reach the semifinals. After being pinned by eventual champion Aaron Puckett of Bonner Springs, Ernsdorf lost to Shawnee Mission South's J.W. Pabst. In his final match of the day, Ernsdorff beat Manhattan's Tre Davis in the fifth-place contest.
Covington won his first two matches of the day at 189 pounds to reach the semifinals. First, he pinned Olathe South's Kevin Murphy in the first minute of their first round match. Covington then earned a 7-4 decision against Manhattan's Ty Suggs before falling to eventual tournament champion Jon Bernard of Hutchinson. Covington lost his next two matches to finish the day in sixth place with a 2-3 record.