Heavy lifting: Moving day in this business all about physics, geometry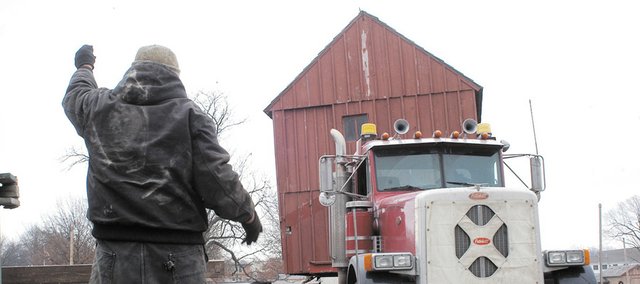 Photo Gallery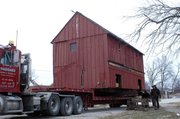 Heavy lifting
The fundamental process may be thousands of years old, but picking up and moving entire, multiton structures remains a feat tackled only by a small number of specialized professionals. John Earnshaw is no stranger to carting unwieldy cargo through precarious situations around Shawnee and the surrounding area. Most recently, he moved Shawnee Town's farm house, barn and smokehouse across the museum grounds to their new homes in the under-construction 1929 Truck Farm.
So how do you move a house?
Earnshaw's method, crib-building, isn't unlike what house movers were doing back in the 1930s or 1940s.
First, he and his crew cut notches in the home's foundation and slide in steel lifting beams. If the structure is rickety, like the Shawnee Town barn, they nail reinforcement boards inside.
Then, they stack cribbing blocks — or shortened railroad ties — from the ground to just beneath the ends of the lifting beams. Each stack, with two ties per layer, looks like a square tower.
Next, the crew sets 20-ton hydraulic jacks atop the blocks, beneath the beams. Working in sync, they hand-pump the jacks — lifting the house — until there's enough space to slide in a new layer of cribbing blocks. They repeat that until there's space for two more steel beams, or slidesticks, which they slide in perpendicular to the first ones and build new cribs to support the new beams.
Next comes Earnshaw's secret weapon: Ivory bar soap.
He coats the tops of the slidesticks then slides the house across them so it's away from the foundation where a trailer or dolly can be positioned underneath.
Once the house arrives at its new location, Earnshaw reverses the process to set it down on the foundation.
The rickety barn, faded red and splintered with age, survived the hours-long process of being lifted from its foundation and plopped atop a flatbed tractor trailer.
Now, the truck's engine grumbles as it creeps across the lot, barn in tow. John Earnshaw walks backwards in front of the truck like an airport worker taxiing a plane.
Suddenly, the barn tips sharply to the right. Then left. Then farther to the right.
Earnshaw's arms fly up, both fists clenched — HOH!
The business of house moving takes patience, precision and practice.
The fundamental process may be thousands of years old, but picking up and moving entire, multiton structures remains a feat tackled only by a small number of specialized professionals. Earnshaw, who owns Lenexa-based HouseLifter.net, is no stranger to carting unwieldy cargo through precarious situations around Shawnee and the surrounding area.
While he does take the oscillating barn seriously, Earnshaw can't help but chuckle a little at onlookers' gasps. In more than three decades of moving houses, he's seen it before.
"It was rocking like a rocking chair, wasn't it?" he smiles once the barn is safely in place over its new foundation. "Nice and soft."
•••
Earnshaw considers himself, like his forefathers who helped establish Shawnee, an entrepreneur and a capitalist.
Shawnee Town's 1929 Truck Farm project — for which Earnshaw recently moved the barn, a 100-plus-year-old farmhouse and a smokehouse across the museum property — is special to him because his ancestors have walked the surrounding grounds since 1878.
Earnshaw's father, Jim Earnshaw, got into the house-moving business in 1971. Market conditions had shifted and Earnshaw Feed and Grain Company, which his father, Bob Earnshaw Sr., started was no longer viable.
"My dad had to figure out a new business to get into," John Earnshaw said. House moving was a niche trade that people needed but few provided.
Living up to the Earnshaw legacy is a "curse as well as a blessing," Earnshaw said. He inherited a hard-working and entrepreneurial spirit — and a lot of pressure to succeed.
That can be hard to shoulder in any business, but especially in a high-stakes trade like house moving.
•••
Between raising a 10-, 20- or 30-ton structure off its foundation, loading it on dollies or a truck bed, driving through a web of rough terrain and public roads crisscrossed by power lines and low-clearance bridges — usually between midnight and 5 a.m. — and setting it down again, a lot can go wrong.
Earnshaw said he's been fortunate on projects he's led. With the exception of a garage falling off a house, "we've never had anything happen to a house that we couldn't fix."
Earnshaw has moved or lifted houses all over Johnson, Wyandotte, Leavenworth and Douglas counties, as well as the Missouri side of the state line.
Jobs range from relocating a Shawnee Mission ranch house from encroaching development to a quiet cul-de-sac, to leveling a 100-year-old Lawrence barn engineers said was beyond repair. Moves have spanned a few blocks to more than 60 miles.
In perhaps his highest-profile project, Earnshaw in 1992 contracted two sand barges, designed special drawbridge ramps for them and floated 79 houses down the Missouri River in 60 days.
The project by several area cities and organizations — which aimed to transform military barracks into affordable inner-city housing — was, for various reasons, never realized. However, working 10- to 12-hour days, seven days a week for two months, Earnshaw and his crew got the houses from Fort Leavenworth to Kansas City, Kan.
•••
While there are some technological advancements in equipment, house movers still rely on geometry and physics just like the ancient Egyptians did.
"They moved things that were bigger or as big as we can move today," said Don DeVooght of the International Association of Structural Movers. "They did it with whatever — manpower, horsepower, oxen, all kinds of different methods."
DeVooght, who has a moving business in Wisconsin, said his own grandfather moved a building back in the 1940s using horses and logs, "and it turned out fine."
Reasons to move a house vary.
Housing and construction markets drive some moves. Sometimes the cost to build or buy a new house outweighs the cost of moving an existing one to a new property.
Redevelopment also drives moves. For example, a nice home becomes less valuable when it's suddenly cornered by a Walmart parking lot. Moving it to a desirable location can help preserve its value.
Other times, customers move structures because they have sentimental or historic value.
Finally, moving a house is a great way to recycle.
"Every time you move a house, it's not going to a landfill," DeVooght said. "Somebody else is going to put it back to use."
Driven in part by the difficulty of obtaining permits from cities, counties and utility companies to move houses through their right-of-ways, Earnshaw rarely moves houses anymore.
He does primarily house lifting and foundation repair or reconstruction, improving existing basements or building basements beneath houses that don't have them.
•••
In 2001, doctors told Earnshaw he had cancer that had metastasized throughout his torso.
He underwent surgery and chemotherapy, and didn't work for a year.
Now, Earnshaw has been cancer-free eight years and become increasingly focused on social causes. He developed a website, progressiveearth.org, to promote sustainable farming, green construction and alternative energy. He's worked his way up to full-sleeve tattoos with art inspired by Divine Love, his life and the world around him, including one design featuring the Latin-American revolutionary Ernesto "Che" Guevara.
At 49, Earnshaw said, the competitive nature of being in business for himself isn't as appealing as it used to be.
Frankly, he's tired of moving houses.
But until Ed McMahon shows up with his prize check, Earnshaw laughs, he hasn't forgotten that he is a master in a specialized trade. Or that people will pay for it.
"To stay in business and do the best you can, it's not always easy," he said. "But at the same time, I'm a realist and recognize that I do have a skill that's often needed and underserved."