Clinic educates about dangers of sports-related concussions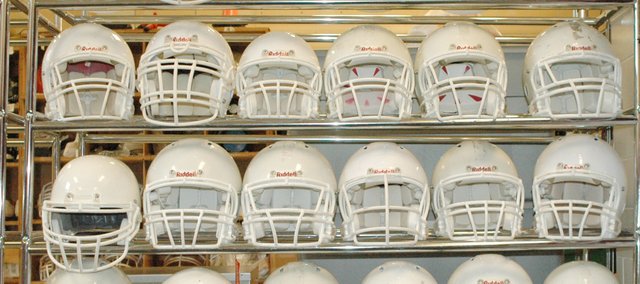 The videos once were — and in some circles still are — celebrated. Highlight reels with grainy footage of football collisions. Helmets cracking and bodies collapsing in the dirt.
This is the way a sports injury prevention clinic began June 28 at KU Med West in Shawnee. This video was a little more thorough.
Jennie Vargas, an injury prevention/trauma education specialist with University of Kansas Hospital, opened the clinic — focused primarily on concussions in youth sports — with a five-minute video that concluded with the aftermath of such blows to the head: once athletic and vibrant, the boys in the video were now connected to hospital machines. Fresh scars showed where doctors had just opened the boys' heads to try to fix their brains.
Those were the severe cases, like that of Nathan Stiles, the Spring Hill High School homecoming king who died after a game last year and whose mother tearfully told Nathan's story in the opening video.
Vargas then talked about how minor hits to the head can cause concussions.
"Even bumping chests in the end zone can jolt the brain just enough," Vargas said.
And, she said, if the player returns to the field too soon, it doesn't have to be a highlight-reel hit to cause second impact syndrome, a rare, but sometimes fatal, result of consecutive concussions.
Mostly mothers and teachers attended. One set of parents showed. A Shawnee Mission North graduate sat at the back of the room with his packet of concussion management information splayed open on the table in front of him.
A spate of developments preceded the clinic.
Later that week, the state's high school concussion management law approved earlier this year went into effect. It requires parents and players to sign waivers acknowledging the risks of their sport and coaches and trainers to immediately remove players suspected of sustaining concussions from the field.
In May, the Johnson County Youth Football and Cheerleading Club announced it would offer free computerized baseline tests to aid in monitoring potential concussion cases and said it would conduct several mandatory training sessions for its coaches.
Still, Vargas said, not enough focus is on the academic side of student-athletes.
She said student-athletes diagnosed with concussions should be assessed individually, and by teachers and counselors in addition to trainers and physicians.
Vargas said progression could slow or symptoms could worsen if student-athletes sent home didn't recover in a quiet, dark room until symptoms had alleviated. This also means no homework, she said, and an initially-reduced workload when the student returns to classes.
Michael Graham recently graduated from Shawnee Mission North, where he spent four years wrestling. He said he saw athletes forgo reporting concussions for fear of losing a key match. Earlier, Vargas cited studies that found 65 percent of football players underreporting head injuries while 50 percent of hockey players did the same.
In the end, Graham said, it's about not taking one's sport too seriously.
"You still have to emphasize that it's just a game," Graham said.
Sitting at the table in front of Graham was Kristi Lam, a parent and preschool teacher from Olathe. Lam said that, against her wishes, her son was about to start playing football. The more Lam learned about concussions in youth sports, the more nervous she has become, she said. She said she hoped summer practices were so hot her son would change his mind about playing.
Vargas said people like her aren't out to abolish the sport, but instead to save it. She likened awareness of concussions in sports to being a pendulum, where the public goes from little to no awareness to hyper awareness.
"Now we have elementary and middle school kids raised with this knowledge," she said. "But the question becomes what to do when you have five guys taking themselves out of a game because they think they have a concussion. Do you increase roster sizes?"
The last question, she said, she'll leave up to coaches.
Beth Zinn, Olathe, sat with Lam during the clinic. Her 13-year-old son has already suffered two concussions playing football — one in sixth grade and one in seventh grade.
She's since had him read about Stiles and will bring home the magnets and symptom cards and pamphlets she collected at the clinic. One more concussion, she said, and her son is done playing for good.
Until then, the last of her three boys — a 7-year-old — is about to start playing tackle football.
"They want to be just like him," Zinn said of her oldest.