Northwest gymnast Jones a calm, accountable leader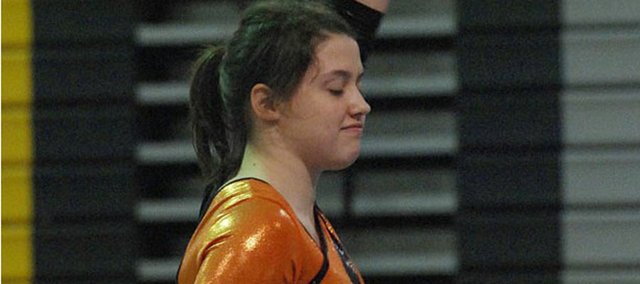 It's the final rotation of the Kansas Gymnastics State Championships, and up to this point the Shawnee Mission Northwest squad had experienced a day filled with jubilant highs and gut- wrenching lows.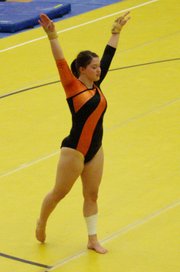 The last competitor in the balance beam steps onto the narrow plank, knowing if she puts together a fabulous performance, an individual and team championship could be in the near future.
Although everyone surrounding the beam is visibly uneasy, her emotions don't waver; in fact, the look on her face remains the same as when she walked into the arena eight hours earlier.
Camry Jones — the Shawnee Dispatch's Shawnee Mission Northwest Female Senior Athlete of the Year — rose to the occasion that day and won the individual balance beam state championship with a score of 9.3. Her performance also secured the team title for Northwest, the program's first since 2001.
"For her to go out there and stick that routine, I was so happy," SMNW coach Karen Lee said. "But I didn't think anything less of her. I knew she would (come through) because she always did."
For Jones, who also finished second in the all-around competition at the state meet, the formula for her success on the balance beam is pretty simple.
"I don't get that nervous when I do it," she said. "I just focus on staying tight and staying on the beam.
"I think as a whole, the team did really good. We did good last year, too, but I think we felt more like a team and cheered each other on and it was just exciting that I got the state title on beam. It was crazy."
RARE COMBINATION
Jones' stability and focus while in competition can be a rare combination for a high school gymnast.
It came naturally to her, however.
"Her consistency was a reflection of her attitude toward gymnastics," Lee said. "I think she knew that she had to go out there and do her very best.
"With high school gymnastics, you have a range of experience levels and so some of the girls didn't have as much experience in the competitive arena. They were able to look at Camry's demeanor when she competed and (see) how she mentally prepared herself."
For Jones, the consistency only came as the result of hard work during countless practices and experiences, successes and failures.
"I needed to think about the events more than what was going on around me," she said. "I know that none of that other stuff is that important. Just focus on what you're doing. You can't affect how other people can perform, but you can encourage them.
A reserved person, Jones rarely shows emotion when contending for meet championships. Leading by example is one her best qualities.
"She was definitely our highest scorer, but I think she was also our morale leader," Lee said. "She kept everybody in good spirits. Not so much by being outwardly, super jubilant; she was a calm quite leader. People just followed what she did.
"A leader like Camry doesn't come along very often. A lot of times, leaders are very outspoken and kind of bossy. But Camry is a strong, silent leader that you don't come across every day."
A SPECIAL TALENT
Jones began taking gymnastics classes in kindergarten when her mother enrolled her in a class.
From the beginning, it was apparent she had a special talent for the sport.

"I did pretty well at it, so I just stayed in it," Jones said. "I was pretty good for the group that I was in, and it was fun thing for me to do."
As she grew older, Jones traveled around the area for meets while competing with Elite gymnastics and Aquatics in Overland Park.
When she moved onto Northwest, high school gymnastics was not at the top of her list. Actually, she elected not to compete her freshman year.
During Jones' sophomore year, she enrolled in a gymnastics class offered at SMNW with recently retired coach Janice Baker.
Although Baker — a coaching legend in Kansas — was no longer leading the Cougars, she continued to teach at Northwest and had an eye for talent.
Baker noticed Jones right away.
"She was quiet, kind of a leading from the back row kind of kid," Baker said. "Always doing what she was supposed to do, just one of those great kids you want to have in class."
While taking the class, Baker saw Jones' work ethic and intelligence toward the sport. Even though she wasn't the SMNW coach anymore, she encouraged Jones to join the team.
"She was one of those kids where you didn't have to tell her twice or even say much," Baker said. " She's very self-motivated, and I think that paid off in her hard work and her performances. I thought she looked really good this year."
In her first year on the team, Jones competed at the state tournament but did not receive any medals. The Cougars finished second as a team.
Going into her junior campaign in 2009, Northwest looked to have another strong squad and went to the state tournament as one of the favorites.
Jones made a helpful contribution to the cause by coming in fifth on the balance beam.
The Cougars accumulated enough points to win the state title that year, but they received a one-point deduction after an improper scoring inquiry by then-coach Jackie Cipollini. The deduction knocked Northwest into third place.
After being a part of second- and third-place teams, Jones expressed relief when the Cougars won the state championship in November.
"It was a really good feeling because of all that mix-up from last year that we got to show that we were able to get through what happened last year and come out first," Jones said.
After Cipollini departed the program, Lee was promoted from junior varsity coach to head coach for Jones' senior season.
STEADY SENIOR
The Cougars started slow, but they came back strong and won the Sunflower League championship before moving onto the state tournament. Jones was rock-solid as usual in her competition and finished in second place in the all-around.
In addition to winning the state title on the balance beam, Jones took second on the uneven bars.
Jones' talents do not stop at gymnastics. She is a devoted student whose name appeared on the SMNW honor roll throughout her four years of high school.
She also participated in choir and earned a spot in the Chambers Choir, the highest group of singers in the school.
"She's quiet. You have to bring her out of her shell a little bit," Baker said. "She's more of a 'Let me show you what I can do' kind of kid. She's impressed me a lot as a young lady. She's gonna go far."
With her high school career over, Jones has decided to focus on her studies in college.

While pursuing her academic goals at Johnson County Community College, she plans to do a little coaching in her spare time.
But she won't forget the memories made in high school, whether it was working out on the stage gymnasium or snacking on some bagels with her teammates at the early Saturday morning practice.
"To find a person like that, not only an athlete, but a person like that, I'm so fortunate to come across someone like Camry," Lee said.