Shawnee businesses named tops in growth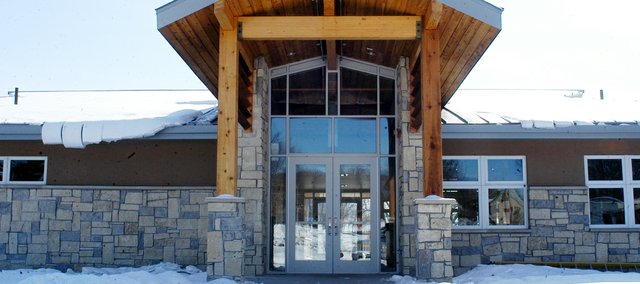 New jobs added. Square footage created. Dollars spent on new construction.
Organizations ranging from an eye doctor to a school district made major contributions in those categories during the past year, earning them 2011 Business Development Awards from the Shawnee Economic Development Council.
The council honored the seven businesses, along with several other award winners, last week at its annual business appreciation luncheon, which took place July 13 at Shawnee Town Hall.
Even if it isn't as much as they'd like, some Shawnee companies are seeing genuine growth and activity despite the downturn in the economy, council chairman Pat Daniels said.
"It's not down for an awful lot of people," Daniels said.
Business Development Awards went to the following companies, which had projects completed — or nearly completed — in the past year, involved capital investment of at least $1 million or created a significant amount of jobs in the community:
Central Baptist Theological Seminary: In April, the school at 6601 Monticello Road had a ribbon-cutting ceremony for the new Baugh-Marshall Chapel, Hatcher Heritage Hall and a library renovation. The work added a total of 7,500 square feet to the seminary. It included a 16,300-square-foot interior renovation and mezzanine addition.
De Soto school district: The district built a new elementary school at 5805 Belmont Drive and added on to Mill Valley High School, 5900 Monticello Road. At 76,136 square feet, Belmont Elementary School is designed to accommodate 550 students. At 92,480 square feet, the Mill Valley addition includes an auxiliary gym, 29 classrooms, a band room, home improvement lab, art lab and broadcast and journalism studio.
Interline Brands: The new distribution center relocated to Shawnee and expanded a building at 10804 W. 78th St. to 85,000 square feet, creating 15 new jobs and investing $11.6 million. The company is a direct market and distributor of maintenance, repair and operations products including plumbing, electrical, and heating and air-conditioning hardware items.
Midland 435 LLC: The company completed a façade renovation that brought a contemporary look to the 1980s shopping center at the southwest corner of Renner Road and Midland Drive. The center is home to several newer businesses, including Eggtc. and Bar West.
Perceptive Software: Perceptive, with its world headquarters at 22701 W. 68th Terrace, added more than 50 new jobs to Shawnee, bringing the company's total employment in the city to 600.
Tomahawk Hills Golf Course: The Johnson County Park and Recreation District finished building a new, $2.4 million clubhouse at 17501 Midland Drive in February. The 5,847-square-foot modern-prairie style facility features a concession area, community room and large outdoor patio overlooking the historic Tomahawk Hills Golf Course.
WestGlen Eyecare: WestGlen built a sleek, modern, 7,900-square-foot office building at Midland Drive and Interstate 435, which also has space for another tenant. The building incorporated many "green" construction features, including building materials, lighting systems and landscaping.
Shawnee Mayor Jeff Meyers called Shawnee's business community an "important catalyst" to the city's identity.
"We are very appreciative of our business community and the partnership we have," he said.