A backyard sanctuary: Shawnee couple's lush landscape among gardens on weekend tour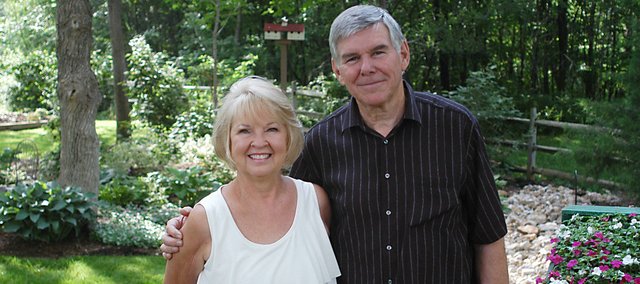 Photo Gallery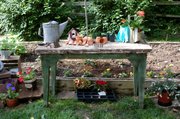 Garden tour: 'Woodland Sanctuary'
Richard and Elaine Jones' garden will be one of six open to the public during the Shawnee Garden Sampler Tour on Saturday, June 11. The Joneses say their garden is always a work in progress and that they enjoy sharing it with family and friends.
To the casual — or even critical — observer, the landscaping surrounding Elaine and Richard Jones' Shawnee home is magazine-perfect.
Creamy pink New Dawn climbing roses grow tall and thick along the driveway. Potted arrangements — carefully planned so each has a variety of color and height — create splashes of color on the patio. Hostas, ferns and silvery-green lamium dotted with tiny purple flowers overflow beds that meander through their sloped, shady backyard.
Take the tour
These six private gardens will be open to the public — rain or shine — from 9 a.m. to 5 p.m. Saturday, June 11, during the Garden Club of Shawnee's 16th Garden Sampler Tour:
• "Walk in the Park," Ken and Jody Hawkinson, 10501 W. 50th Place
• "Organic Vegetable Garden," Warren Messinger, 6131 Long Ave.
• "Tropical Pond Oasis," Andy and Heather Brown, 14008 W. 67th St.
• "Woodland Sanctuary," Richard and Elaine Jones, 18721 W. 64th St.
• "Suburban Escape," Eric and Laurie Jorgensen, 5619 Theden St.
• "Tranquil Garden Rooms," Paul and Sheryl Wilde, 5034 Mund Road
Tickets for the tour are $8 in advance or $10 the day of the tour. Admission is free for children under 12.
Tickets can be purchased Saturday at any of the featured gardens and anytime at the following merchants: Earl May Garden Center, Shawnee Mission Parkway and Monticello Road; Family Tree Nursery and Garden Center, 7036 Nieman Road; Family Tree Nursery and Garden Center, 8424 Farley St., Overland Park; Hartman Hardware 11018 Johnson Drive; and Wild Birds Unlimited, 7347 Quivira Road.
Proceeds from the tour provide grants to local groups for community beautification projects and to maintain the Shawnee Memorial Rose Garden.
For more tour information — including descriptions of each featured garden — go online to shawneegarden.homestead.com.
But the couple is quick to assert that their "Woodland Sanctuary" garden — one of six that will be open to the public Saturday during the Shawnee Garden Sampler Tour — is constantly a work in progress, and one they very much enjoy.
"In our 45 years of marriage, Richard and I have always enjoyed beautifying our yard," Elaine said. "For both of us, it is also about hanging out with nature and soaking up a little peace and serenity. I know I get some of my best ideas and resolve some of my biggest tribulations when I am digging in the dirt."
The Joneses, who are retired, built their dream home and moved to Shawnee nine years ago.
They had an established garden they loved at their previous home in St. Louis, and they decided to tackle converting nearly an acre of overgrown woods behind their new home into the cool, sun-dappled "sanctuary," as they call it, that tour participants will see on Saturday.
On Friday, a week before the tour, it was the little niceties that were a work in progress.
Two men (who are younger with better knees, Richard jokes) are turning mulch and Richard is leaving to pick up some more — the last shipment sprouted weeds that must be covered.
As Elaine walks along a path of flagstone stepping stones, she wonders aloud whether the potted hydrangea looks OK where it is, or whether people would rather see the place while the black-eyed Susans are in bloom.
With each step, she's watching the landscape like a hawk and deftly deadheading spent blooms.
Snap.
She pinches off a just-beginning-to-wilt daisy from a patio pot and tosses the offending foliage on the ground.
Snap.
The tip of a foxglove stem, yet unflowering, disappears.
Garden tour chairwoman Laurie Jorgensen, whose garden also will be open Saturday, said she was amazed at the Joneses' ability to turn a blank acre of land into an "absolute sanctuary." Tour participants will see a variety of shade-loving plants — as well as Elaine's whimsical found objects — that make the Joneses' garden unique.
Jorgensen said others who want to start their own gardens don't need to be intimidated.
"Your garden doesn't have to be really big in scope," she said. "It can be as small or as large as you feel comfortable working with… Make it your happy place."
Elaine Jones said she and her husband love to share their yard with others, from friends who convene on the patio to their grandchildren, who like to pick strawberries from the vegetable garden in the corner.
"Most evenings," she said, "you will find us walking the yard marveling at the new stages of our garden and then sharing a relaxing glass of wine on our deck."
The Joneses are not master gardeners, and their yard doesn't have any particularly rare or exotic plants, Elaine said.
"I just buy what looks healthy and what I like," she said.
Elaine also has an affinity for architectural salvage items, and old bird cages, garden gates and rustic benches are strategically placed throughout the beds.
Her favorites include a bench made from a set of old shutters she found in a salvage store — she loved the turquoise patina — and a green Mexican fruit stand she and Richard bought in Texas.
The cart remains a work in progress.
It's filled with marigolds and impatiens now, but Elaine is already thinking ahead.
"I can just see it in the fall with pumpkins around it — scarecrows," she said. "Wouldn't that be cute?"