Wristen:
LIVESTRONG

Sporting Park ready for opening night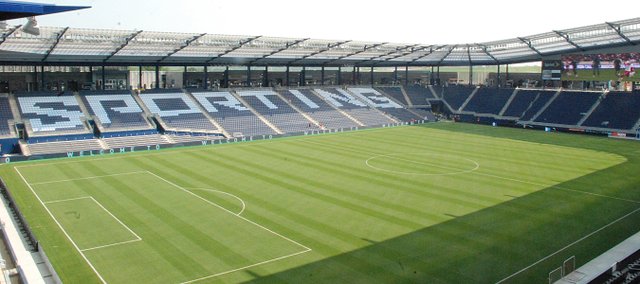 Kansas City, Kan. — Hard hats on our heads and cameras in hand, about a half-dozen other journalists and I left a trailer, walked across the street and into a construction zone.
A few seconds later, we stepped through an opening in the outer wall and found ourselves inside LIVESTRONG Sporting Park.
Photo Gallery
LIVESTRONG Sporting Park is complete
A look at LIVESTRONG Sporting Park during and after construction was completed.
It was May 2, barely a month until the stadium's grand opening, and the finishing touches were being put into place on what just might be the finest soccer stadium in the United States.
Sporting Kansas City Public Relations Director Dave Borchardt pointed out different vantage points and tried to explain just how great the view would be for fans. He took us inside numerous clubs still under construction and talked about the various amenities that had yet to be installed, and later took us inside what at the time was still a shell of a locker room. Each spot Borchardt showed us was still under construction — a grand idea yet to come to fruition — and seeing it in that state allowed us to mentally picture how the second most expensive soccer stadium in the United States would actually look.
Fast forward 36 days to Tuesday.
No hard hat was required to enter LIVESTRONG Sporting Park this time. Construction vehicles didn't have to be dodged to go inside, and dirt and gravel didn't need to be knocked off of the soles of my sneakers.
Construction was finished in time for Tuesday's media day event that provided a sneak peek inside the stadium. Other than some last minute touch-up work inside, a little polishing and dusting here and there, it was ready for opening night.
Out front, what was once a gravel-covered parking lot for construction equipment is now a large pre-game gathering space that includes beer vendor stands. High above is the bold LIVESTRONG Sporting Park sign that stands out against a wall of windows.
The outer walls that had to be stepped through before now glisten in the afternoon sun. Once inside, the spacious concourse area stands out. It's reminiscent of the newly remodeled Arrowhead Stadium in terms of width, as well as the amount of food counters to order from.
Turn away from the concession stands and look toward the field, and the completed construction truly stands out. The field has been in place for months, but it's no longer surrounded by a fence and "keep out" signs. All of the seats are in place — not a bad one in the house, either, in terms of the carefully considered sight lines. The word "Sporting" in light blue (or "Sporting" blue as the team calls it) offsets the indigo seats on the east side of the stadium.
The 2,016-square-foot, high-definition video board, the largest in Major League Soccer, hangs on the south end of the stadium. This is in addition to the more than 300 HD televisions scattered throughout the stadium.
Most fan seats are comfortable, fold-downs with cup holders, while the most expensive season-ticket holders have padded chairs just a few feet off the field.
A few light blue, padded seats along the west side of the stadium stand out. Those are the team benches.
The game ball rests on a stand near one of the benches, and that's at the front of the tunnel to the Sporting Kansas City locker room. Down that tunnel is one of the stadium's numerous clubs, this one in particular is for high-dollar season-ticket holders who can drink and dine just outside the locker room. They also can watch the postgame press conference through a glass wall into the media room.
Through the media room and past two sets of double doors lies what the club describes as the finest locker room facilities in MLS. On the left is a "boot room." Essentially it's a walk-in closet just for cleats. On the right is a kick-around room where players can warm up by kicking soccer balls off the wall. Then comes the smoothie bar where players can have custom-made smoothies designed to meet their own personal needs, whether they need added protein to perform at a high level or they need additional supplements to fight off dehydration and cramps.
Inside the team room itself, each player has his own custom chair in front of his locker. That chair has two cupholders, it reclines, and it has power hookups to charge equipment and allow players to view scouting reports and video at any time.
The media got to look around the stadium on Tuesday, but fans will get their first opportunity tonight. Sporting Kansas City plays host to the Chicago Fire at 9 p.m. tonight. That will give fans a chance to decide for themselves what they think of the new stadium, but Borchardt believes fans — and opposing players — will share his opinion of the place soon enough.
"I'd say ours is the best," he said of the stadium. "I think that'll be a consensus pretty quickly."