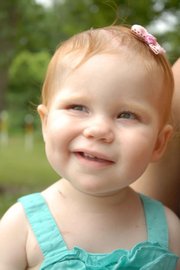 Lucy Weber lived to see only one birthday.
But last week, on the day she would have turned 2, the spirit of the little girl whose battle with brain cancer captivated Shawnee showed up on a plane to Dallas, in the McDonald's drive-thru lane and in a cold bottle of water handed to a heat-weary mailman.
After Lucy died in November, her relatives and friends mulled ways to ensure that the toddler — and the kindness she inspired in others — wouldn't be forgotten. On June 8, they kicked off Lucy's Legacy.
"I just didn't want to see the positivity that had opened up in our lives end with her ending," said Lucy's mother, Bev Weber. "Truthfully, that would have been just as devastating as the actuality of her passing away."
Lucy's Legacy aims to promote random acts of kindness — something loved ones, strangers and even celebrities showered on the Weber family after Lucy's diagnosis, and later her death.
When someone performs an act of kindness, they're supposed to hand the recipient a Lucy's Legacy card. 
The cards, edged in purple and decorated with a tiny goose, say, "This random act of kindness was done in honor of Lucy 'Goose' Weber…Pass along the kindness — and this card!"
The card also includes a link to facebook.com/TeamLucyGoose, where visitors can read Lucy's story, share random acts of kindness and print out additional cards.
"It's difficult to find kindness in the world, but it pours in on people when tragedy strikes," Weber said. "Why should we wait until tragedy strikes before we show kindness and love for one another?"
•••
Lucy started showing signs of illness in May of last year. On her first birthday, she underwent surgery to remove a rare and malignant tumor from her brain. When the tumor returned, doctors ordered chemotherapy.
When they heard Lucy's diagnosis, the Webers' friends and neighbors began devising ways to help, from mowing their lawn and cleaning their house to planning fundraisers, which included a Harley-Davidson raffle and a four-course dinner at Boulevard Brewery. Prayer chains spread her story even further.
Overwhelmed with a feeling of responsibility for informing the burgeoning group of followers interested in Lucy's progress, Bev Weber and Lucy's father, Brian Weber, emailed Kansas State University athletic director John Currie. Brian Weber, a huge K-State sports fan, figured if anyone knew what to do in the face of adversity, it would be Currie and his coaches, his wife said.
Currie sent books, and also sent word to an acquaintance who was a large supporter of the V Foundation for Cancer Research, Bev Weber said. The foundation was founded by ESPN and former North Carolina State basketball coach Jim Valvano, who later lost his battle with cancer.
In December, about a month after Lucy died, sportscaster Dick Vitale featured her story in a Jimmy V Men's Basketball Classic halftime show in New York's Madison Square Garden. Vitale invited the Weber's to his annual fundraising gala for the V Foundation, where he announced a $500,000 pediatric cancer research grant named for Lucy and another child who recently died of cancer. A $250,000 grant was announced for a third child.  
In a prepared statement released before the gala, Vitale said research was critical to help save kids battling cancer.
"It is an honor that this year's gala will celebrate the memory of three beautiful children," he said. "I hope that the research funded in their names will someday help other kids faced with this dreaded disease, and keep Lucy, Johnny and Adrian's stars shining brightly in future years."
Lucy's CaringBridge website, caringbridge.org/visit/lucyweber, has now gotten more than 122,000 visits, said Jill Chalfie, a friend of Weber's who helped create Lucy's Legacy.
"She just seemed to bring people together, and brought out the best in people," Chalfie said.
Chalfie said she hoped the effort is a fitting tribute. Her hope is that cards will circulate year-round, but with an extra push on Lucy's birthday." 
"This was definitely just a kickoff, and my hope is that people just keep a sheet of these in their purse or wallet all the time," Chalfie said. "I'd love to get them across the world someday."
•••
Chalfie, of Shawnee, and her children were the ones who waited for the mailman to pull in, then ran out with a bottle of water and a Lucy's Legacy card for him last week. They paid for the woman behind them in the drive-thru and handed the cashier a card to give the customer. They also set up a free lemonade stand and handed out cards to walkers and bicyclists in their neighborhood.
Weber had just settled into a comfortable aisle seat on a plane bound for Dallas last week when she noticed a woman struggling to shove her bag into an overhead compartment, an impatient line forming behind her. Once the bag was secure, Weber — guessing the woman could use a break — moved to the middle seat, offered her the aisle and passed her a card. Weber was equipped with plenty more cards she would hand out at the conference she was attending.
Margie Long of Kansas City, Mo., picked up lunch for a co-worker that day.
Long never met Lucy and hadn't heard her story until reading her obituary. 
Lucy is now the first of 15 stories in a book Long is writing about people who were "lost too soon," Long said. She hopes to publish the book, tentatively titled "Unfinished Business," next year.
"I was just very moved by her story," Long said. "I just thought, 'Oh my gosh, this one little person only 17 months old, and the world is going to change because of her.'"