Considering concussions
Bill now in Kansas House aims to ramp up protocol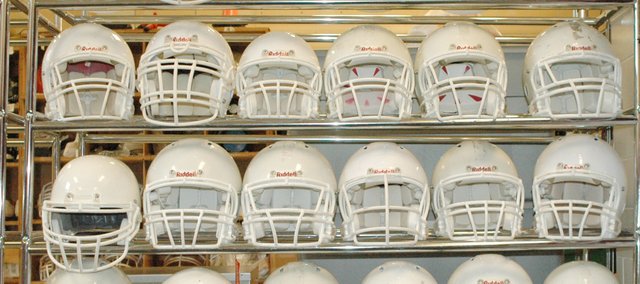 When Tim McCarty got a call saying his son, Colin, might have suffered a concussion at football practice, he began to think of the many recent stories about head trauma in the sport.
As McCarty drove to Shawnee Mission North High School and walked to the athletic trainer's room, one of the worst possible stories — a Spring Hill football player collapsed during a game that fall and later died from brain injuries — had recently drawn national attention.
Months later, Kansas became part of another chapter in the country's concussion narrative with the introduction of Senate Bill 33, or the school sports head injury prevention act.
The bill, passed 37-0 last week in the Senate and now being considered in the House, would add Kansas to a list of 11 other states with laws on the handling of concussions in middle and high school sports.
It would require high school and middle school athletes and their parents to sign a concussion awareness form before each school year. It would also require student athletes suspected of suffering a concussion to be removed from the field immediately and cleared by a health care provider before playing or practicing again.
Those are steps most Shawnee-area schools have already taken. Some say, however, the bill is vulnerable to being tied down in the Legislature.
•••
Speaking on the phone during a break at Saturday's high school state wrestling tournament in Wichita, Gary Musselman, the Kansas State High School Activities Association's executive director, said he welcomed having what his association and many of its member schools already do become a law.
Last year, the association posted on its website updated concussion guidelines, a parent-student acknowledgement form schools could distribute, a half-hour online course and information from sources like the Centers for Disease Control and Prevention.
While Musselman thinks having what schools "can do" become a "shall do" is a good thing, he is concerned that the bill is being used as a vehicle for other projects.
Last week Sen. Mike Peterson, R-Wichita, successfully introduced an amendment that would allow high school swimmers to practice with coaches and swimming clubs not affiliated with their high schools.
Peterson said Musselman told him he'd look into the issue but that Musselman did not follow up when it was brought up in 2006.
Related document
Musselman said the amendment had nothing to do with the issue of head injuries in youth sports and is taking advantage of a bill he said no one wants to vote against.
Peterson, a member of the Wichita Swim Club, said the amendment would allow high school swimmers to practice in the offseason under the supervision of coaches whereas they might otherwise be more susceptible to injury practicing alone.
"The bill focuses on injuries in athletics, this focuses on injuries in athletics," Peterson said of the amendment.
But Musselman, in his 15th year as KSHAA executive director, said he's concerned about what precedent this might set for legislators deciding eligibility rules, something his association and the National Federation of State High School Associations has done largely without imposition.
"To clutter this up with something that has nothing to do with the bill's original intention is not good public policy," Musselman said.
•••
Colin McCarty, a junior, wasn't diagnosed with a concussion. He said he had a headache and, while headaches are a common reported symptom of concussions, he was cleared to return to practice the next day.
And while his son was cleared, Tim McCarty saw two of Colin's teammates — kids McCarty once coached during his 12 years in youth football — diagnosed with concussions.
McCarty — a member of Johnson County's football and cheerleading club — thought about those kids and thought about Colin. He thought about Nate Stiles, the Spring Hill football player. After Stiles died, McCarty wondered aloud, with other coaches he knew, how many times they let a youth return to the field who probably shouldn't have.
So McCarty went and shelled out an extra few hundred dollars for a new helmet — the Xenith X1 — that may not altogether prevent concussions, but could reduce the severity of blows to the head.
"It was well worth purchasing," McCarty said.
Somewhere between lining up at linebacker, fullback or on the offensive line, Colin's old helmet — the team's standard issue Riddell helmet — took such a blow (or an accumulation of hits) that its face mask became a gnarly, twisted piece of metal North head coach Dennis Grayless retired to the top of his filing cabinet.
•••
KSHAA introduced the new national concussion guidelines last summer before Grayless' first season as head football coach. North has since adopted the guidelines in its handling of suspected head injuries.
Related document
"I'll tell you, it had a big impact," Grayless said. "We lost several kids to just the fact they had to get out of practice."
Last year, some Shawnee-area schools also began administering preseason baseline tests that would record athletes' cognitive skills and compare results in the event of a head injury.
Shawnee Mission North, Mill Valley, De Soto and St. James Academy are among 20 Kansas high schools using the imPACT (Immediate Post-Concussion Assessment and Cognitive Testing) system, according to its website.
Grayless said three players missed a game because of concussions last year. Four others suffered head injuries but were cleared the next day. Mill Valley head football coach Joel Applebee wouldn't say how many players experienced head injuries for his team last season but acknowledged a heightened awareness in the last year.
"I think the students are more willing to come forward now than they ever have been," Applebee said.
By nature, that willingness has been limited in a sport that rewards and romanticizes toughness.
Grayless believes the new guidelines relieve any potential social pressure associated with taking oneself out of a game or practice.
"This takes that tough out of their hands," he said.
The CDC includes 15- to 19-year-olds among the groups most susceptible to traumatic brain injury. Each year, emergency departments treat an estimated 135,000 sports- and recreation-related brain injuries, including concussions, among those aged 5 to 18.
But on the field and under the lights, headlines and numbers aren't on the minds of the players who put their brains at risk each week.
Because of this, coaches and players alike seem to welcome an environment that exhausts its resources by way of technology, awareness and procedure to ensure the safety and future of its participants.
"They'll just be happy that first day we put pads on again and they can hear the crack of them," Grayless said of his team's outlook.