Former Mill Valley standout signs with Comets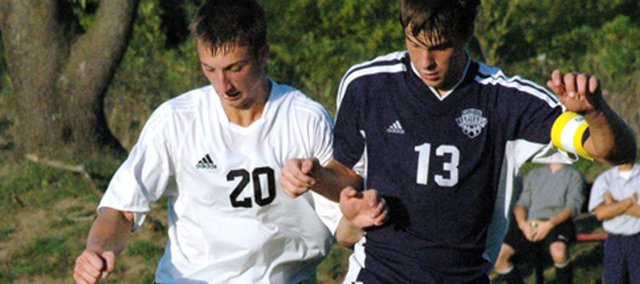 It's rare for a player who rises to the professional ranks to spend almost his entire soccer life in one area, but former Mill Valley High School standout defender Coady Andrews has done just that.
He's beaten the odds and, after a prosperous amateur career, has signed a contract to play professional soccer for the Missouri Comets of the Major Indoor Soccer League.
"It means a lot," Andrews said of the opportunity to play close to home. "You know (it's what) anybody that plays sports would hope for. When the community gets involved and friends are always around, family's always around, it just makes everything that much more exciting and that much more fun."
Andrews points to his intensity and hard work ethic as the keys to getting him to this point, along with building relationships with the right people.
"I work hard,"he said. "I knew that when I started college that playing professional soccer was something I might be able to do, and from there I really worked hard to put myself in a position to where that would be possible."
Following a stellar high school run where Andrews played four years of varsity soccer at Mill Valley and earned All-State honors twice, he chose Mid-America Nazarene University to continue his career. Unfortunately, circumstances changed during his first year in the program and Andrews decided he needed a change of scenery.
"There were a number of reasons behind that," Andrews said. "Mid-America is a great school, and they had a great soccer program. For me personally, I just needed something different in my life, and when I went to UMKC I wasn't sure I was going to play there."
Once he arrived on campus, however, Andrews began talking to some of the UMKC players who he's played with on the local Premier Development League — the Kansas City Brass — and Andrews realized he might have an opportunity with the Kangaroos.
"I talked to a few of those guys, and the first day on campus I got a call from the coach saying, 'Don't leave. I want to talk to you.' It just worked out. It was a good fit," Andrews said.
In his two years at UMKC, Andrews played in 34 games and helped the team to a 10-5-3 record in the Summit League for the 2010 season.
In the offseason, Andrews not only played in the PDL, but he also spent time playing semi-pro indoor soccer with the Premier Arena Soccer League's Kansas City Kings.
Between his connections in the soccer community and his versatility as a defender, Andrews was realizing his soccer dreams without having to leave the local area.
"I started building relationships with people, talking to coaches, talking to other players, and just learning, and that was how I did it," Andrews said. "It's what the players get out of it and where the player fits. It just happened to be a good fit for me here in Kansas City."
With his eligibility up as a college player in the fall, Andrews was looking for new challenges on the pitch. The Comets already started their 2010-11 season, but he had been in contact with the organization since they returned to town after leaving in 2008.
"I talked to the head coach early on, Kim Roentved. His son actually played at UMKC as well, and so I had a pretty easy connection. From there, I talked to him asked if there might be a chance to try out and try to play, and he said yeah," Andrews said.
Andrews is still a full-time student at UMKC along with playing for the Missouri Comets. With his four-year amateur status expired, the only obstacle for him has been working his classes around the team's practices.
"I'm very fortunate to be able to schedule my classes so they wouldn't conflict with practice. Otherwise I don't know if I would have been seriously considered as a player they were going to want to recruit," Andrews said.
On top of all those responsibilities, Andrews is a coach for the KC Legends youth soccer club.
"I'm a firm believer that you're in control of how things turn out in your life, and I worked hard and built connections," Andrews said. "I knew the Comets would be coming into town."
Being around the game of soccer for most of his life, Andrews believes he has prepared himself well for the transition to professional soccer. Since he spent several seasons in semi-pro ball, he knows what it take to become successful.
"It really is a different level. It's a job," he said. "Every other team I've played for you've got guys playing for fun (and) it's just something people did because they wanted to get through school (or) they wanted something to do in the summer. When you go away to a professional organization, the culture is really what I learned. People approach it as a job. From 9 to 5, their focus is set on how they perform on the field, how they perform in practice. It's what they do to keep their body at a high level to perform on the field."
Not only is the culture dissimilar, but also the game of indoor soccer is nothing like its outside counterpart, especially at Andrews' position of defender.
"It's really different. The only way you can learn the game is by playing it at a high level," he said. "I would say the big difference is the speed of the ball moving is a lot faster in indoor than in outdoor. In my opinion, it is more technical in indoor because you don't have the time (to react) and you're going to have to get yourself out of some sticky situations."
With the tight parameters of indoor soccer, Andrews also knows the toughness of soccer is generally more important.
"I also found that indoor soccer tends to be a bit more physical than outdoor, and that might be shocking to a lot of people who don't know that," Andrews said. "Indoor soccer is really physical. You have to be strong on every play."
Now that Andrews has settled into his new surroundings and teammates, the he is focused on helping the Comets attain their main goal.
"We have a good team and we are expecting to go as far as we can, and hopefully that is the MISL Championship," he said. "That's what our goals are set for and that's where the team has their eyes on the prize."