NJROTC

takes fifth at nationals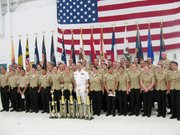 Shawnee Mission North High School finished fifth in the NJROTC National Championships last month in Florida, taking first in four of 11 events.
The four first-place finishes were in color guard, armed regulation drill, push-ups and sit-ups — where Mikaela Krzesinsky completed 330 sit-ups in six minutes, more than any other competitor.
Andrew Nelson recorded the highest academic finish for any North student during the school's six years at the national championship, finishing fourth overall.
Jake Berg finished fourth in push-ups with 141. Gerardo Ruiz finished eighth with 115.
Ben Muller finished fourth in the male sit-up category with 313.
Autumn Coleman finished eighth in push-ups with 76.
Sara Atwood finished eighth in sit-ups with 247 and 10th in push-ups with 75.
North's NJROTC finished the season with a head-to-head record of 64-7.
The Indians are led by Chief Warrant Officer Dennis Grayless and Chief Chris Nevens.