Shawnee Mission Northwest sends off 2011 grads
Photo Gallery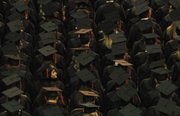 Shawnee Mission Northwest Class of 2011 Commencement
The Shawnee Mission Northwest Class of 2011 celebrated its commencement Thursday, May 19.
Update: On Tuesday, each Shawnee Mission high school announced the top 10 graduates for its school based on grade point average. Shawnee Mission Northwest's top 10 graduates are: Kristina Buchanan, Kaitlyn Carl, Emily Chambers, Jordan Dillon, Courtney Faber, Jacob Lindenlaub, Harrison Schroeder, Aaron Thornburg, Thomas Verschelden and Bradley Vonada.
Shawnee Mission Northwest's Class of 2011 may have been sent inside the Shawnee Mission North field house under threat of rain, though caps still flew and families sent cheers from the bleachers.
See The Dispatch's commencement photo gallery and listen to audio of the commencement's senior remarks. Check back for video of the school song and sendoff.
Audio Clip
Audio Clip