The kids are all right: Freshmen lead Maranatha girls to 2A title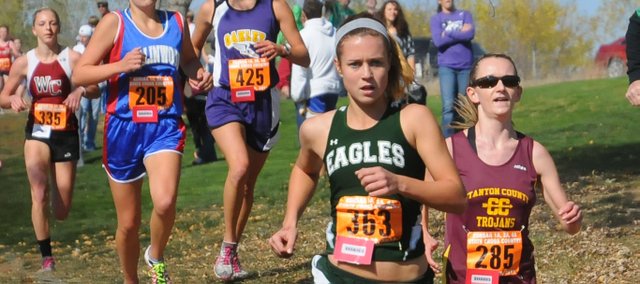 There was no hill big enough, nor incline long enough to stop the Maranatha Academy girls cross country team this season.
That again was the case Saturday at Wamego Country Club where the Eagles attacked a hilly 4-kilometer course that was packed with hairpin turns, and ultimately won the Class 2A state championship in convincing fashion.
The Eagles earned first place with a commanding 59 points, 26 ahead of runner-up Ellinwood, which had 95. Berean Academy placed third with 108.
Preparation was key for the Eagles, Maranatha coach Bianca Williams said, so when the race began they were ready to tackle the course and take advantage of the bright, crisp day.
"Wamego is definitely a difficult course," Williams said. "There are a lot of long, slow uphills or inclines. All season in training we worked on handling long, low-grade hills, knowing that that was what the state course would be like."
Before the race, Williams also had to worry about one potential emotional obstacle.
With a girls' team replete with freshman athletes, Williams still had to be concerned about how the younger athletes would handle the pressure of running at a state championship meet.
"I said to the girls, 'You've got to ignore everything else people tell you,'" Williams said. "We wanted to prepare our three freshmen so that their nerves didn't overtake them. They were very well-balanced and confident. Having three seniors on the team definitely helped us settle down."
Indeed, the Maranatha freshmen were so settled and confident that they took three of the first 15 individual places. Lauren Harrell had the most impressive finish of any Maranatha runner on the day, taking second place with a mark of 15 minutes, 45.46 seconds. According to Williams, Harrell's finish was mixture of race smarts and heart.
"First of all, she ran with the lead pack right away," Williams said. "Then she broke off with (Lincoln High School senior Jenna) Faris for a while. We were a little worried about her when the third- and fourth-place runners passed her in the last quarter mile, but she kicked it back in on the final straightaway and blew past them."
Fellow freshman Hope Manning battled off dehydration to medal in 13th place with a time of 16:47.69 while another freshman, Taylor Morrow, also medaled with her 15th-place mark of 17:00.55.
Sophomore Christa Johnson was 32nd with a mark of 17:41.14, while senior Courtney Brownlee took 41st at 18:03.38. In all, five of the seven Eagles finished in the top half of the 99-runner field.
Rounding out the state squad, senior Anna Hoduski finished 70th in 19:13.37, and senior Emily Kidd placed 73rd in 19:23.94.
On the boys' side, the Eagles finished just out of the running for a state trophy with a fourth-place finish of 121 — just two points behind third-place Jefferson County North. In all, just 12 points separated the second place team from the fifth place team in the 2A boys race. Ellinwood won the state title with 81, Johnson-Stanton County was second with 112.
"The boys missed third by just two points," Williams said, "but I really felt that they had run their best race they could. Going into it, we knew it was going to come down to those five teams who finished at the top. The question was just, 'In what order would they be?' The boys really ran their best. I know that they were disappointed that they didn't get to step up on the podium, but they should be proud."
Senior Luke Miller was the Eagles' highest finisher in the 5-kilometer race at 28th place with a time of 18:22.29. He was followed immediately by fellow senior Caleb Hartig at 29th with a time of 18:24.48. Senior Ian Bower was Maranatha's next finisher, at 31st, with a mark of 18:30.99, while fellow senior Zech Johnson earned 39th with a time of 18:38.78. Senior Spencer Haven took 43rd place with a time of 18:48.74, while a time of 18:52.65 was enough to earn freshman Aaron Crews 45th place. In all, six of the Eagles' seven runners finished in the top half of the 102-runner field.
After Saturday, Williams had a chance to reflect on a successful 2011 season.
"Honestly, this was one of the most enjoyable teams to coach," she said. "We'll graduate 12 seniors, so there's been a lot of leadership on these teams. There was a really, really nice chemistry between the freshmen and the senior girls. Everybody on this team really pushed each other and got the best out of each other."