Northwest girls race to Class 6A state title
Lawrence — The theme for the 2011 Shawnee Mission Northwest girls cross country team this fall could have easily been "stay close."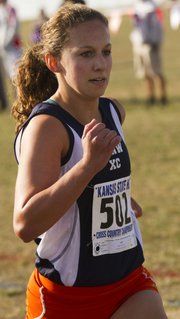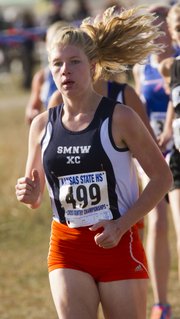 The variations of interpretation of this mantra all had connections to the way the Cougar girls performed this season — they stayed close as a unit, with friendship and work ethic shared equally. They stayed close to each other on the course — always running in tight packs with each runner pushing the other to perform. Finally, they always stayed close to the top — their pack always moved out to the front early and always stayed with the leaders, waiting for that final burst to seal their victory.
That closeness paid off Saturday at Rim Rock Farm as the Northwest girls earned the Class 6A state championship kilometer race with a team total of 80 points, outpacing second-place Shawnee Mission West by 24 points to win the title. Olathe East, took home the third-place trophy with 127 points.
"I think the thing to stress here is that these girls have been training as a pack since summer," said Northwest cross country coach Van Rose. "And they've been racing that way, as well. Before the race, I just told them, 'Keep doing what you've been doing.'"
The Cougars' consistent pack running allowed them to place five runners in the top 25. Senior Jessica Johnson led the way with a 12th-place finish in 15 minutes, 14.40 seconds. Junior Katie Nelson was right behind Johnson in 13th in 15:45.50. Senior Sarah Barnes also earned medalist honors with her 18th-place finish in 15:52.40.
Rounding out the Cougars' first five, senior Sarah Crawford placed 23rd in 15:58.50 and senior Kelsey Poston finished 24th in 15:59.10.
Also running for Northwest, junior McKenzie Iverson placed 27th in 16:03.00 and senior Victoria Banks was 75th in 17:02.70.
"We knew we just had to stay close together and have the pack start out strong and get up near the front," Rose said. "It never was a slam dunk. After finishing second at regionals last week, we were a little nervous. We knew the bigger meets were in our favor. At the small meets — like regionals — if you have a couple of really good girls from your team at the top, then another team's strong pack doesn't have as much of an impact. Here we were able to make an impact."
Looking back on the year, Rose said he knew his team was strong but that a coach never knows where his team stacks up until it can actually compete against others.
"You kind of look at who you're running against," Rose said. "We knew Shawnee Mission West was going to be good and that Shawnee Mission East had won the last couple of titles. When we beat West in the first meet of the year, we knew we had potential.
"The girls had done so much over the summer and had kept healthy. You like to see a crew like this get rewarded. It's impressive that they had five seniors leading the team. Most of the time, in girls cross country, teams are dominated by younger runners. It's a tribute to our girls that the seniors stayed to see this through."
On the boys' side, the Cougars' performance nearly matched the girls. Northwest finished just 10 points out of first, falling to Sunflower League foe Shawnee Mission South for the championship trophy. The Raiders posted 81 points to SMNW's 91. Both Northwest and Blue Valley West finished with 91 points, but Northwest emerged with the second-place trophy, due to the sixth-runner tiebreaker.
Junior Kirk Bado had another outstanding performance as he earned fourth-place in the 103-runner field. Bado's time of 16:02.50 was less than two seconds off of third place. Bado was the only junior among the top five finishers — first, second, third and fifth all went to seniors.
Northwest senior Anthony Yates was the next Cougar finisher as his mark of 16:20.10 was good enough for 15th place. Yates was followed shortly by junior Clayton Henderson in 18th with a mark of 16:36.50. Senior Garrett Pfau placed 44th in 17:12.10 and sophomore Nate Stearns was 50th in 17:20.20. In all, five of Northwest's seven runners finished in the top half of the 103-runner field.
Also for SMNW, junior Collin Weems placed 53rd in 17:23.60 and sophomore Connor McDonald finished 93rd in 18:28.70.
The second-place finish for Northwest represented a huge growth for a team that, in late August, had not settled on five of the seven varsity positions.
"In the first meet we were just trying to find five," Rose said. "Each meet we'd try to add a person. Some struggled, so we tried others. We found a couple of guys late and they really helped us. Nate Stearns and Collin Weems really grew up and made an impression at the league meet. If you look at their times at state compared with how they did at league, five of our seven runners improved. We're probably one year away from being really good again."
Shawnee Mission North senior Sam Yoakum nabbed state medalist honors as he placed 17th in 16:33.70.