SM

Northwest associate principal receives $25,000 national educator award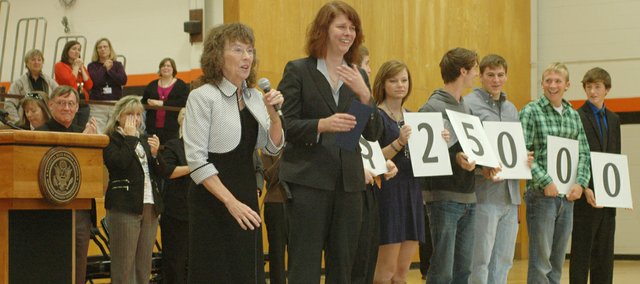 Drumroll, please
The Shawnee Mission School District has video of Lisa Gruman receiving the Milken National Educator award on it's Facebook page.
Usually before a school assembly, Shawnee Mission Northwest Associate Principal Lisa Gruman is in charge of making sure students file into the gymnasium on time and on task.
She did as much on Nov. 1 in anticipation of a surprise assembly: a national education foundation was in town to deliver a $25,000 award to a Northwest educator, who could do with the money whatever he or she pleased.
"It's been called the Oscars of teaching," Milken Family Foundation Vice President Jane Foley told those in attendance.
Someone in attendance would be named a Milken National Educator by the country's largest teacher recognition foundation.
And so after a group of students held up large cards signifying to the dollar amount of the prize, Foley asked for an envelope and students in the bleachers rumbled their feet to simulate a drumroll. When Foley read Gruman's name, Gruman cupped a hand to her mouth and welled up, overwhelmed.
The shock stayed on her face as a few of the morning's guests — including Kansas Commissioner of Education Diane DeBacker and U.S. Rep. Kevin Yoder — filed up to congratulate her.
"It's not often that you find students that like their associate principal," DeBacker joked.
Yoder followed, thanking Gruman for her work.
"From Washington, D.C., to Kansas City, we're very proud of you this morning," Yoder said.
Gruman became one of 40 nationwide recipients of the award this year and the 58th Kansas educator to receive the award since the state began partnering with the foundation in 1992.
Gruman has been associate principal at Northwest for seven years after teaching high school math for eight years.
There is no formal nomination or application process for the award, instead each participating state's education department appoints an independent committee to recommend candidates.
In a news release following the assembly, Northwest Principal Bill Harrington called Gruman "the single best teacher/administrator I have ever worked with."
If the Milken National Educator Award is like the Oscars, then by all accounts Gruman gave a good speech. The band didn't even have to start playing to wrap it up and she made sure to thank everyone in attendance.
"Most of all," she said, "when I look out at you, I'm reminded of how privileged I am every single day to work with each and every one of you."
She told students the focus was on them to take more challenging courses and urged them to take that extra step to do their best.
In closing, Gruman told the audience she couldn't receive the recognition without the support of her co-workers and students.
"I am so very proud to be a Cougar," Gruman said.