Inside Hope Lutheran School, veterans see 'greatest part of the world'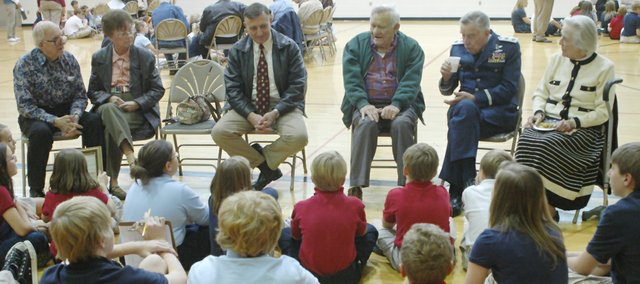 Wally Clark, an 86-year-old Navy veteran, steadied himself as he rose in his church pew.
Grabbing a microphone, he told those attending Hope Lutheran School's Veterans Day program on Thursday about the photos he was about to donate to the school.
Clark — a survivor of the Pearl Harbor attack, World War II and the Korean War — was in the right place at the right time on the day the peace treaty between the United States and Japan was signed on the deck of the USS Missouri. Mingling with the press corps that day, Clark managed to snap a few photos that decades later would be encased in glass and given to Hope Lutheran.
"I would rather be looking at pictures of women!" he said to a roar of laughter. "I'm an old Navy man — 86 years old and still lookin'!"
Clark's unit docked all over the world, he said, including in the main drag of Venice, Italy, where there were "buffets at every 15 to 20 tables."
After the church's veterans were recognized, students sang patriotic songs for the veterans and Shawnee Mission North High School's senior naval instructor Dennis Grayless delivered a keynote address, students and veterans made their way to the opposite end of the school for question-and-answer sessions.
The veterans sat in metal chairs, clustered in several groups as students formed audiences before them.
"The war is something you really want to forget," Clark said.
On the morning of Dec. 7, 1941, Clark said, the first wave of Japanese planes came through just as Clark and a buddy headed to their mess hall for breakfast.
"We didn't get there," he said.
Seated next to Clark was Dick Wegner, an 86-year-old veteran whose service began with the Battle of the Bulge when he was 18.
During that span, Wegner picked up proficiencies in more than one foreign language. He was asked to elaborate on the languages he learned, to which his answer likely took longer than expected.
Wegner talked about the more than 500 trips he estimated to have taken to Europe, the time he spent in Japan, Arabia, Egypt and his new home in Mexico.
He said he studied French at the University of Missouri, started learning Arabic when he and his wife went to Egypt, learned Russian and picked up Spanish in Mexico "almost by osmosis."
Wegner learned to speak "reasonably good" Italian while in Rome and Milan, and it took him about a year-and-a-half, he said, to learn to speak Chinese.
"When learning a foreign language," he told students, "try best to learn it correctly and as best as you can."
Today Chinese is a good place to start, Wegner said. And if you can read Greek or Latin, well then Russian is a piece of cake.
The program was the school's fifth such occasion. Earlier, Grayless, after his color guard presented the United States flag, talked about his 25 years of active duty in the Marines and how he retired on a Friday in 2005 and went to work at North the following Monday.
"I'll tell you, I don't know who was more shocked — me or those kids," he said.
Grayless went on to talk about the selflessness of our veterans and the selfishness of our society. He talked about protesters in the country, saying that if they wanted to put the country down or its leaders or its flag, well that's their right because of the sacrifices their veterans made.
Grayless concluded by asking the students and community members to respect and remember their veterans and what they stand for.
And when those students got the chance to sit in front of veterans from wars as far in the past as World War II and those as fresh as the most recent Iraq War, they got to hear how the country stacked up to all the other places the veterans saw.
From his seat in front of the kids, Clark described the view.
"Right here you can see the greatest part of the world," he said.
More like this story