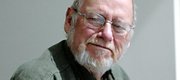 The house is quiet now, but we're counting the days. Before long, the halls will ring with children's laughter and the air will be heavy with the scent of good cooking. For a brief time it will seem as if the rafters are groaning with the all-too-uncommon burden of burgeoning life.
We are no longer young, and so, with the passage of time, we have gotten established in our patterns. The kids' visit will make a shambles of our cherished routines, if only for a week or so.
Now that we have passed into old age, we guard those routines jealously. How did that come to be? I sometimes ask myself. When did I get old? I'm not sure when I crossed the threshold. I never used to feel old, but now I undeniably am, so obviously I must have moved into this state at some time. I just can't remember when it happened, exactly. I just suddenly realized one day that I was old. I think it was about last March, but never mind.
The kids are coming. That means, of course, that we have to clean house. It's not as if they haven't seen it dirty, or as if they particularly care. None of them are exactly first-rank housecleaners themselves, if it comes to that. But we will polish the glass and scour the kitchen and the bathrooms and try to get everything thoroughly spic and span in preparation for their visit.
Of course when we say the kids are coming, what we really mean is that the grandchildren are coming. As they have grown, our children have scattered across the country, and we love them all dearly, so we really value time spent with them. But it is the prospect of spending time with the grandchildren that really quickens our breath and gets our juices flowing, so to speak.
We have three grandchildren, and they range in age from 4 to 15. The youngest, a boy, is a bundle of energy, as you would expect of a child of that age. The oldest, another boy, is a bit reserved around his elders. Like all adolescents, it's sometimes hard to draw him out. His sister is a typical 14-year-old who seems to vacillate between being a child and a woman.
Though we haven't yet actually gotten around to the cleaning – that will be just about the last thing we do, so that everything is ship-shape – we have been getting ready for their visit. We've been planning the menus, and have given some thought to how we might pass the time while they're here. (There's also the matter of the Christmas presents we've made for them; the presents all will be wrapped, or at least secreted away, in advance of their visit.)
Now it's mostly just a matter of waiting. At our age, we've gotten pretty good at that.