Community Thanksgiving Dinner organizer hopes for 'no leftovers'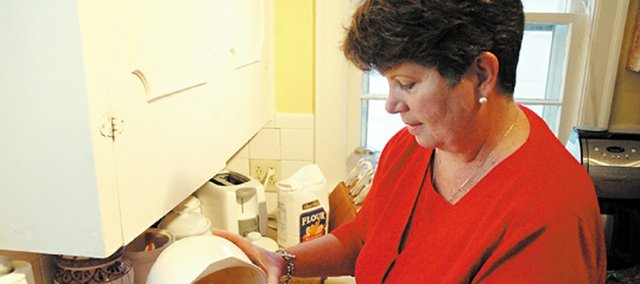 For LeAnn DeTar Newbert, Thanksgiving dinner isn't just about the food on a plate.
She calls the annual Community Thanksgiving Dinner she organizes each year in Bonner Springs a "ministry of love."
"It's a ministry for Jesus … When we started it at our church, we were planning a big dinner for ourselves and it occurred to me, while we were putting this on the calendar … why don't we put our time and energy as Jesus commands into helping our neighbors and loving our neighbors this way?" said DeTar Newbert.
She started the dinner with the help of John Walker, former pastor of First Christian Church, in 1994. "It's a ministry of love to offer this freely, both our service and our time and the food itself, to make everybody feel loved and welcome — not that this is a food kitchen, but this is where you come to be accepted," DeTar Newbert said.
For the 18th year, First Christian Church will play host to the free community dinner that includes turkey, mashed potatoes, sweet potatoes, vegetables, cranberry sauce and pies of all varieties, DeTar Newbert said.
"Everything you can imagine, there's no pie that you can imagine that's not there," she said.
As they always have been since the dinner was started, the pies will be provided by Sacred Heart of Jesus Catholic Church. Additionally, Olivet Church of God in Christ will provide cornbread stuffing. Bonner resident Dorothy Klamm will cook the turkeys.
But the dinner has never hurt for assistance outside the kitchen, as well, DeTar Newbert said. On average each year, about 30 volunteers assist with everything from serving drinks and pie to helping clean up after the dinner.
The dinner will be a buffet style, where guests can help themselves to items in the serving line, while beverages and pie will be served. Leftovers are a part of the deal, too.
"We send everybody home with a take-home container of another Thanksgiving meal," DeTar Newbert said.
She said people have been known to give that leftover Thanksgiving meal to someone else in the community. Some even ask for a second meal, anyway, just because they know of a friend or neighbor who could use a hot meal on the holiday.

"Interestingly, we seemed last year to lean more toward takeout meals. We had more people … coming who wanted to take the meal with them or came up to get a meal and decided to get a second one because they knew a neighbor" it would benefit, DeTar Newbert said. "There was a lot of extended giving in that way."
DeTar Newbert said she hoped that spirit of giving continued to grow and that, this year, after the leftovers are handed out, all that's left to put away would be the dishes. She said church members each year cooked enough food to feed 100 people.
"I would love to have 100 people there," she said. "My biggest hope is that we have no leftovers whatsoever."