Council members hear ideas for $1 million development fund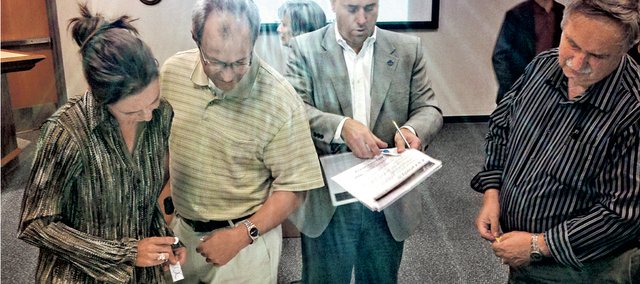 When it comes to divvying up Shawnee's new economic development fund, boosting small businesses should be one of the priorities, City Council members told staff last week.
Finance and Administration Committee members differed on the best ways to retain, grow and attract new small businesses, but they generally agreed there's a gap in the city's current toolbox. Even though small businesses make up a large portion of employment, programs such as tax-increment financing are designed for much larger projects.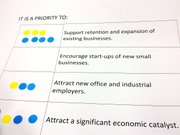 On Nov. 8, the committee reviewed and discussed the first draft economic development policy statement, prepared with input from a Shawnee Economic Development Council task force. The draft highlighted seven critical issues, including support for small businesses.
While $1 million — new revenue expected in 2012 from the recently increased landfill impact fee — is a large sum, it's critical to prioritize carefully, city manager Carol Gonzales said. Economic development projects could eat it up quickly.
"It's not an endless supply of money," she said. "We could spend it over and over."
Shawnee's biggest economic development needs, according to the EDC's report, are immediate and long-term commercial and industrial buildings and move-in-ready land sites, differentiating the city from neighboring communities and helping small- and medium-sized businesses access funding to grow.
The EDC proposed four ideas in response.
• Shawnee Impact Zones: Geographically defined areas where the city could help fund infrastructure, site remediation, engineering or permitting to accelerate commercial or industrial development. The tool could be particularly useful for sites with challenging topography or infrastructure needs.
• Shawnee Entrepreneurship and Economic Development Loans: Loans to help provide job-creation incentives to keep Shawnee employers in the community, as well as attract new ones. Such a program could also provide capital for existing small businesses or start-ups with job-creation potential.
• Economic Catalyst Development: Funding to attract a destination, or catalyst, that would create spin-off development. Ideas include an entrepreneurial incubator, a destination shopping center or a university satellite campus.
• Shawnee Development Corporation: A group that could buy land or otherwise engage in the real estate development process to augment the private sector. Among other things, such a corporation could option land for future assemblage or sell it at below-market rates to a major employer expanding at the site.
A number of other cities have programs to acquire land and get it ready for development, Gonzales said, and it's effective but bold.
"We have never been that aggressive," she said. "That takes a lot of funding."
Committee members were leery about funding start-up small businesses, especially risky ones like restaurants.
Michelle Distler said she didn't want to invest in bad business plans but that it could be difficult to draw the line. She said there's no way of knowing which "guy in his garage" will succeed and which will never get out of his garage.

Others suggested focusing on tools to help existing small businesses grow and encourage them to stay in Shawnee. Ideas included buying down utilities or cushioning building expansions.
Rather than directly fund new businesses, Jeff Vaught suggested using money to create a "business-friendly climate," which could include revitalizing more aging shopping centers.
"If we do everything else right, small businesses come online," he said. "I would much rather incentivize the infrastructure and an area for them to be…and hope they find a place to land."
The committee is scheduled to continue its discussion in January.