As student bodies diversify, school districts have trouble finding minority candidates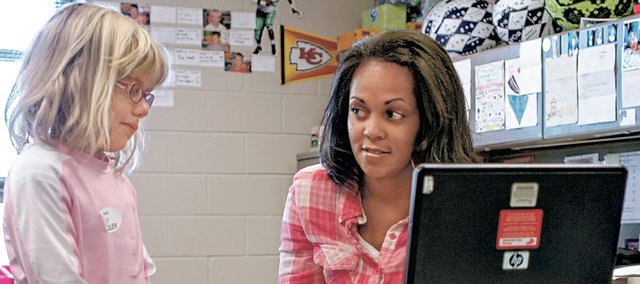 A note on the numbers
The Shawnee Mission and De Soto school districts did not provide numbers on how many minority teachers they employ, citing employer-employee confidentiality.
Public school districts across the country lag behind employing teachers of color as the nation's K-12 student body nears the point of having no clear racial or ethnic majority.
Minority students already make up more than 40 percent of the nation's public school population, with that number being just 17 among teachers, according to the Center for American Progress.
The De Soto and Shawnee Mission school districts are seeing their populations of minority students increase — still far short of the national average — but must recruit from pools still largely composed of white education majors at Kansas universities.
Each district has said it makes an effort to recruit the best candidate regardless of color, but some school officials say they were finding that minority candidates are choosing districts different than De Soto or Shawnee Mission because they believe they will make a greater difference teaching in urban environments.
Recruitment
Prairie Ridge Elementary third-grade teacher Brandi Leggett helms the school's year-old diversity committee.
Parents, teachers, principal Michelle Hite and De Soto director of professional development Jessica Dain attend the weekly meetings, where everything from the school's international fair to teacher diversity is discussed.
"My concern is to show students that people of color can do this position as well," parent Tammy Thompson said.
Jessica Dominguez, agreed, saying having an Hispanic teacher could show her son that he could one day be in front of a classroom if he wishes.
Another parent, Jeff White, conceded that the composition of the area makes it difficult to further diversify school districts' teaching corps.
"I think the numbers are slanted against us," he said.
Dain said the forthcoming Common Core Standards curriculum will begin placing greater emphasis on college readiness, which she says will help funnel more minority students into fields like education whereas more of a focus in previous years was placed on simply graduating them.
For now, it's slim pickings at Kansas education schools.
• Of the 213 Kansas University education students scheduled to graduate in 2012 who opted to specify their race or ethnicity, 92 percent were white. Just two black students identified themselves, as did three Asian students and nine who identified themselves as multiracial. Of that group, three did not specify.
• Of Kansas State University's 186 Spring 2011 graduates, 95 percent were white while the other 5 percent did not specify their race.
• Of the 78 students expected to graduate from Emporia State's education school, 88 percent (or 69 students) identified themselves as white. That left five Hispanic students, two black students and two Asian students.
Shawnee Mission, with enrollment more than four times that of De Soto's, recruits at more than a dozen schools in Kansas and Missouri. Human Resources Manager Amy Dillon said the district also publishes openings in publications like Teachers of Color and k12jobspot.com. She said minority teachers sometimes assist in recruiting. Other avenues for hiring minority teachers have included finding candidates that were former Shawnee Mission students and hiring from the district's student teaching cadre, Dillon said.
"We do a lot to recruit," she said.
Absent larger numbers of minority candidates at Kansas colleges, Dillon said, recruiting on both sides of the state line has helped broaden opportunities to find such candidates.
"We try to go to so many colleges because we want to get a good sampling of urban and more broad universities like KU and K-State," Dillon said.
Alvie Cater, director of administrative services and community relations for De Soto, said that the district only recruits at Kansas universities but also receives between 2,000 and 3,000 applicants each year from across the country. When Leggett applied, for example, she was moving from Philadelphia, where she began her teaching career.
"We're not in a pickle to find teachers," Cater said.
Making a difference
Cater said the district's student body, although more than 83 percent white, is growing more diverse. He said the number of white students attending De Soto schools is at its lowest level in a decade.
Still, he said, the district's population makeup might influence teachers with two or three other job offers. Cater said its not uncommon to hear of a teacher of color who chooses a school in a more urban setting, believing he or she can make a greater difference there.
While the area's demographics may not change dramatically in the near future, Leggett still sees benefits in having a diverse crop of teachers in front of the students.
When she graduated from the Olathe School District, Leggett said she felt prepared for college — something she said not all of her peers at Temple University in Philadelphia could say right away. For many, it was their first time seeing a black student — or, conversely, their first time comparing notes with a white student.
Leggett said she applied to work in the De Soto district in large part because her husband found work in the area but that she also wanted to give back to the region near where she received her education.
Stephanie Thompson, a 2006 graduate of Shawnee Mission Northwest High School, is herself in her first year teaching third-graders at Prairie Ridge Elementary after graduating from Kansas University.
She said she wanted to work in the district because a friend who worked at De Soto High School talked up the community feel of the district.
Thompson said that she didn't know any other black women in her class of education majors when she graduated.
Seeking the best, regardless of color
In Shawnee Mission, teachers may theoretically have the chance to make the difference they'd see themselves making in a more urban setting.
Although 74 percent of the district's students are white, several schools have large minority populations.
Shawanoe Elementary School is the only school in the district where white students are themselves a minority group — 33 percent, according to data from a ProPublica report this summer. Hispanic students form the school's majority at 42 percent. Similarly, just half the population at Nieman Elementary was made up of white students, according to ProPublica's data gathered from the 2009-10 school year. More than one-fifth of students at Shawnee Mission North High School are Hispanic.
Dillion, though, said she doesn't see candidates choosing to work in the district because of demographics, but rather to make a difference more broadly.
"It's key to get the best teachers in front of our kids," Dillon said.