'High-class' convenience store to replace
BP

at Shawnee Mission Parkway and Pflumm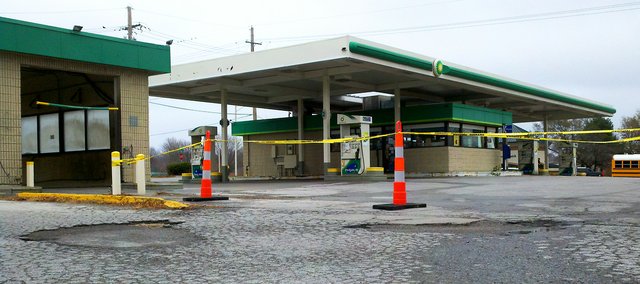 The BP station at Shawnee Mission Parkway and Pflumm Road, which closed this fall, will be razed to make way for a larger convenience store and, possibly, a liquor store.
The Shawnee Planning Commission has approved a site plan for a new 5,600-square-foot Temp-Stop gas station and convenience store at the busy corner.
The planned building has space for one additional tenant that is tentatively anticipated to be a liquor store, according to a city staff report.
The BP station, built in 1983, and car wash will be torn down. The new Temp-Stop will not have a carwash, but it should have less awkward access and more attractive landscaping.
Plans call for 28 trees — including redbuds, lindens and skyrocket junipers — plus rosebushes and other shrubs. There currently are two driveways into the site, but the drive closest to the 63rd Street and Pflumm Road intersection is slated to be removed.
Property owners planned to prepare the building for demolition the week after Thanksgiving, Shawnee planning director Paul Chaffee said.
Temp-Stop, based in Lee's Summit, Mo., currently has nine "high-class" Conoco/Phillips stores offering fuel supplied by Carter Energy, according to the company's website.
Carter Acquisition LLC owns the Shawnee property, according to a city staff report. Chaffee said the City Council's recent approval to cede two slivers of right-of-way at the location would better enable the improvements there.