St. James tops Miege for Joan Wells Invitational title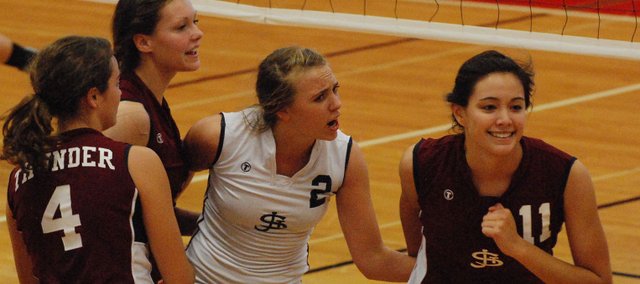 Lawrence — At moments, it seemed all too easy. At others, St. James Academy's volleyball team found itself scrapping just to hang on.
Photo Gallery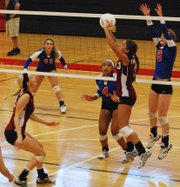 St. James tops Miege in Joan Wells Invitational finals
In the end, however, the result of the Joan Wells Invitational championship match against Bishop Miege was the same as every other match St. James has played this season — a victory.
Even when the Stags — ranked No. 1 in Class 5A — whittled a nine-point St. James lead to just one late in game one of the finals, the Thunder never panicked. They remained composed, kept their focus, and found a way to finish.
"Mrs. Dorsey (coach Nancy Dorsey) always reminds us before the game that if we don't play good, any team can beat us," setter Paige Brown said. "She says, 'Don't think for a second that they're not going to come out ready to kill you after the times we've beat them. You'd better be prepared.'"
St. James was thoroughly prepared for Miege. The Stags were the opponent the Thunder expected to have the toughest time against, and they were right. They disposed of Miege, 25-23, 25-16. It was the Thunder's closest match of the tournament. Other victories came against Lawrence High (25-6, 25-12), Blue Valley Northwest (25-17, 25-9), Shawnee Mission East (25-11, 25-11) and Word of Life Academy (25-3, 25-4).
St. James cruised into the tournament finals for their highly anticipated match with Miege. The Thunder opened game one on fire. Left-side hitter Annie Reilly pounded a kill. Then middle hitters Dallas Gardner and Katie Dulek combined for a block. Moments later, Miege had a hitting error. After a kill by Dulek, another Miege error, an ace by Reilly and a kill by left-side hitter Arianna Person, St. James found itself ahead 7-1.
St. James continued to build momentum. Back-to-back aces by Person stretched the St. James lead to 13-4 before Miege answered back. The Stags countered with a 9-3 run and forced St. James to call a timeout with its lead down to 16-13. A series of long volleys went Miege's way, and soon the Stags were within 23-22. After swapping points, Brown set to Person for a game-ending kill.
St. James had weathered Miege's challenge, and the Thunder didn't relinquish momentum in game two.
The Thunder led the entire second game. They overcame a rough patch of hitting errors and soon saw their 9-8 lead grow to 20-13 as Brown fired an ace and Dulek and Reilly thumped multiple kills and combined for a block. Miege made a 3-0 run to pull within four, but St. James closed the match on a 5-0 run that was capped by a Reilly kill after a lengthy volley.
The Thunder — the No. 1 ranked team in Class 4A — improved to 29-0 for the season. Brown paced the offense with 106 assists and 11 aces. Person had a team-high 36 kills, Reilly had 29, Dulek had 21, and Guyot and Gardner had 18 apiece. Reilly also fired 18 aces.
Defensively, libero Sheridan Zarda had a team-best 45 digs, Brown had 28, Person had 27 and Reilly had 25. Guyot had a team-best four solo blocks, and she and Dulek each had nine block assists.
St. James next plays at 6 p.m. Wednesday at home against Papillion (Neb.) La Vista High School in a match that will be televised on Metro Sports. It's one of the most highly anticipated high school matches in the country as Papillion is ranked No. 1 nationally and St. James is No. 3 in the Prep Volleyball poll. Papillion also sits atop the ESPN rankings while St. James is No. 4. Both squads won national championships in 2010 — Papillion in the ESPN poll and St. James in the Prep Volleyball rankings.
For a preview of the St. James-Papillion match, pick up the Oct. 5 edition of The Dispatch.