New business keeps books on the shelves after Borders Express closure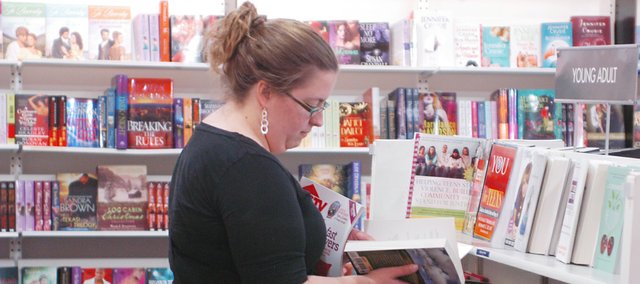 At many former Borders locations, rubber Sarah Palin masks now hang where bestsellers were once thumbed through.
The liquidation of the chain earlier this year didn't portend well for those who wanted to do their book shopping away from the computer or tablet. Not so for Shawnee shoppers.
Shawnee Books & Toys — one of six bookstores owned by a family in Jefferson City, Mo. — recently opened its doors at the former Borders Express, 7311 Quivira Road. That's a new bookstore standing where one was taken away.
The old signs still hang on the building, one half-removed. A banner with the new store's logo will soon be replaced by a more permanent affixation, although remnants of the former chain remain: All eight of the store's employees are from Borders, four previously worked in Shawnee.
Michelle Ranney, the store's manager, spent four years with Borders in Olathe, Overland Park and, finally, Lees Summit, Mo. She said she stayed through the chain's liquidation process, seeing firsthand the effects of a bookstore's closure in a community.
"Those were the one's that would make you cry: the teenagers that would come in that had been coming to the store for like 10 years and be like, 'this is my home,'" Ranney said.
For Ranney, a self-described "bookstore girl" when growing up, it is exciting to see young readers come in hungry for knowledge. Sure, a lot of them are after vampire books but, she said, those kids reading vampire books are going to be the ones more interested in reading about other literature and history.
Ranney hopes parents are still rewarding their children's achievements with books. She remembers books would be the ultimate prizes growing up.
"I want people to still feel that way," she said. "I want kids to grow up here."
Xanda Pilley of Overland Park browsed the store's young adult section last week.
Pilley said that Shawnee Books & Toys being a local bookseller made it more likely that she would give her money to them rather than complete an impersonal transaction online.
"I always like coming in and looking," Pilley said. "There's a difference between holding a book in your hand than ordering a book online or ordering an ebook."
To Ranney, e-readers aren't exactly a death knell to small booksellers.
She said she views e-readers as the "new paperback," equating their effect to paperback books making more titles available over the last 20 years. Now more books are being published on all formats, she said, and people who own e-readers also still come in to buy books.
"I think there's always something to be said for being able to have that book," Ranney said. "A lot of people tell me, 'yeah, it's sad when I get a book on an e-reader because I can't let my friends borrow it.'"
Ranney promised a magazine selection exceeding 1,500 copies and an area offering children's educational toys that said would help "trick them into learning." Next on the agenda, Ranney said, will be letting area teachers know Shawnee Books & Toys is open and ready for them.
"Education and bookstores go hand in hand," she said.
Shawnee Books & Toys employee Andy Coonce of Raytown spent a year working at the Shawnee Borders Express before it closed. The Metropolitan Community College student (and avid David Sedaris reader) didn't turn down the opportunity to return to the site.
"I'm very excited that this is an indie thing," he said. "It's a dream come true. I always wanted to work at a bookstore that wasn't so retail-y."
And for Pilley, a community bookstore still provides a different experience during each visit, one preferable, she said, to browsing behind a computer screen.
"There's always a lot more to see," Pilley said.