School districts curb energy usage to realize cost savings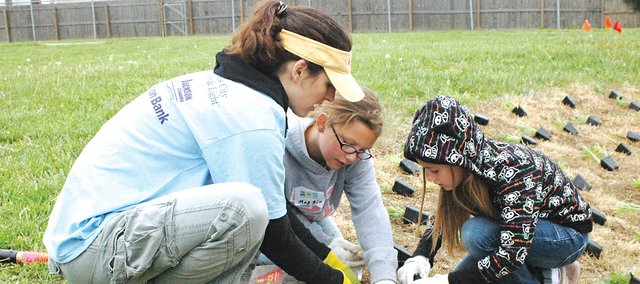 Photo Gallery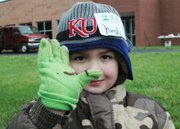 Hoping For A Rainy Day
On Saturday, community members helped install a rain garden at Bluejacket-Flint Elementary School in cooperation with Keeping Kansas City Beautiful. The organization intends the garden to be a model for other projects in the Kansas City metro area. Keeping Kansas City Beautiful hopes to create more than 10,000 rain gardens.
When it was Bluejacket-Flint Elementary School's turn to be showcased during the Shawnee Mission school board's annual district highlights feature, Lucas Shivers wasn't shy about its environmental achievements.
Among those highlights was the spring installation of a rain garden that featured hundreds of native plants designed to capture polluted stormwater. Shivers, a sixth-grade teacher and leader of the school's environmental club — the Green Team — also pointed out that his school posted the second-highest reduction in energy consumption in 2010-11 among the district's 56 facilities.
Bluejacket-Flint's Green Team is one of several such clubs sprouting up in the district. Now in it's third year, the Shawnee school's club has performed waste audits, earned a state grant to implement a school-wide recycling program and began composting waste from the school cafeteria and classrooms.
"I love teaching our next generation to be in tune with their environment and make sustainable choices in life," Shivers said. "Part of teaching is opening students' eyes to their impacts and 'footprint' choices."
At the district-level, both Shawnee Mission and De Soto are realizing savings in energy costs while seeking to lessen the size of their carbon footprints.
Efforts underway
In 2010, Shawnee Mission adopted the Energy and Conservation Management Policy in an effort to reduce electricity, natural gas and water usage. At the beginning of this year Bruce Palmer, the district's energy analyst, provided the first annual report on the policy.
Palmer revealed that the district reduced electrical consumption by more than 17 percent from July 2010 to Nov. 2010 and electrical cost reductions were more than 18 percent over that period. Natural gas consumption dropped 23.7 percent and costs reduced by 28 percent.
Palmer said the district's utility expenditures budget projected to decrease by more than $400,000 for fiscal year 2010-11.
Shawnee Mission tracks how much each school consumes in gas, electricity and water in terms of dollars per square foot.
Palmer said the district has set a target of $1.25 to $1.30 per square foot for its average cost of energy consumption. That figure was $1.56 two years ago and was reduced to $1.43 last year. While the district still has a ways to go before hitting its goal, 22 of its 56 facilities were at or below $1.30 per square foot last year — including Shawnee's Broken Arrow and Shawanoe Elementary Schools — with six more buildings within three cents of that target.
Bluejacket-Flint, Nieman Elementary School and Benninghoven Elementary School were among seven Shawnee Mission schools that received up to $4,500 in green school grants in the spring from the Kansas Department of Health and Environment's Bureau of Waste Management.
Bluejacket-Flint put its grant toward its rain garden. Nieman purchased recycling and compost containers for its cafeteria and classrooms and created a compost collection system. Benninghoven also began composting and recycling and used the remainder of its grant on activities to promote its green causes to students.
Steve Deghand, the De Soto school district's facilities director, said that like Shawnee Mission, his district also schedules its buildings to only operate at a set temperature when needed and that temperatures are adjusted for when buildings are unoccupied.
That means only operating kitchens at their occupied set temperatures when in use and adjusting those levels in the two hours they're not in use.
Deghand said all schools have their own recycling program, many of which put on contests to see who can recycle the most. Two years ago, De Soto launched an awareness initiative that has since produced energy usage savings across the board, and saved nearly $69,000 in energy cost within the first five months.
Deghand said some of the district's newer buildings make it easier to regulate energy usage. For example, Mill Valley High School uses motion sensors to control its lights. But a lot of the savings in both districts also came from the simple actions of students and staff.
An ongoing process
The biggest measure taken to curb energy usage in Shawnee Mission, Palmer said, was implementing a setback program for nights, weekends and breaks. That includes letting temperatures flirt with 80 degrees in the summer or a little colder on nights and weekends in the winter — all controlled by the district's centralized energy management system at its operations and maintenance building.
Palmer said the "human factor" is also a huge part of the district's efforts. He said that includes students and staff taking a different mindset and turning off unnecessary lights. Or teachers sharing mini-refrigerators to store lunches and adjusting to slightly cooler temperatures in the morning.
"We don't want anyone to freeze in the winter or to shiver around a candle," Palmer said. "We still want to offer a good learning environment, but we don't want to waste energy and spend money on the utility instead of supplies, teachers and things like that."
Working with PTA associations to further composting initiatives, installing solar panels at some schools and a wind turbine at others and realizing drops in energy usages at the closed middle school facilities that the district has yet to sale are but a few of the measures going toward a different approach to energy consumption.
With only a full year of analysis under his belt, Palmer conceded that the district's efforts are far from over.
"It's just an ongoing process," Palmer said.