De Soto edges St. James football in 4A district finale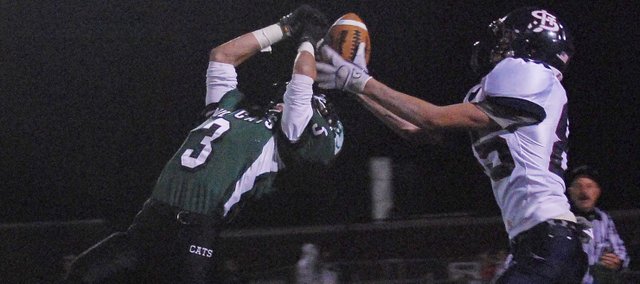 DeSoto — St. James Academy has been within striking distance of the Class 4A football state playoffs before.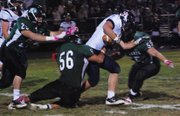 Sure, they've been one win away with a 1-2 district record, just like this year. Still, they've never been this close.
St. James had its best shot ever at a playoff berth Thursday night at De Soto in their district finale. The Thunder didn't trail until the final play of the third quarter. Ultimately, a second half that was significantly lacking in defense ultimately tilted De Soto's way thanks to an interception in the final seconds and the Wildcats edged the Thunder, 41-34.
"I just wanted this for the guys; I wanted this for the St. James community," said a disappointed Tom Radke, St. James' first-year coach. "It's a tough pill to swallow because these guys fought so hard. We had a great start (to the season), we tailed off a little, and the guys all came together and we got everybody back and everybody healthy, and they played so hard. I just wish we could have got this for St. James."
The high-scoring contest took a while to develop, however it was brewing early. De Soto moved the ball effectively at times during the first half, but turnovers proved costly. Meanwhile, St. James also put together some lengthy drives and claimed the early lead. The Thunder took a 7-0 lead in the second quarter on a 1-yard run by Matt Eckelman and an extra point by Will Frank.
Then, late in the quarter St. James was running down the clock and attempted to pick up a fourth-and-1. The quarterback sneak by Jansen Keyes was stuffed, however. De Soto quickly countered and scored on a 7-yard run in the final seconds. Josh Pasley's extra point sent the game into halftime deadlocked at 7-7.
"They tied it up right at halftime, and we kind of lost the momentum," Radke said. "Even though we had some bad field position, we moved the ball well in the first half."
St. James regained momentum quickly in the third quarter. Bryan Eisman took the opening kickoff 80 yards for a touchdown and a 14-7 lead. De Soto countered quickly. A 19-yard touchdown run by Cole Cannon evened the score at 14-14 with 10:31 to go in the third quarter.
With that, the shootout was officially under way.
St. James answered with a five-play, 77-yard drive, 60 yards of which came on a pass from Keyes to Eisman down the right sideline. Eisman leaped and pulled the ball away from De Soto defensive back C.J. Faddis before sprinting the rest of the way to the end zone. Frank's extra point gave the Thunder a 21-14 lead with 8:20 left in the third quarter.
The game was tied again less than two minutes later on a four-play drive, all of them runs. Alex Pruss rushed for a 10-yard gain, Cannon followed with carries for 3 and 13 yards, and then Pruss took the ball on a dive play, broke through an arm tackle and raced 36 yards for a game-tying touchdown.
Keyes threw an interception on St. James' next possession, and then the teams traded empty possessions before De Soto took its first lead on the final play of the third quarter when Pruss rumbled 48 yards up the middle for a touchdown and a 28-21 Wildcat lead.
Each team scored a touchdown during the first 35 seconds of the fourth quarter. First, St. James tied the game on a 60-yard pass from Keyes to Eckelman. Then, De Soto's Gabe Hamilton took the ensuing kickoff back 89 yards down the right sideline for a touchdown and a 35-28 De Soto lead.
St. James countered with its longest drive of the second half, a 10-play, 85-yard march that lasted almost five minutes. A 3-yard run up the middle by Jake Bade capped the drive, but Frank's extra point try came up short and the Thunder trailed 35-34 with 7:22 to go.
De Soto needed one play to score again. Pruss took a dive play up the middle, hurdled one St. James player, then popped to the left sideline and raced 74 yards to the end zone. The extra point was blocked, but De Soto led 41-34 with 7:09 left.
Keyes threw an interception on St. James' next possession, and then De Soto melted more than four minutes off the clock before Eisman picked off a Clark pass on fourth down.
St. James began another steady march down the field as Keyes threw to Eckelman for a 17-yard gain and then ran for 10 yards on a QB keeper. The drive stalled when Keyes rolled to his right and fired a pass over the middle that was picked off by Faddis.
It appeared that would be St. James' final chance, but Pruss fumbled two plays later and Bade recovered it. That gave the Thunder another try. A quarterback sack on first down, a short gain on second and back-to-back incompletions ended St. James' chances.
De Soto finished second in the district and advances to the first round of the playoffs on Tuesday. St. James ended its season with a 4-5 record.
Despite missing the state playoffs, it was a major year of growth for the Thunder, Radke said.
"We'll be there. You've seen it. A lot of people have seen it. The program has turned around," Radke said. "We've got six seniors, that's it, and about three of those guys started, so we have almost everybody coming back.
"We're on the map now. Everybody knows that they've got to be looking out for the Thunder next year."