Shawnee students power
KU

quidditch club to top of world rankings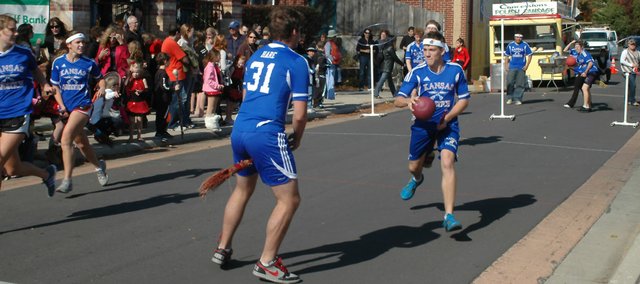 Online
You can find KU Quidditch's roster, information about how to join (if you're a KU student) and more on its official website.
On the Kansas University campus, within sight of Allen Fieldhouse and earshot of a student body increasingly beginning to notice its existence, one of the world's top teams practices.
The college's venerable basketball team checked in at No. 13 in the AP's preseason poll recently, knocked off its perch by last year's Elite Eight exit and needing to reload. The football team...we'll stop there. So why not get whipped into a frenzy as its quidditch team jostles for the world's top ranking?
Barely a year old, KU's quidditch club recently vaulted to No. 1 in the International Quidditch Association's rankings after running the table at the Midwest Cup in Indiana early last month. Now nipping at the heels of Middlebury College — the world's current No. 1 team and the site of the sport's real-world inception — KU is preparing for its trip to the IQA World Cup on Nov. 12 in New York City.
All this behind a lot of Shawnee-based firepower.
Two of the club's three presidents, juniors Nicole Denney and Cassie Slocum, graduated from Shawnee Mission Northwest High School, as did several other "chasers," "beaters," and "keepers."
"It's a great way to be a part of something we loved as kids," junior Courtney Schmidt said.
The IQA describes quidditch — a game first invented in J.K. Rowling's Harry Potter series — as a fast-paced, co-ed contact sport. It's also a game of numbers: Seven to a team, four different positions, three different balls in play. And staying true to its Potter roots — it bills itself as "the only fantasy sport that will make you break a sweat" — each player must keep a broomstick firmly in place between his or her legs at all times.
Three players on each team are designated as "chasers," whose objective is to score goals worth 10 points each, fitting a volleyball — called a "quaffle" — through a hula-hoop goal. KU's club fashioned PVC piping and hula-hoops into their goal.
The quaffle can be advanced downfield by running with it, passing or kicking it. Each team's keeper stands guard over the goal hoops and each team has a pair of "beaters" whose job is to disrupt the flow of the game by trying to "knock out" opposing players with dodge-balls called "bludgers," of which there are three in use in a game.
Each team then has a "seeker," who is dispatched to "snatch the snitch" — the snitch being a person not affiliated with either team who can do whatever it takes to evade capture.
Attached to the snitch's waistband is a sock containing a tennis ball, which the seeker attempts to remove. The game ends only when the snitch is snatched. When that occurs, 30 points are awarded to the team who does it and the game ends unless the score is tied, in which case overtime is forced.
More than 300 universities and high schools in the United States compete, and a dozen other countries also claim IQA membership.
The game can get rough out there. Slocum said KU occasionally encounters teams with former football and rugby players whose main desire is to hit people.
"They can't play sports in college and want to take it out on quidditch," she said.
Schmidt said she met a 350-pound former football player on the Louisiana State team who said he was lured to the game by promises of opportunities to inflict punishment.
"It's not fun when people are going out and getting hurt," Schmidt said.
Amble said the IQA has updated its rules to curb unnecessarily rough play, with recent competitions featuring penalty boxes for offenders.
To prepare for its World Cup debut, the club has teamed with nearby businesses to raise money and even put on a demonstration at an Overland Park event dubbed "All Harry Hallow's Eve," where the team scrimmaged while raising funds with sales of broomsticks and "butter beer."
The team knows it has its work cut out for it in Middlebury. Everyone wants to knock off the perennial champs, they say. But perhaps recent success has replaced surprise with a little bit of confidence.
"We have a good team," Amble said. "But what it's all about is to just have fun. We want to make a good showing and who knows what happens from there."