LIVE

FROM

STATE

: St. James Academy seeks fourth straight volleyball title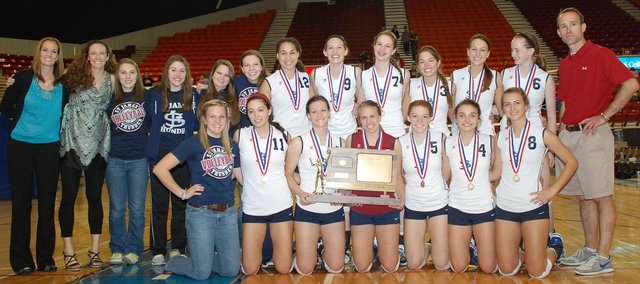 Salina — Good afternoon from the Bicentennial Center, site of the Class 4A volleyball state tournament.
This arena has been a friendly venue for St. James Academy as the Thunder have been to the state finals the past four seasons. The first of those resulted in a runner-up finish, and the next three — 2008, 2009 and 2010 — all ended with state championships.
St. James joins McPherson, Holton and Ottawa in the semifinals. St. James (43-1) will face Holton (41-4) in one semifinal at 2 p.m. At the same time, McPherson (43-2) will play Ottawa (30-15). The losers of those matches will then play for third place. The winners will battle for the state championship.
If St. James wins its fourth straight title, it will come via a somewhat unfamiliar path. Topeka Hayden didn't advance to state. Hayden was St. James' finals foe during each of the past four seasons, so the championship match is guaranteed to have a different look.
Stay tuned to this page throughout the afternoon for live updates. The blog will update at the bottom of the text flow, so be sure to scroll down.
HISTORY LESSON
If St. James Academy wins its fourth straight title today, that streak will tie for the fourth-longest in Kansas high school history. Most recently, Washburn Rural won six straight Class 6A titles from 2006-2009.
Centralia won eight straight Class 1A titles from 1997-2004, Bishop Miege won seven straight state titles from 1977-1983 (six of them in Class 5A and one in Class 4A), and Lawrence High won six straight titles from 1975-1980 (three in Class 6A, one in Class 5A, and two in Class 5-4A).
COUNTDOWN TO THE SEMIFINALS
It's about 10 minutes until the start of the Class 4A state semifinals. St. James is set to face Holton, The Wildcats don't boast much size, but their roster has some familiar names from their talented basketball squad that is a state tournament regular. We will post score updates between games, and then a quick match recap right afterward.
THUNDER WIN GAME ONE
St. James made quick work of Holton in game one, winning 25-14. St. James opened on an 8-2 run, weathered a rally, and then finished the job.
BACK TO THE FINALS
St. James polished off Holton 25-14 in game two and secured its fifth straight trip to the state finals. In the other semifinal match, McPherson beat Ottawa. St. James (44-1) will face McPherson (44-2) in about 25 minutes for the state championship.
SEMIFINAL RECAP
St. James opened game one on an 8-3 run. Holton ralled to within 11-8 before St. James blew the match back open with a block and kill by Annie Reilly, a combo block by Dallas Gardner and Katie Dulek, and a kill by Arianna Person. From there, Paige Brown fired an ace and St. James opened up an eight-point lead before pulling away for the 25-14 victory.
Game two started as a slugfest to a 6-6 tie. Sheridan Zarda served St. James to a 7-0 run, however, and the match turned into a rout.
AN OMEN?
Perhaps it's not fair to McPherson, but AC/DC's hit Thunderstruck is pumping through the arena during warmups for the finals. Perhaps it's a sign of respect to the three-time defending champions.
ONE GAME AWAY
McPherson was no match for St. James in game one. After an early 4-4 tie, St. James motored away for a 25-10 victory.
FOUR-PEAT COMPLETE
Game two started out with a 2-2 tie before the Thunder went on a 12-2 run and pulled away for a 25-13 victory. St. James wins its fourth straight state title.